By Emily Ward
"Dance Monkey" by the group "Tones and I" has been a popular song played on every major radio station over the past few years. Brownsburg High School from Brownsburg, Indiana, put the piece to good use in their silver medalist, 2022 A-class show entitled the same name as the hit single.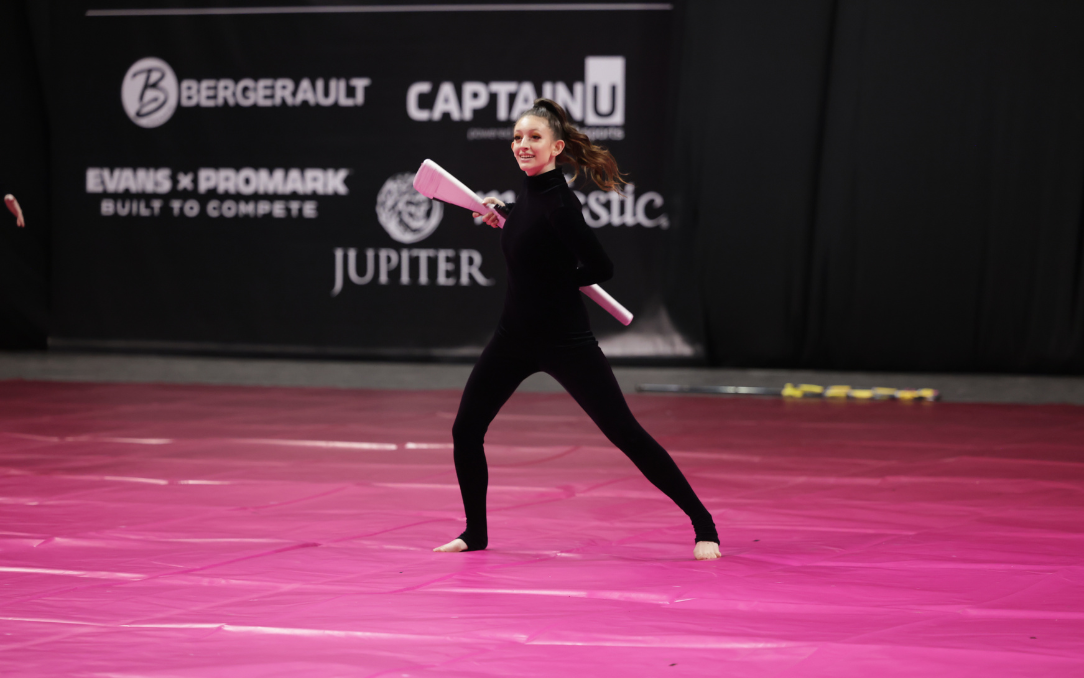 Director Scott Toosley spoke about how he has "always been a fan of the artist, [Peter Bence], that performed our [instrumental version of the] song. He continued his statement, saying that he was "scrolling through my playlist and 'stumbled' upon it. As soon as I heard it, I knew it was a perfect pairing for Brownsburg."
Performing to such a well-known, upbeat piece of music has to be extremely exciting for athletes, which is precisely what Toosley said. "The performers at Brownsburg are hard-working, talented, and fun students. They wanted a show that was entertaining and something that they could have a good time with. When I played the music for the first time, there were big smiles all around the room. At that point, I knew we would have a fun season no matter the outcome."
Brownsburg's winter guard show featured a hot pink floor and colorful polka-dot silks, adding to the show's entertainment value. Toosley spoke on how it took "Several attempts at choosing colors for the show. The music is swift and quirky, and I wanted to match intensity [levels]. We went through several different combinations until we found the one that finally stood out. We started with the hot pink floor and built it [up] from there." He furthered this color selection by discussing how picking black uniforms for the team allowed the colors on the dotted silks and floor to stand out more. "When we were searching for colors, I always went to my buzz word: 'Quirky.'"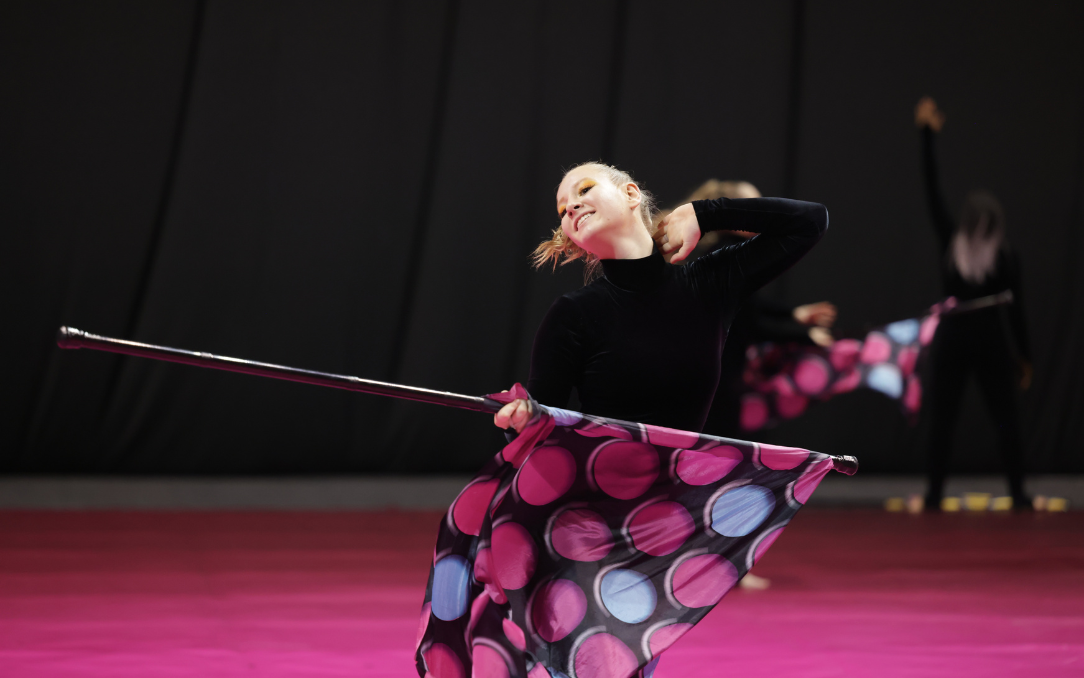 With such a fast-paced show, the team had to be strong spinners with a good amount of endurance so as to not tire out part-way through the show. Toosley stated that the program's technical staff was a huge contributing factor in how the spinners were each able to establish and maintain exquisite technique during the entirety of their show. He added that "The performers also pushed each other the entire season. It's really a great team to be a part of." The school's Director of Bands, Chris Kaflik, is a massive supporter of the guard program, helping to positively influence the winter guard member's success since they know everyone from the band program believes in them. Toosley said, "Chris makes the impossible a reality."
Even though the guard program at Brownsburg has been around for quite a while, this was the first year that Toosley had ever been the team's show designer. "All of our staff were new to each other as well. Everyone immediately got to work, and great things started to happen. The staff at Brownsburg is truly what made it special for the performers, and I am so grateful for all of them," Toosley explained.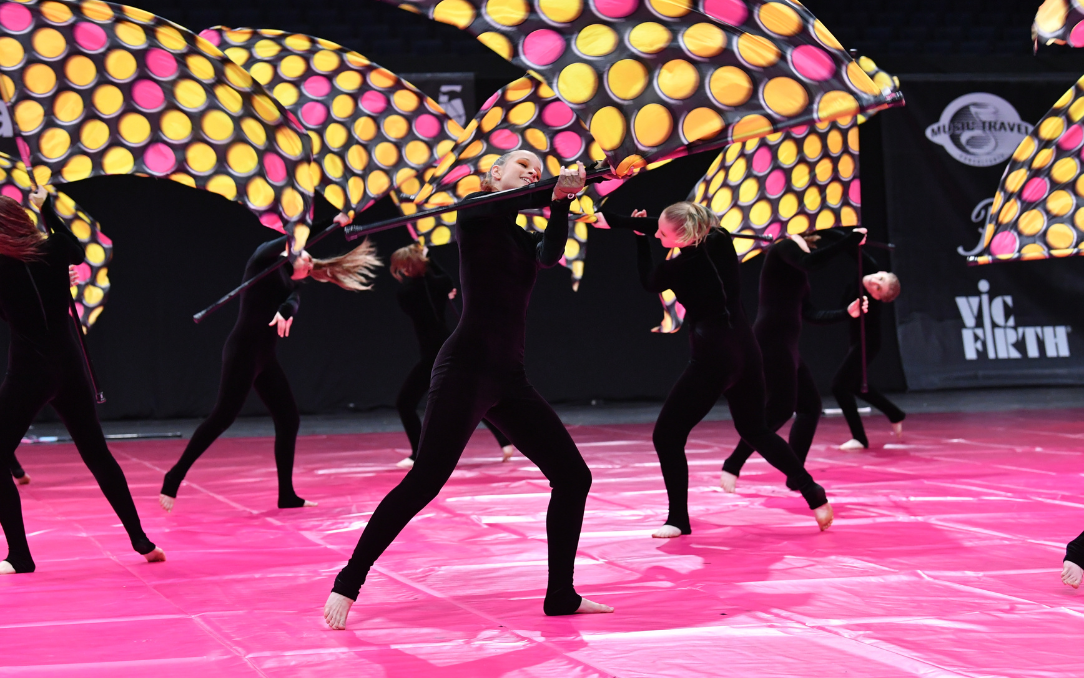 Another of the big supporters throughout Brownburgs's 2022 season was the crowd itself. Toosley spoke about how "They were very supportive of what we did. Our performers really loved the feedback and attention that they got. I felt as if everyone in the arena got to participate in the show and not just watch it. Watching the performers react to the crowd was an incredibly proud moment for all of us."
Following the team's second-place finish at the 2022 WGI World Championships, Brownsburg High School is moving into the competitive Scholastic Open class. "Moving to Open class this season is such an honor. The staff and students are excited about pushing themselves to grow and experience the next level of competition and performance. We have been planning our upcoming season and hope to entertain and have a great time doing so," Toosley proudly stated.
About the Author:
Emily Ward is a junior at the University of South Florida in Tampa, Florida, and is studying to receive her bachelor's degree in mass communications with a concentration in broadcast news. She is also a psychology minor. She began colorguard her junior year of high school and was a captain of Sunlake High School's Scholastic Open Class winterguard team. Since then, she has spun for the University of South Florida.