By Jenny Lyons
To performers standing in the tunnel of the Dayton Arena on WGI finals night, with their bare feet standing on the cool cement, hearts pounding with anticipation within their chest, anxious hands reaching out to a wall lovingly speckled with lipstick, and focused minds imagining what lies beyond the thick black curtain ahead, the energy in the room is palpable and unmistakably electric. When the curtain finally peels back, the dull rumble of the crowd swells to a roar, washing over performers in a loud and inviting wave.
This moment is familiar and almost universal to those who have walked the tunnels of the UD arena, but while the finals night rumble is traditionally loud, there is one ensemble for whom the applause reaches an unmistakable fever pitch no matter the year, the show, or the placement. Hailing from Nagoya, Japan, Aimachi Color Guard is a beloved fan favorite, and the proof is in the sheer love that pours from audiences year after year. One would be hard pressed to find an audience member, performer past or present, or WGI fan who doesn't love Aimachi. Look around the arena, even on a year in which Japan's premier guard is not in the states, and one is bound to see a classic "I heart Aimachi" shirt, or a dozen. Gracing the WGI stage every two to three years on average, Aimachi never fails to charm audiences with an air of poise, beauty, and pure joy. They are simply and undeniably magnetic.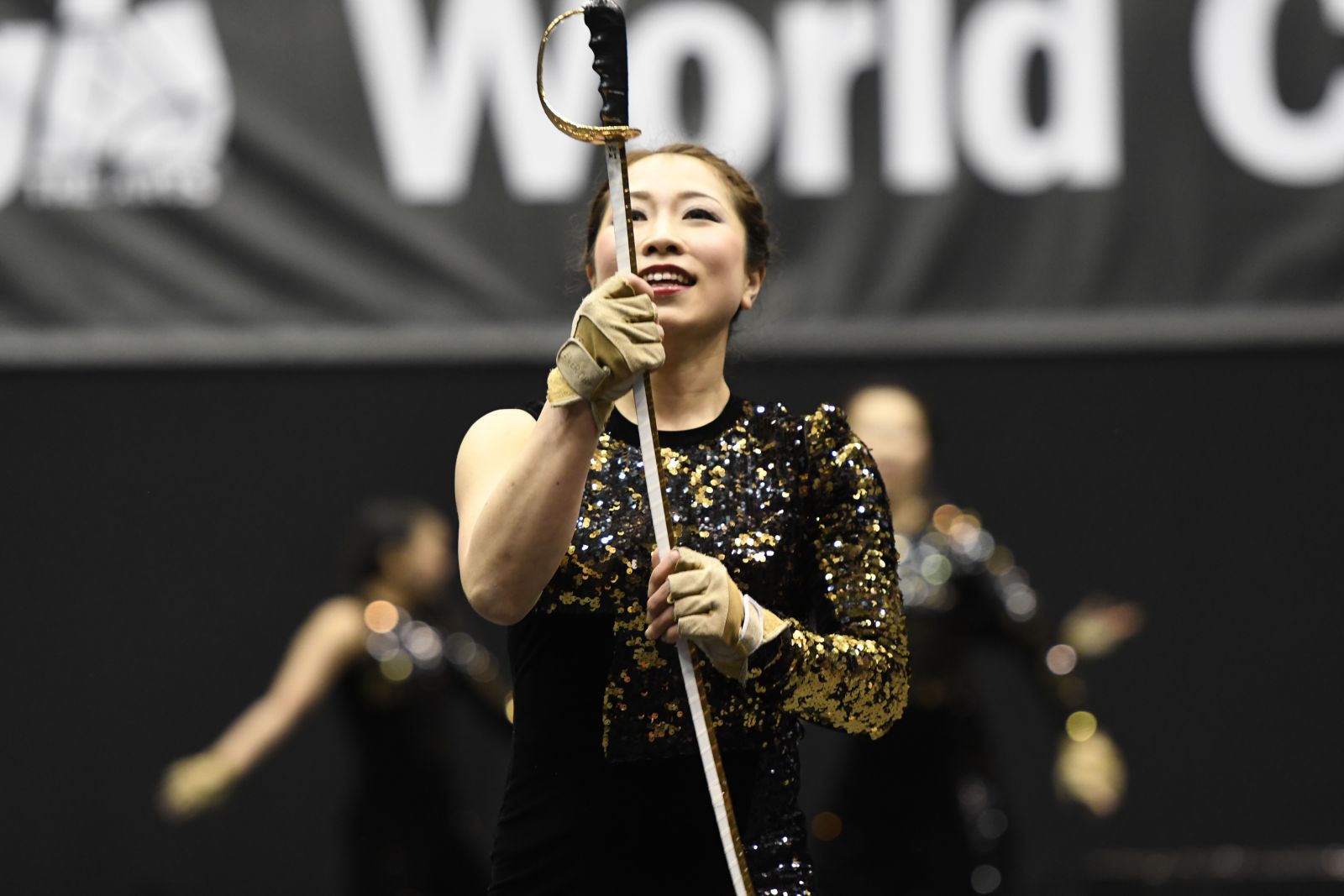 This year, Aimachi continued their charming tradition with the program, "May the Music Never End." Decked in stunning, shimmering black and gold costumes, the performers swept the audience off their feet in true Aimachi fashion, presenting the impossible, iconic baton tricks, beautiful, sweeping choreography, and honest expressive quality that the crowds have come to love so much. The show earned them a second place finish with an impressive 97.650.
While every Aimachi year is special, this one carried more weight, as it will have been their last visit to the Dayton Arena for the next several years.
This is not a "good-bye" for the beloved Japanese ensemble, but rather a "see you later," promises designer Michael Gaines, who has worked with the group for over 23 years. Gaines describes this year's show as, "a wish to WGI– a Thank You." Since their first trip to Dayton in 1996, Aimachi has held a very special place in the heart of their American audience. "WGI audiences have been so kind to them, ever since they came the very first time 20 years ago," he says. Though they did not make finals during their flagship year in the US, the group was already warmly received and the love for the ensemble has never waned since.
The hope is that, during Aimachi's hiatus, their special relationship with the winter guard community will help to grow and spread the activity around the world. This powerhouse of an organization will be instrumental as WGI continues to tread further onto the international stage, especially in Asia. During their time away from Dayton, Aimachi hopes to foster their relationship with WGI as they continue to expand beyond their already rich 40 year history.
On the organization's decision to place Aimachi's winterguard on pause, Gaines cites the fact that a core group of members are beginning to settle down, marry, and start families. Perhaps more than the average ensemble, Aimachi is a tight-knit, devoted family, with members regularly growing up in the organization and returning to instruct and give back. Making the decision to put the guard on break as some of its members step out into the rest of their lives might be an unusual choice for another ensemble, but it is more than fitting for this group. Within Aimachi there is evidence of an incredibly close network. Having worked with the program for over two decades, Gaines has known one member in particular since he was born, whom he says grew up around the guard, practicing baton on the sidelines as a child, and now as a young man, is a current performer of the guard, and is "just fantastic." Two other girls in the guard are the daughters of members in the original 1996 cast. Pointing to these and other examples of family ties,"There's a connection to history with this guard that's kind of special," Michael says.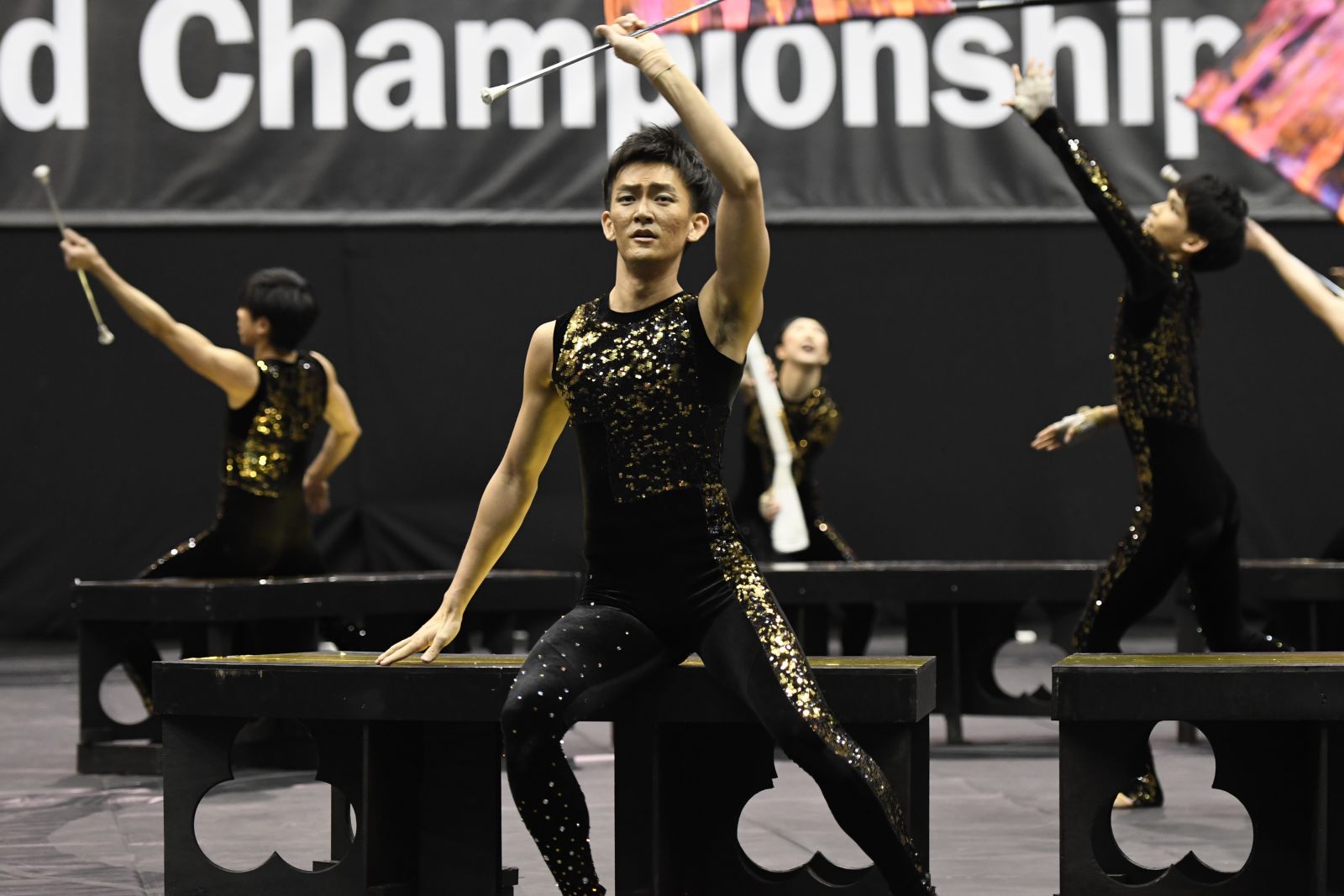 Knowing that a large class of beloved members were planning to take large strides in their personal lives strongly informed the designers' song and design choices this year. They could not have chosen a more poignant and fitting song than "May the Music Never End" by Shirley Horn. The rich lyrics wax poetic about the passing of time and the journey through life: " We are young, tomorrow seems so far away/ But now there are times when it's all so perfectly clear/ Tomorrow is here." As evoked in these lyrics, the time has come for Aimachi to say a short goodbye. It is an apt canvas for the members' perpetually earnest performance quality and one which they embody and portray to the audience so fully.
Beyond being a tight-knit family themselves, Aimachi has an uncanny ability to share their familial bond with those around them, which is part of their appeal. "Anyone who comes in contact with them, they welcome with open arms and make a part of their family," says Gaines, who for one, feels grateful to be apart of that bond, and whose love for the group is apparent in the way he speaks about them with such verve and emotion. While Aimachi seems to possess a sort of magical je na sais quoi to which audiences react so deeply, Michael Gaines explains that the guard's appeal is actually quite tangible. Audiences fall so in love with Aimachi because of the reciprocated and honest love they feel from the performers. "Not just in performance, but just as people, the [members of] Aimachi are so incredibly giving of themselves," Gaines says of this special group, "and I think that comes through in their performance."
The hope for Aimachi's Bon Voyage performance was that it would be a moment that people would not soon forget. As is the Aimachi way, the performers took the outpouring of admiration from the audience, which filled absolutely every corner of the arena that night, and returned it tenfold with a masterful performance, brimming not only with technical prowess, but with unadulterated joy, gratitude, and life. As always, and perhaps more than ever, the roar in the arena was deafening at the conclusion of Aimachi's performance. It was clear that these members were breathing in the rarified air of a special and historical WGI moment.
"But each new day brings one new song to sing/ Just a perfect thing for me to share with you, my friend…"
Aimachi certainly shared their song this season, and when the time comes, WGI will undoubtedly welcome back our old friends with the warmest of embraces.
---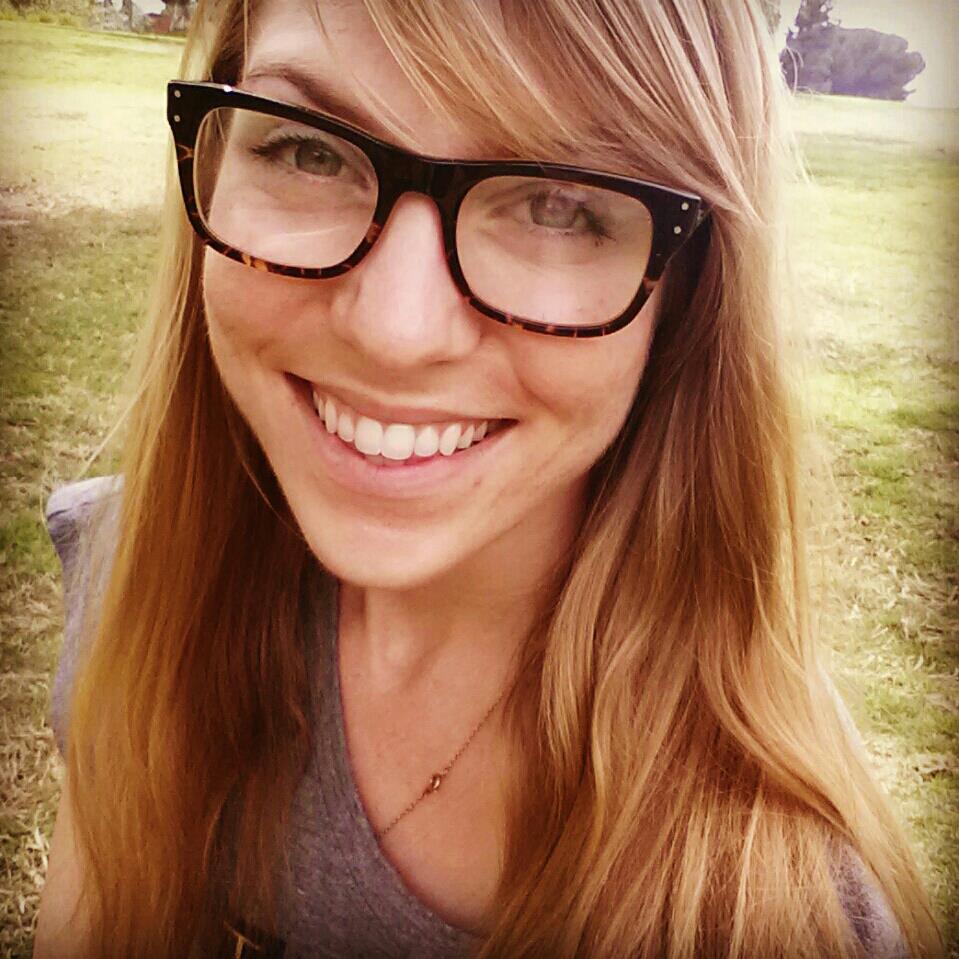 About the Author: Jenny Lyons is a freelance writer and graduate of the Literary Journalism program at the University of California, Irvine. She is particularly enamored with nonfiction writing, archival research and reporting, as well as editing. She is a recent alumna of WGI, having performed with the Santa Clara Vanguard Winter Guard from 2013 to 2015. Jenny has also marched with several drum corps including Pacific Crest, The Academy, and the Santa Clara Vanguard. When she is not writing, Jenny can be found continuing her passion for color guard through teaching.