The idea of "cool" is a concept many people have tried to figure out, but Tarpon Springs High School World Winterguard spent the 2023 season showing audiences what they think "cool" really looks like.
Program director Jeannine Ford said, "Our ultimate goal was to unveil the timeless truth that coolness, in its purest essence, lies within each individual. We wanted to celebrate the authenticity that defines one's true self, defying conformity and emulation."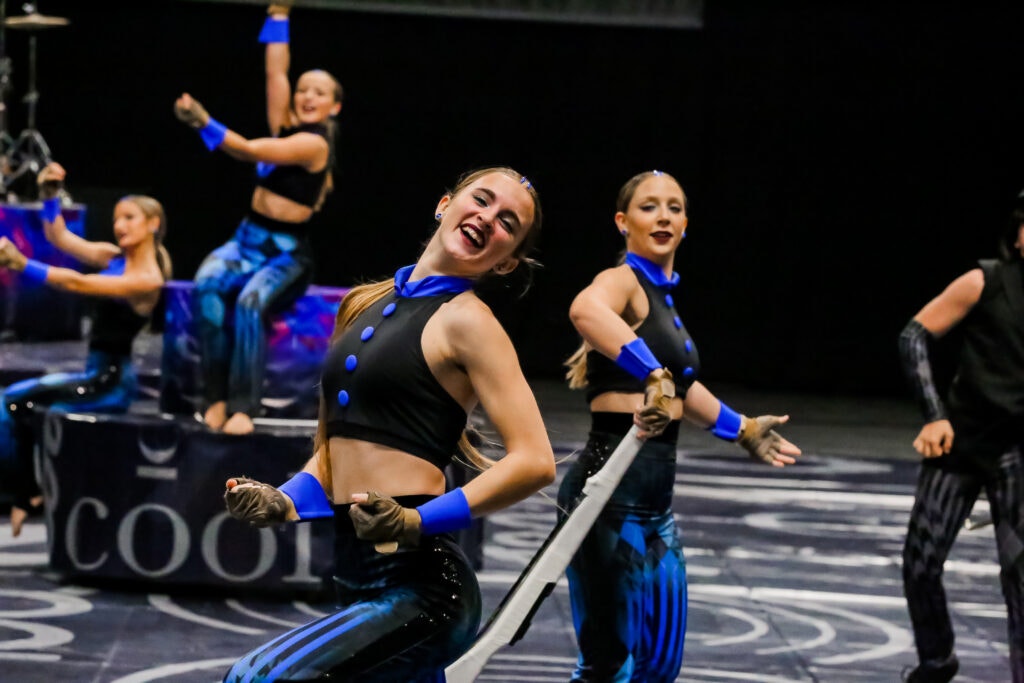 "We [tried] our best to blend the art of storytelling, immersive devices, [and] sensory stimulation, all to create a multi-dimensional experience that we hope [would] leave a lasting impression on our audiences, and most importantly, our students," said Ford.
When the show was first being created, Ford and the design team–Rick Subel, Kevin Ford, Frank Sullivan, and Tyler Edrington–knew they needed live music to bring the idea of "cool" to life.
The staff decided, what better group to accompany their 2023 show than using members from the program's very own band?
"We are incredibly fortunate at Tarpon Springs High School to possess a well-rounded music education program and a talented pool of student musicians," said Ford. "Their involvement in the show was a testament to their dedication and passion for music, making the collaboration even more special."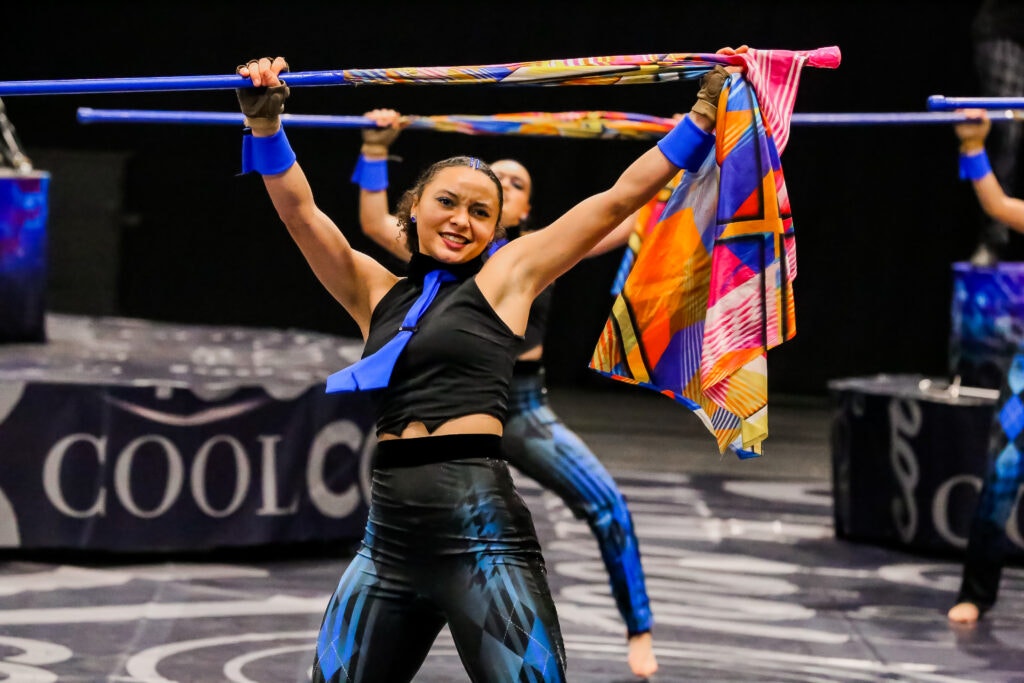 The music genres selected to welcome audiences into the show were jazz, hip-hop, and funk.
Songs selected by the staff included "Take 5" by Dave Brubeck, "Rebirth of Slick (Cool Like That)" by Digable Planets, and "What is Hip?" by Tower of Power. The rest of the show's music was composed by Sullivan.
As for costuming, the staff wanted a classic jazz-performer look. Molly Favret and Rick Subel decided on suits, ties, cuffs, fedoras, and more.
For the season's floor, the staff selected a black-box theater theme with touches of electric blue to create a pop of color. The word "cool" covers the floor to further immerse audiences.
To create the storyline for the show, the team collaborated with WGI Hall of Fame member Wayne Harris.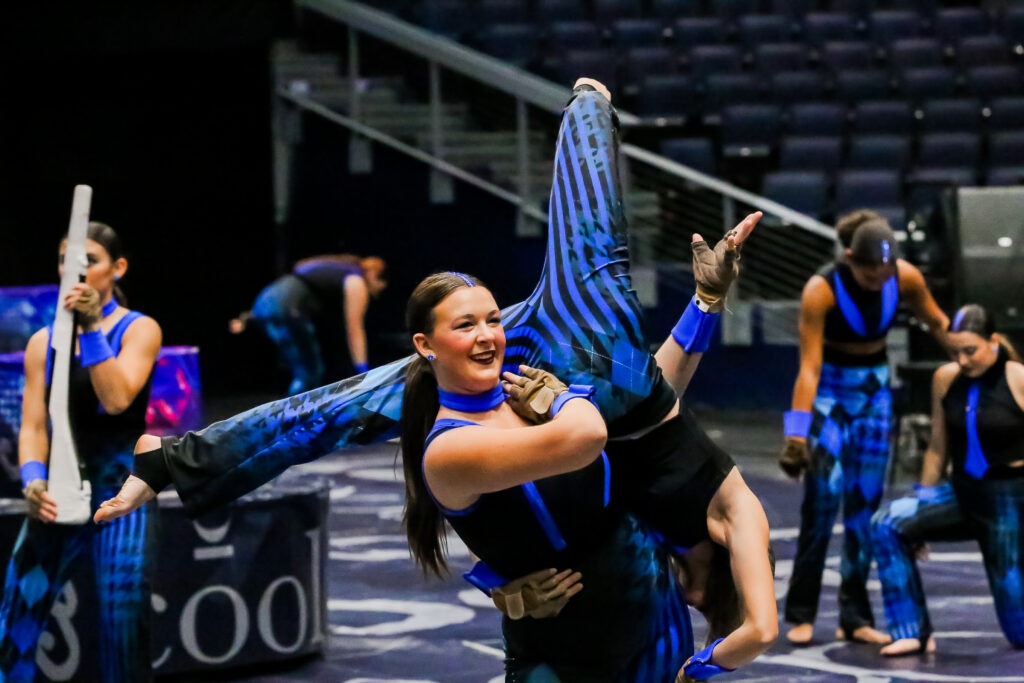 When the competition season finally began, audiences fell in love with Tarpon Springs World.
"The audience's reaction to the team's performances was nothing short of incredible," said Ford. "Thunderous applause, gasps of amazement, emotional reactions, standing ovations, this was the norm during and after every show."
To establish consistency, the staff provided a supportive, encouraging environment, personalized feedback for each member, and more. The team held one another accountable, practiced daily, and helped each other out in all ways possible.
The team adopted the empowering motto, "You be you," to encourage themselves, their peers, and those who watched them perform.
Ford and the rest of the staff at Tarpon Springs High School adored getting to share their "cool" athletes with audiences.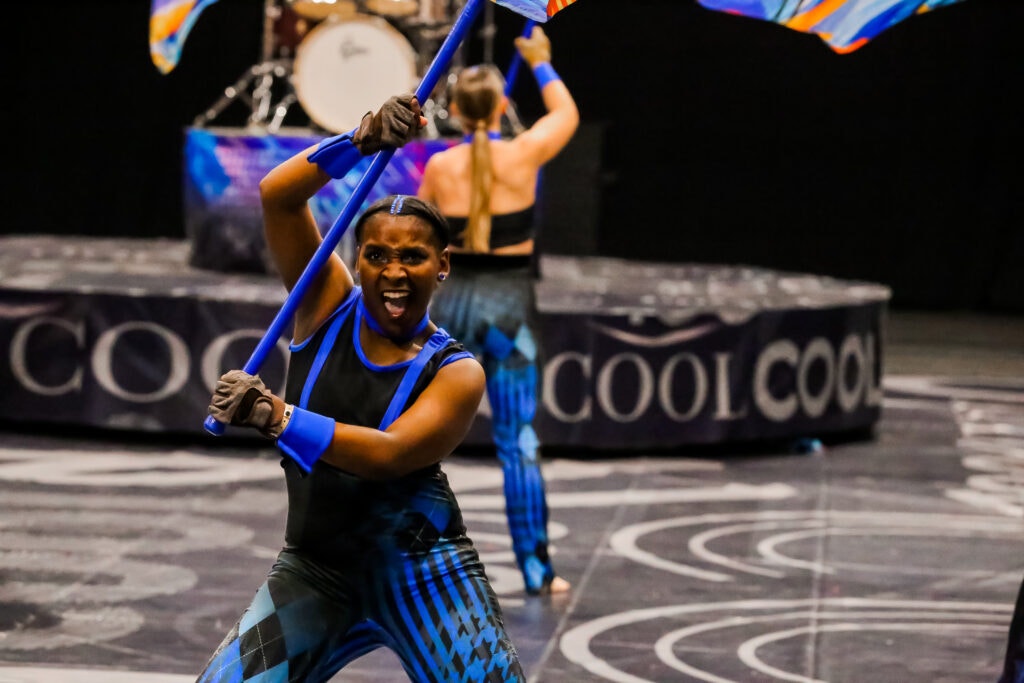 "We wanted the world to witness the awe-inspiring students we had the privilege of interacting with daily, and by embracing their individuality, we knew they would leave an indelible mark on the audience," said Ford.
When it came time to compete at the 2023 WGI World Championships, Ford says her performers gave it their all.
"The energy of the crowd was electric, and the performers served them a powerfully confident, fun, and extremely well-executed performance," said Ford. "To see performers that age so grounded and relaxed enough—in that kind of high stakes moment—to not only deliver but have a blast doing it made the staff so incredibly happy to be part of their experience this season."
In the end, Ford says that the team embodied what the word "cool" truly means.
About the Author:
Emily Ward is a junior at the University of South Florida in Tampa, Florida, and is studying to receive her bachelor's degree in mass communications with a concentration in broadcast news. She is also a psychology minor. She began colorguard her junior year of high school, and was a captain of Sunlake High School's Open Class team and has since spun for the University of South Florida.