Congratulations to all of our 2023 Independent Open class finalists!  Review their productions below in order of Finals placement.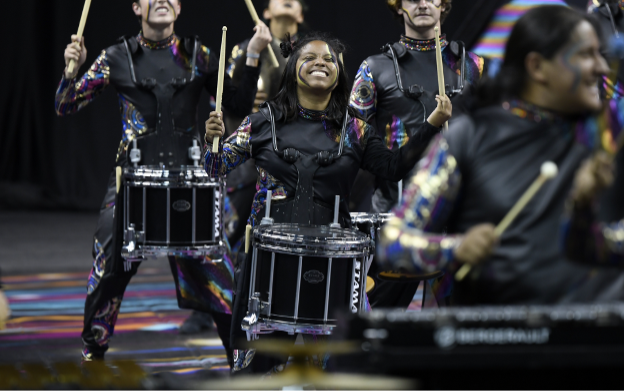 Meraki takes the floor with their emotional 2023 production "Euphoria". The show begins with a visual performance breaking free from ropes that bind them, as the show progresses the visual ensemble uses those same ropes to try and ensnare other members, eventually breaking free again to end the show. Meraki put together a rock-solid music and visual program with "Euphoria". They perfectly meld the visual and musical elements to create a full and engaging story from start to finish.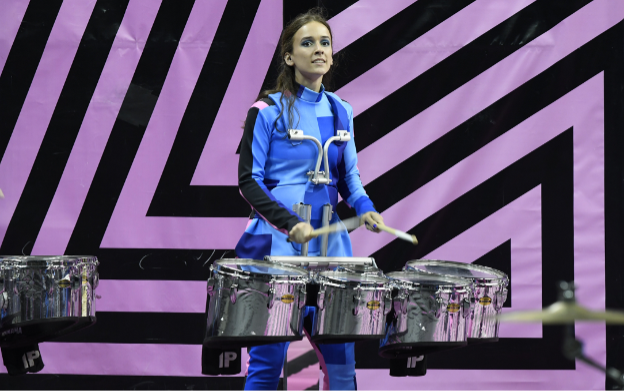 IMPACT Percussion took the floor with the mind-bending 2023 production "In Plain Sight". Shaped around the concept of change happening and things being hidden in plain sight, IMPACT made a statement with their loud pink, white, yellow, and blue color pallet. With 12 bright backdrops in play, the floor is always changing and evolving with the performers. Musically, IMPACT throws down a beautiful show, with powerful ensemble moments and highlights small ensemble moments. IMPACT's bright and interesting 2023 production left nothing on the table and the talented performers brought it to life.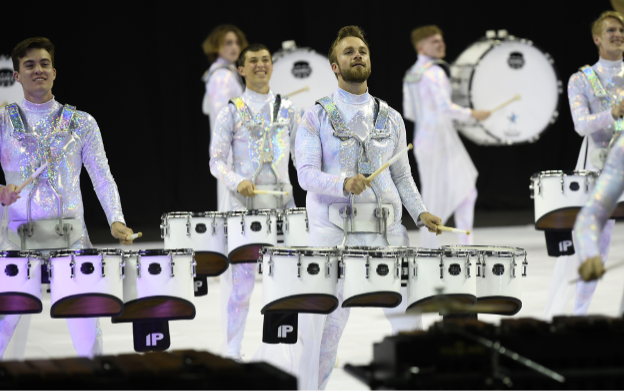 Freedom Percussion graces the floor with their beautiful 2023 production, "The Beauty of it All". With white uniforms, a white tarp and white drums, and a beautiful rendition of "Clare de Lune", Freedom Percussion brought an incredible amount of grace and beauty to the arena. The minimalist tarp and uniforms let the music shine and shine it does. With a flute soloist, multiple incredible full ensemble impacts, and perfectly placed small ensemble features, "The Beauty of it All" is a true force to be reckoned with.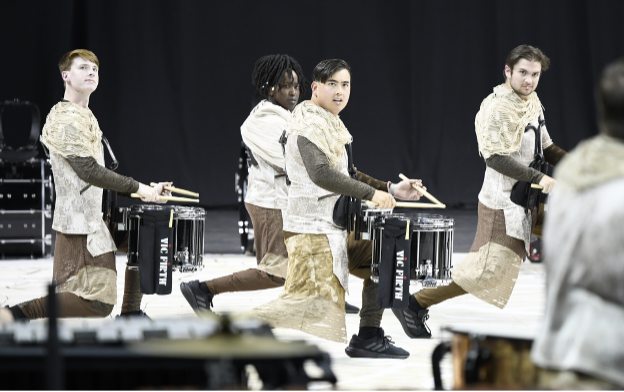 Civitas Independent stormed the floor with their 2023 production "The Time That Was". "The Time That Was" centered around the idea of ever-advancing time using the metaphors of sand and gold. Civitas blew the roof off the joint with their fast and incredibly technical musical package paired with undisputed confidence in their abilities. Visually, Civitas stands out as a frontrunner, and their flawless integration of small ensemble moments within the context of the show makes this show truly something special.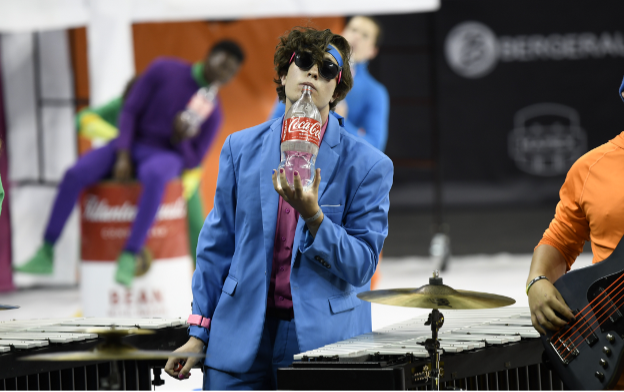 Q2 brought a spot of color to the floor with their 2023 production "Art imitates life imitates art". Exploring the art of Andy Warhol, Q2 dips into the world of pop art and embodies some of the movement's most famous works. As bold as they are visually, musically, they are even brighter. With fun and ear-catching moments scattered throughout, Q2 put out a product that won't be soon forgotten.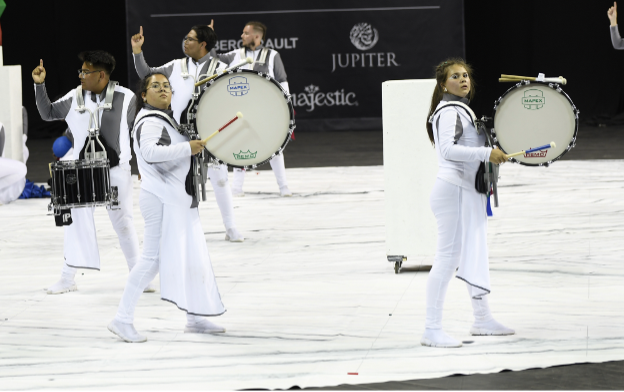 Bakersfield College explores the idea of ideas in their 2023 program "Abstract". The show begins on a white, bean shaped tarp with small green, blue, and red props on the other edges. As the show progresses those colors begin to spread and more spots of color appear on places like the performer's wrists to represent the spread of an idea. The show ends with those colored strips of fabric being held by the members to spell "ART". Musically, Bakersfield College filled the arena with confidence and executed a challenging musical package on top of an equally fast-paced visual book. Bakersfield College came to play, and they left it all on the floor with "Abstract".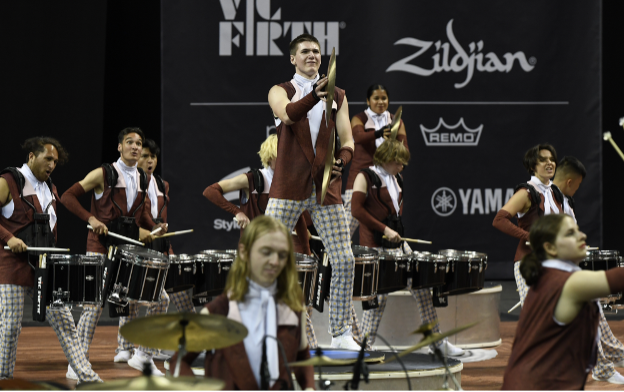 United Percussion 2 broke out the LPs and took us on a musical journey in their 2023 production "What Goes Around." With a tarp printed to look like a giant turntable, complete with platforms that look like smaller LPs, United Percussion 2 brought the house down with a beautiful and powerful performance. The ensemble's musical and visual proficiency was on full display, and with a massive closing hit, showing that "What Goes Around" comes back around.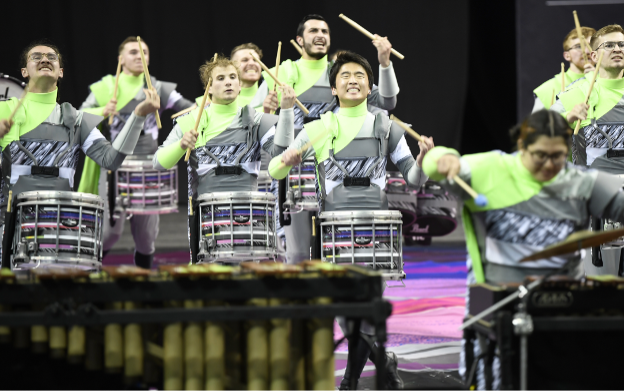 Spartans Indoor Percussion
Spartans Indoor Percussion left the audience shaken with their 2023 production "Tremor". Built around the concept of ripples as well as cause and effect. "Tremor" is an incredibly solid ensemble showcase. Musically and visually, Spartans Indoor Percussion came to play and their commitment to the theme and interplay between members is a clear highlight of the program. With green uniforms on a pink tarp the show is visually striking and when paired with the musical talents of the ensemble, "Tremor" is a wonderful show.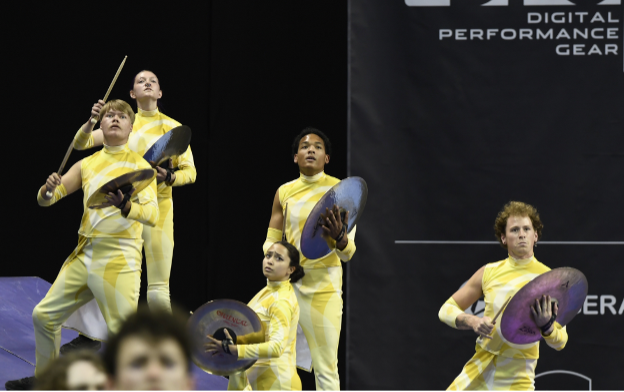 Vision Percussion takes the audience to the edge with their 2023 production "The Downward Spiral". Playing with ideas of mental health, Vision takes an inspirational spin on the concept and engages the audience throughout the show. With an ear-catching approach to their intense musical package and contrasting blue tarp and yellow uniforms, Vision Percussion demands attention and they make it worth your while. "The Downward Spiral" is an enthralling approach to the topic of mental health and in the skilled hands of Vision Percussion, it sticks the landing.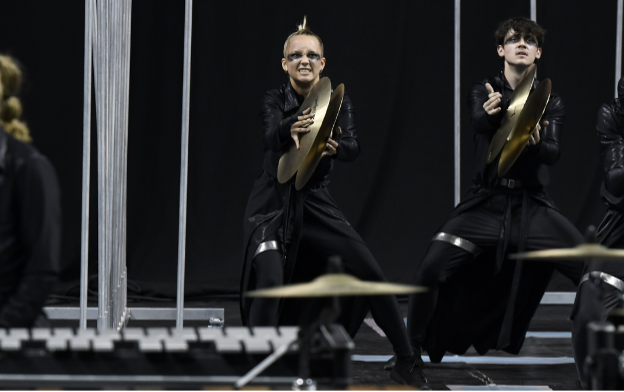 Cap City 2 took the floor with their 2023 production "In-Trapment." With a tarp painted like a maze and jail-cell-like poles moving around the floor, Cap City 2 explored ideas of mental barriers and feeling trapped in your own head. Using musical selections from artists like Mac Miller, Cap City 2 crafted a very reflective and freeing vibe in the floor that perfectly complements their powerful playing style. Bringing an incredibly impactful musical package and stunning visual proficiency, Cap City 2 came to play.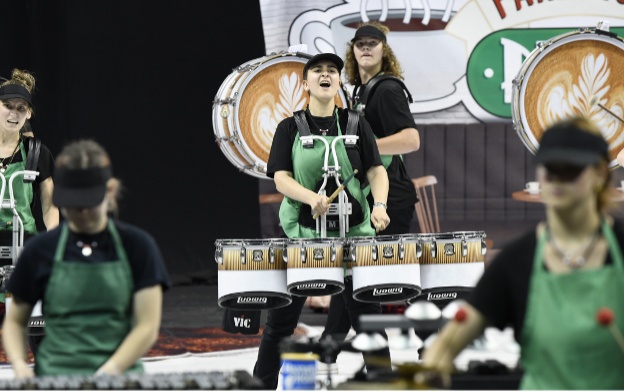 Paradigm Percussion took the floor with their incredibly creative and high-energy 2023 production "Paradigm Perk." An ode to coffee and its mystic properties, Paradigm takes the audience to Paradigm Park coffee shop. With their loud and confident musical approach and fantastic attention to detail, "Paradigm Perk" is an instant crowd-pleaser and a show few will soon forget.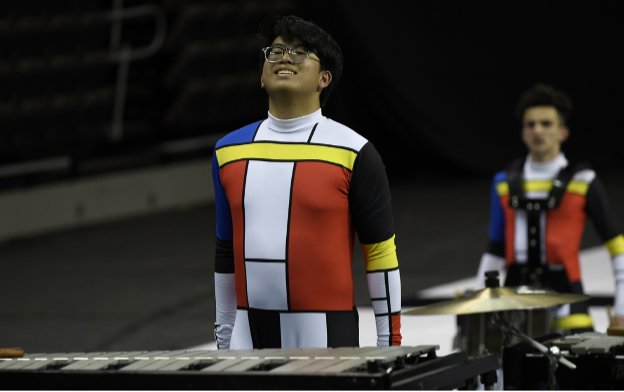 Resistance Indoor Percussion
Resistance Indoor Percussion brought out all the toys for their 2023 production "On Board". Their floor was stark white with yellow, blue, and red fences acting as backdrops as well as matching uniforms. With cajones, gock blocks, and other wooden textures, Resistance always had something new to play with. Overall the musical package was an incredibly intense showcase of the ensemble's talent as well as the performer's individual strengths.  "On Board" is a statement-making show and when all the elements come together, it is not one to forget.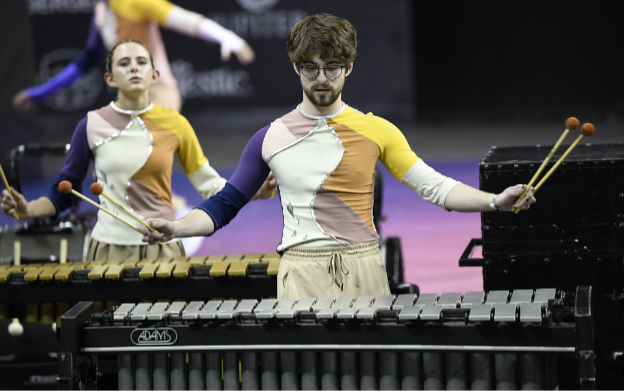 Crossroads Percussion showed us a glimpse of the afterlife in their harrowing 2023 program "Into Oblivion." Starting with a car accident, "Into Oblivion" shows the audience what goes through the mind of someone on the brink of death and their internal fight for survival. Crossroads approaches this intense topic with grace and, combined with an incredibly impactful musical package, puts on one of the best shows of the weekend.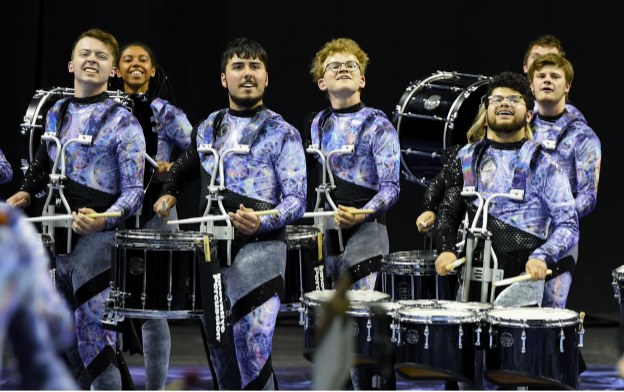 Matrix Open took the floor with a rousing 2023 production titled "Now or Never". Playing with the ideas of missed opportunities and taking chances, Matrix Open stunned with their powerful presence on the floor and visual intensity. Utilizing TVs to broadcast text and images related to the theme of "Now or Never", Matrix Open took command of the arena and left everyone with something to think about as they left the floor.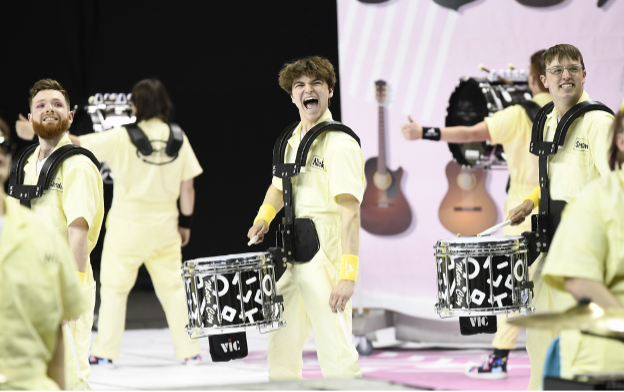 Motor City Percussion takes us to work "The Night Shift" in their 2023 production. Motor City put an incredible vibe on the floor, their show was full of color and was absolutely brimming with energy. Their yellow jumpsuits, 80s-style hair, and dozens of charming details all around the tarp helped make this show one of the most memorable of the weekend. Theme aside, Motor City had a rock-solid musical box and performed the breaks off of it from the start.