The Competitive Landscape
During the 2023 Scholastic A finals, the students of Hempfield High School, under the direction of Matt Carraher and Reed Kimmel, performed their production "51". Using the storyline of aliens landing on Earth, the Pennsylvania based ensemble took the traditional story and added their own special twist, leading them to 5th place. We spoke with percussion director Matt, entering his 3rd year at the school and 6th with a similar design team, about the ensemble, the staff, and what they enjoy most about the activity.
When asked how he'd describe the marching arts landscape in Pennsylvania, Matt recounted how it's a unique area. His school isn't particularly close to any DCI groups or WGI Independent groups, but there are a few DCA corps (which will officially be DCI All Age for the 2024 season) and some strong college marching bands and that becomes the next level for many of the students. The closest WGI ensembles are Dartmouth, South County, United Percussion, and George Mason.
Matt believes "The Mid Atlantic is still a strong area though, especially for the A class groups."
He even mentioned that half a dozen or so students perform with Reading Buccaneers each season, a DCA corps that Hempfield also hosts for the Reading Buccaneers Classic.
The Hempfield students that don't participate in DCA often attend West Chester University or Towson University and participate in their marching bands. Many Hempfield students also continue in the activity as teachers.
"We have a few alumni teaching at different schools in the area, and almost our entire percussion staff is made up of alumni either from Hempfield or other schools that our team has taught."
The same system of transitioning alumni into staff, which California ensembles speak so highly of, is also taking place in the mid-Atlantic. And now that this staff has worked together for several years, they've streamlined both design and education. Matt's team begins planning the next year as soon as they head home after championships, with much of the process done during the summer. Their main goal is a complete storyboard by the end of July along with props, costumes, and floor finalized by September. Inspiration for 2023 came from everywhere: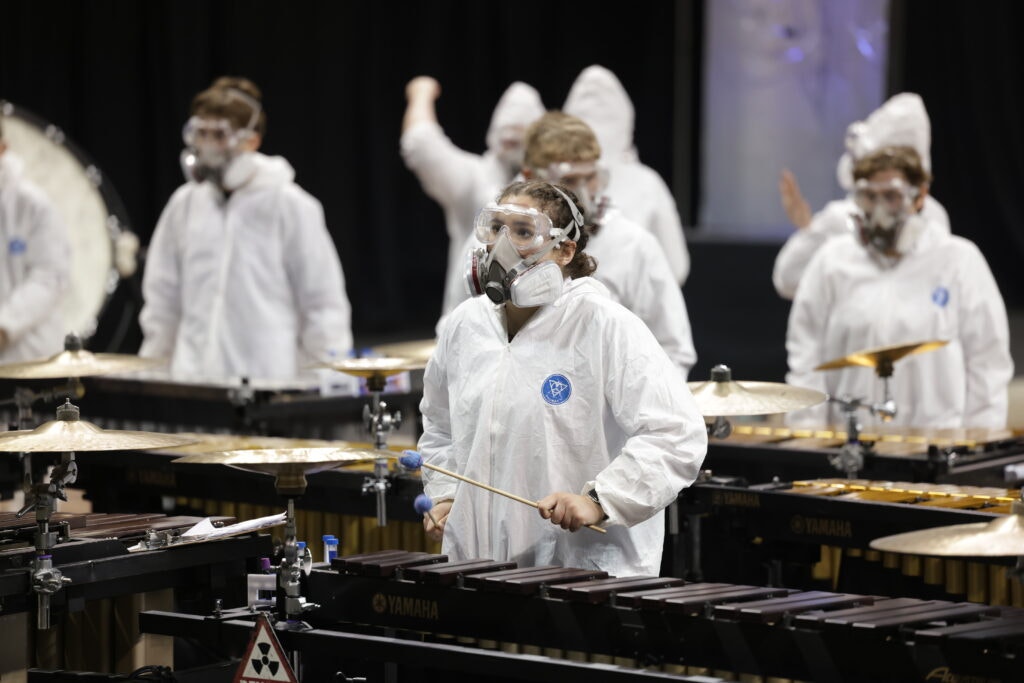 "Independence Day, some from Star Trek…the scientists were designed to look like the scenes from the end of ET. The 'alien' aspect of it really kept evolving all the way until the end of the season. We had to choreograph the way the aliens walk, interact with each other, interact with the audience."
The team wanted to create a sincere, fresh, intelligent species so the audience really believed there was an alien ship crash in the arena. Matt continued "we have a core team of 5 people who did most of the storyboarding and design" but they often use concepts from everyone on staff and even allow the students to provide input. Since the design team pulls double duty as an instructional team, there's a solid understanding of what the students can do.
The goals for Hempfield are technique and achievement so the students can focus on playing and movement. Matt believes this allows the production value and effect to mostly derive from design. The students participate in fundamentals as well as dance blocks and basic marching technique, making everyone well rounded.
"This was a show the kids really bought into, and the design gave them a lot of opportunities to put a personal touch on it. We were also always looking for ways to incorporate the front ensemble more from a visual standpoint. With the dichotomy of the two opposing sides, this gave us a lot of opportunity for them to have their own visual moments and carry the storyline from both a musical and visual standpoint. They loved being a part of that aspect, and really got to learn a lot from being a regular part of dance technique blocks."
Additionally, Matt shared that the storyboard revealed itself naturally. Movement 1 focuses on aliens landing. During movement 2, the scientists capture the aliens. Movement 3 is the alien escape, while movement 4 is the alien take over. "What was really fun was getting to characterize each individual aspect of the show, to really try and bring it to life." Any ensemble could take that skeleton of a concept and build on it, so Hempfield chose to give each alien a name, job title, and back story, creating an "immersive experience for the performers."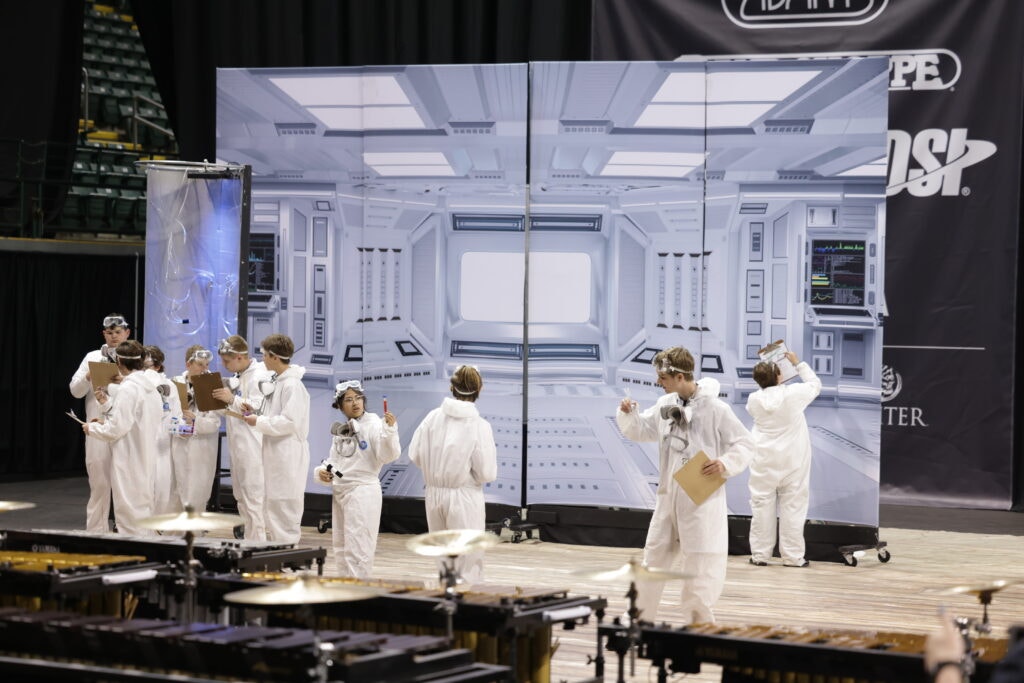 There's no doubt that the production value is a great support for what these students crafted. And luckily, parents were able to build everything in house, repurposing platforms, birthday candles, and ramps. "The only things that were fabricated just for this show were the science lab panels." Even the floor was repurposed – shout out to George Mason University 2020! "The full set took over an hour of assembly, so getting the crew to show up for every rehearsal was a big ask." Which is a great reminder to ask for help because you never know what skill sets are hiding in your community. Matt and his team are continuously thankful for the parents, guardians, and craftsmen and their investment in the students. It changes everything.
Thanks to this group effort, Hempfield created two opposing stages: a crash sight and an Area 51-esque laboratory. Why these props, containers, spaceship, and holding area? And what story do the musical selections really tell?
"The big panels served two purposes- we wanted to create the stage for the science lab, but we also wanted to hide the alien 'holding tanks' until they were revealed in the second movement to create more of a WOW factor. We ended up making them 12 ft. tall because of how big the tanks were, and needed them to still be covered from the audience perspective in the arena…The spaceship was originally designed to be a flying saucer that was half sticking out of the ground, but the limitations of needing to house a performer inside of it, and a little band dad ingenuity came up with the final design. They even added a hydraulic lift and chase lights to give it more authenticity."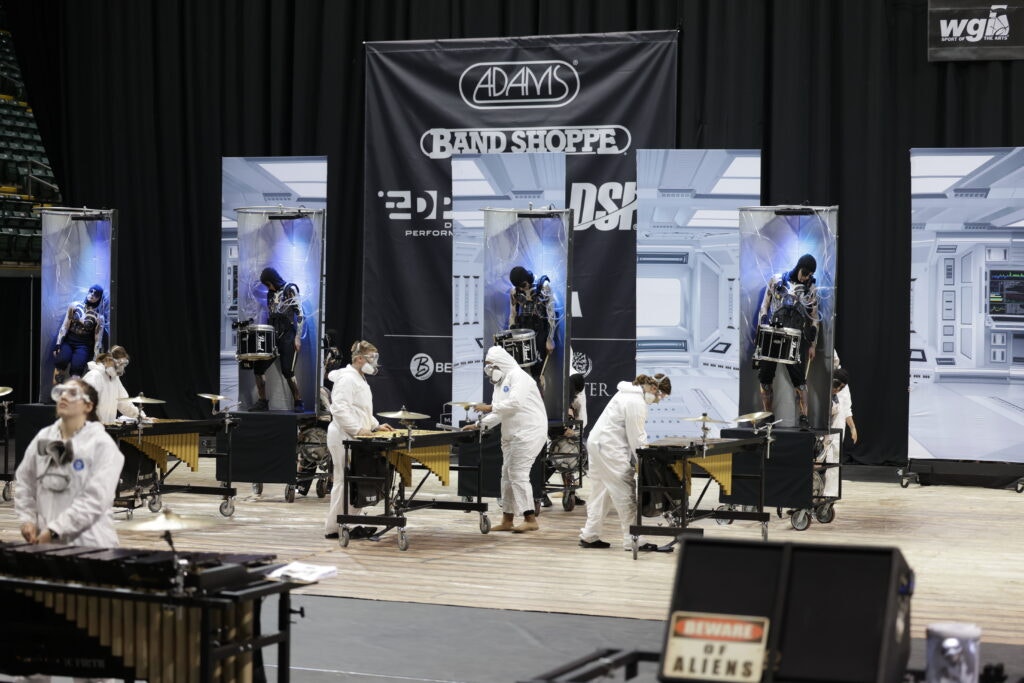 The show excels because of effort. Upon rewatch, make sure to zoom in to see the freehand texture and details, provided by a staff member who is also a local tattoo artist. Props were also donated by a mix of staff members and a band parent that works in an actual laboratory. To round out the stage, Synced Up Designs provided source music "No Man's Land". Matt believes the combination was "meant to be."
Before wrapping up the conversation, Matt and I returned to talk about context. With all the training and education his students receive, paired with a passionate education and design team, and giving parents, was there a vibe of competition or did the ensemble have other goals? Matt spoke honestly about camaraderie and community in his answer.
When discussing the nuances of competition in Pennsylvania, Matt explained that his area is actually 5 circuits overlapping: MAPS, AIA, US Bands, TIA, and lastly KIDA, the circuit they compete in.
Influences and Inspiration
"There are not a ton of groups that attend World Championships from this part of the country, but I think it's a great area for developing programs. There are not many World Class groups or even Open class groups around us…there are a ton of A class groups, and in fact the New Jersey Percussion Regional was the biggest one for A class all of last year. So, the competitive environment is strong for the developing classes, even if most of them don't attend World Championships."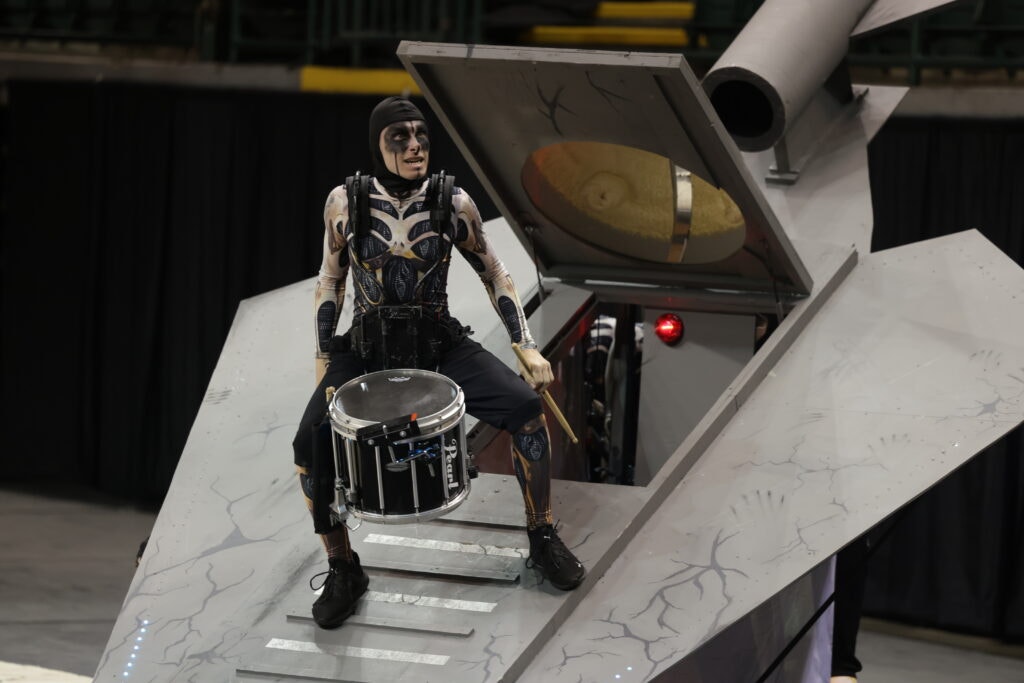 Referring to A class again, Matt believes the local circuit is quality, but he always looks forward to attending regionals and Dayton, so students can see other classes. "We especially love seeing the Scholastic World groups, since it's kids just like them doing this activity at the highest level.
As always, I made sure to find out who inspires Matt's team. We need to know who the best in the business are watching and to no surprise, they're watching the same groups as us.
"World Class is so good every year…tons of innovation and great ideas…willing to take risks and try new things…we have really found our niche as a design team in telling very clear, very relatable stories, and no one does that better than Dartmouth."
About the Author:
Jeffrey Peterson currently teaches English and music at Fugees Academy and previously taught at the University of West Georgia and Spelman College. He graduated from the University of West Georgia with a BA in English and the MFA program of Sarah Lawrence College in Bronxville, NY, with a degree in Writing. Jeffrey currently directs Q2, a PIO finalist from Atlanta, GA. From 2017-2018, he served as one of their bass techs and previously taught bass for Atlanta Quest in 2011, 2014, and 2015. Jeffrey performed with ALLIANCE DBC from 2005-2008 and 2010-2011, while also serving as Executive Director for the corps in 2015 and 2016.