By: MJ Johnson
Congratulations to all of our 2023 Scholastic Open class finalists! Review their productions below in order of Finals placement.
Somerset Academy (97.250) 1st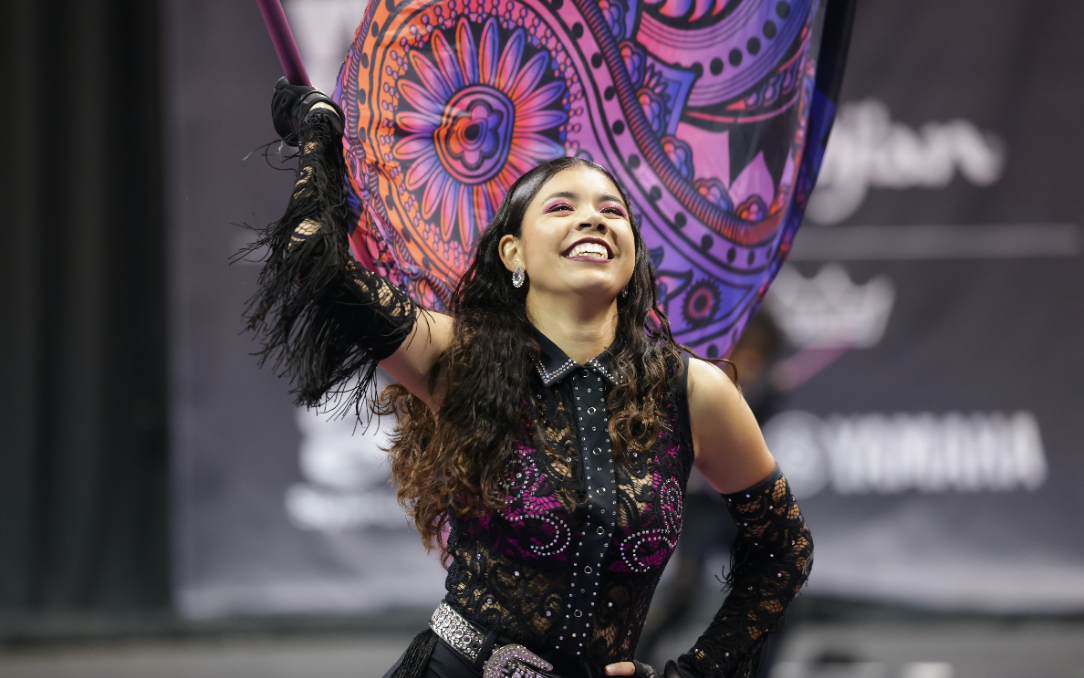 With "Rifles, Ropes, and Rhinestones!", Somerset Academy takes the floor as stunning cowgirls decked head to toe in rhinestones and fringe. With costumes reminiscent of Orille Peck, who's music they are dancing to, the performers stand out in sparkling black against the purple, blue, and pink floor. Once the cowboy hats come off, the energy of the performers and audience is palpable when they finish with a stunning flag feature and strike a final pose.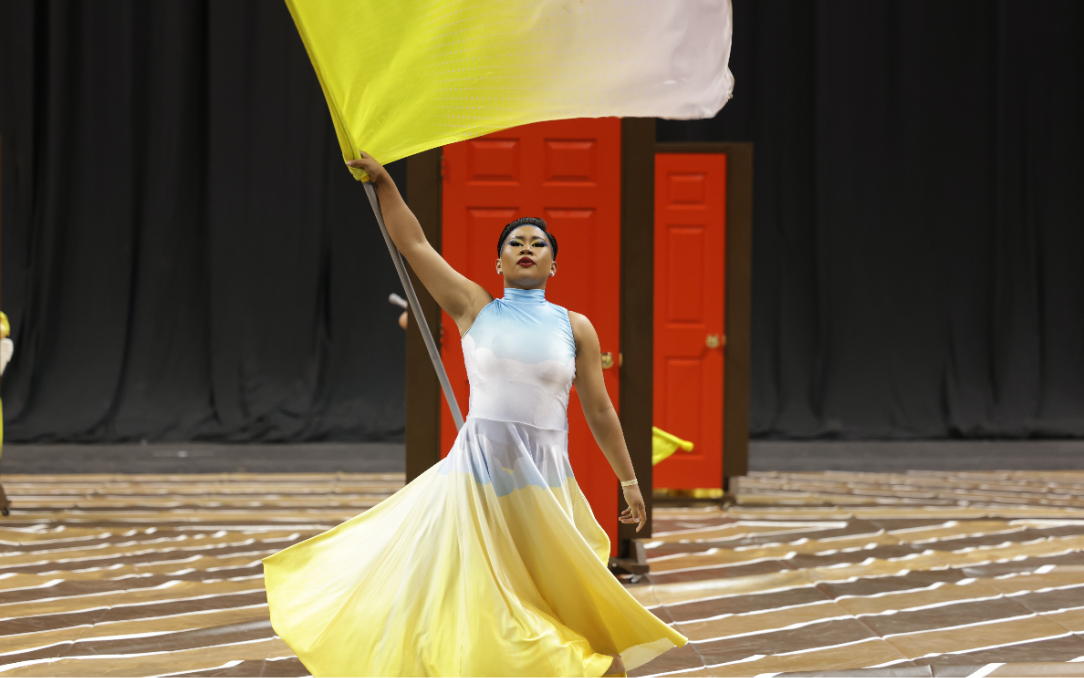 With red doors surrounding the floor, Mt. Carmel HS shows us "When one door closes…". Performers slamming doors shut in time to the music adds an element of intensity to the moment. As the music tempo ebbs and flows, the performers match this speed with their equipment. They move the doors and themselves across the floor almost effortlessly and move their flags together with stunning precision.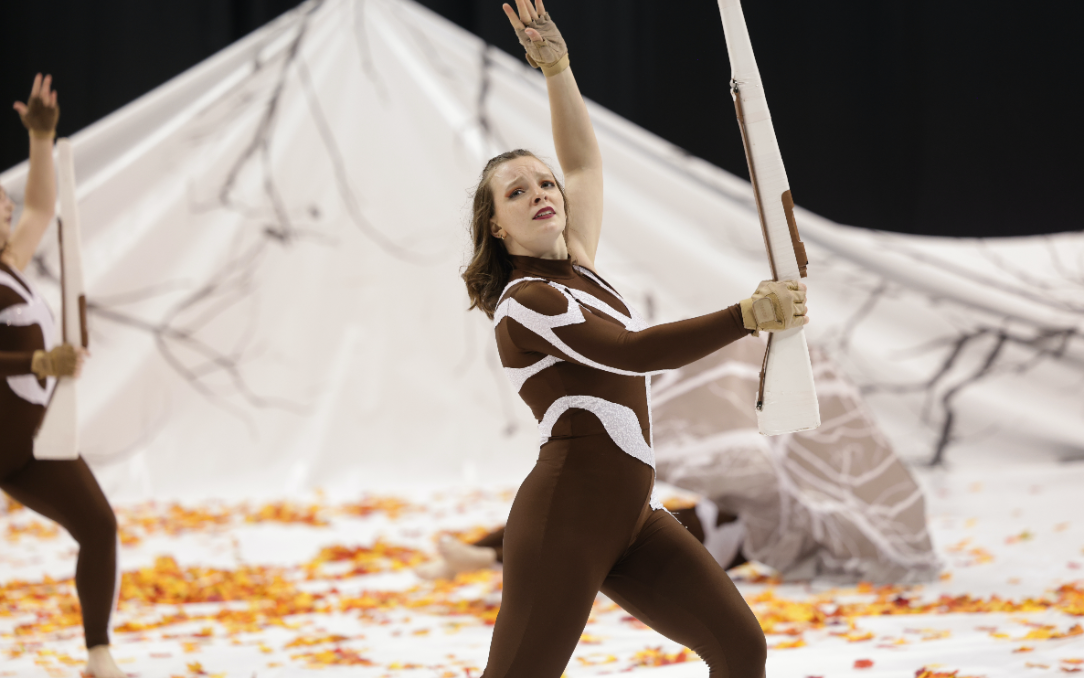 In their production "Autumn Leaves", Milford HS (OH) sets the stage by propping up the back and sides of their floor which has tree branches on it. This makes it feel as though they are in a barren forest of trees. Performers sprinkle fall colored leaves as they dance across the floor to the sound of windchimes and wind, as though experiencing the chill of fall. Even with a soundtrack that is relatively quiet, these performers cleanly spin their flags and rifles. With leaves swirling around them as they start a beautiful flag feature and finishing as though a tree surrounded by piles of leaves.
Centerville HS (94.600) 4th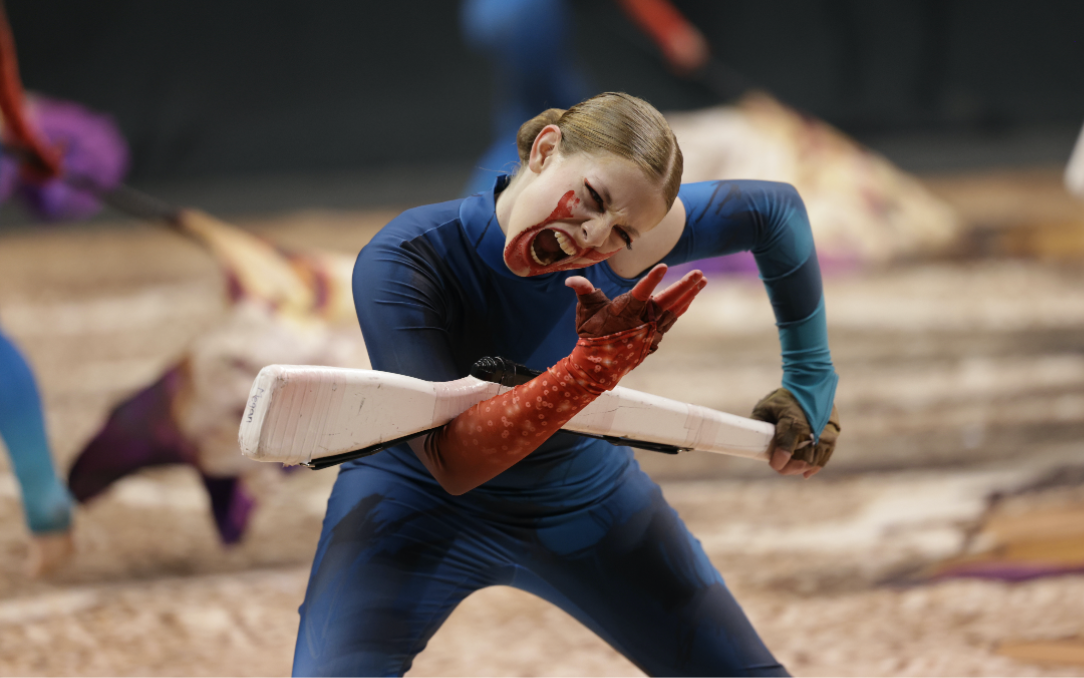 Centerville HS gives us a stunning performance with "Red Right Hand". The floor has two images of many large hands attempting to claw their way out of the floor. One being the red right hand. The performers' costumes also embody this by having their right hands covered in red, along with a red handprint along their face. There is an intense moment where the voice singing screams loudly and the rifles fall to the ground in the silent moment afterward. The flag feature is spun almost exclusively with the right hand, once again featuring the red right hand.
Oviedo HS leaves us with a hopeful message with "In Spite of Everything". With a large door on the floor, a poem voiceover speaks of being stuck in a room for years. Eventually, performers remove their sweaters and turn the door to reveal a bookshelf. They leave us with a message of hope to see the good in the world in spite of everything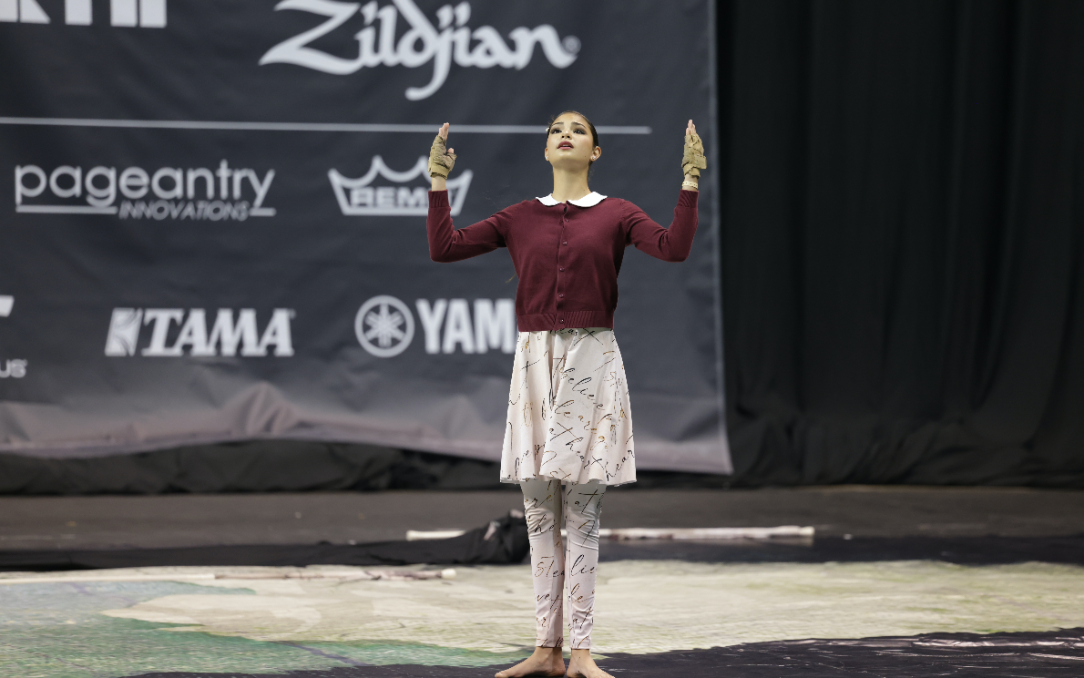 Brownsburg HS (91.850) 6th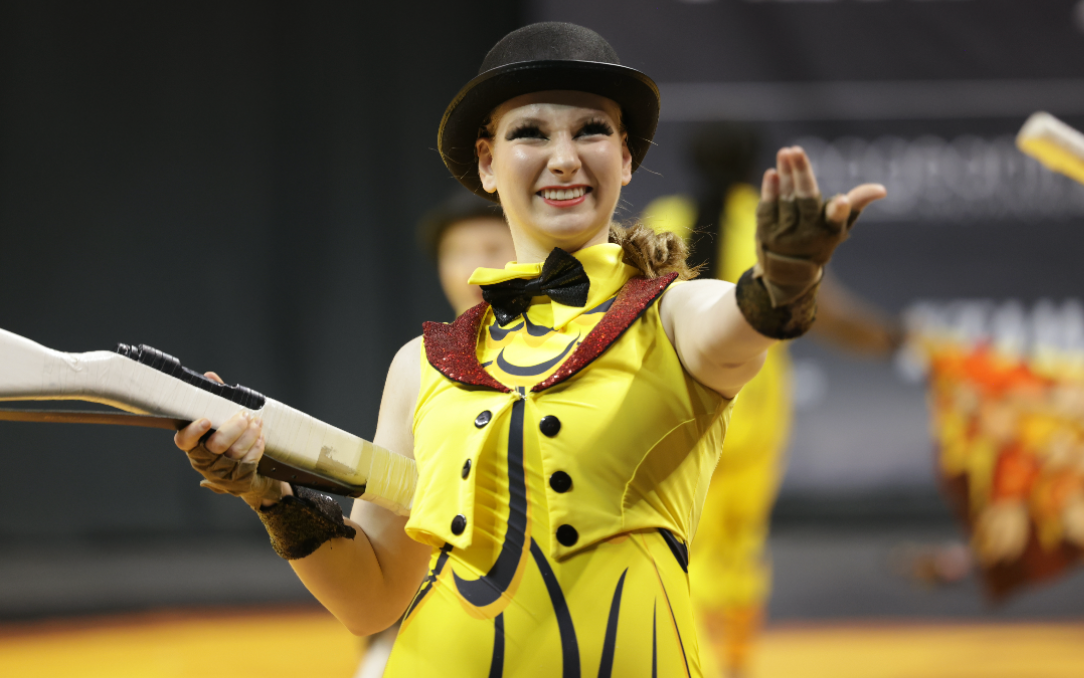 Brownsburg HS shows us how fun it is at "The Coop". With a chicken coop and screaming chicken toys, this group has fun with each other and the audience. While it may seem silly at first glance, these performers are no joke. They make spinning flags and weapons together look effortless. As chickens fly across the floor, Brownsburg reminds us to "Eat More Beef".
Shenendehowa HS (90.850) 7th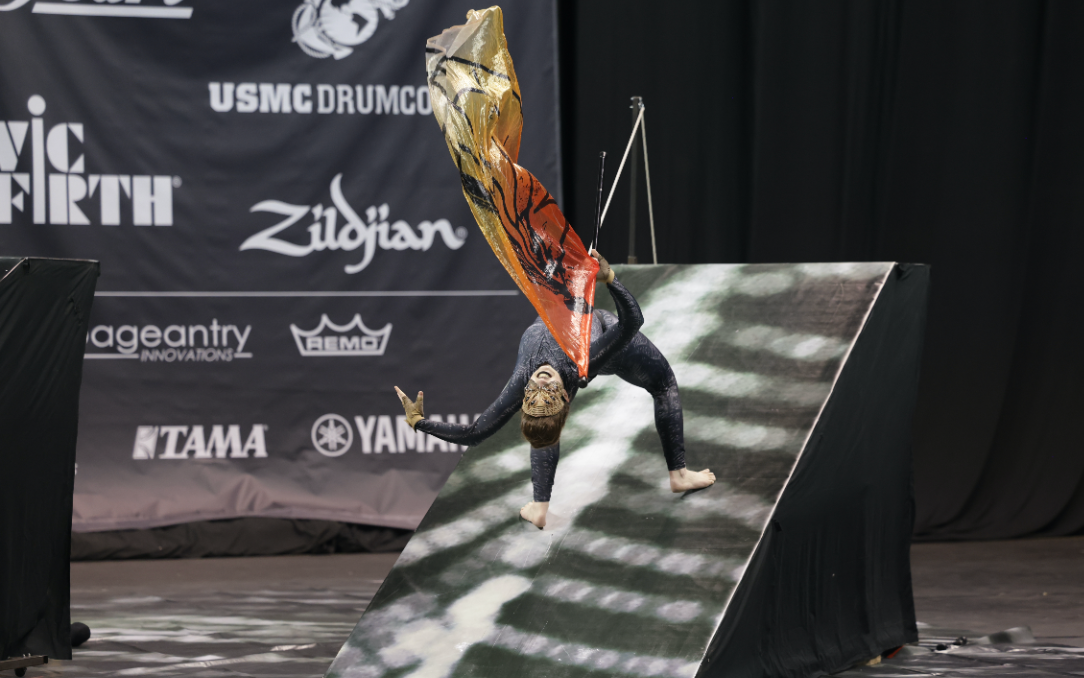 Shenendehowa HS invites us in with "Walk into my Parlour". With a floor covered in a spider web and realistic masks, these performers might as well have eight eyes and eight legs. In a chilling moment, several performers move towards the audience in a backbend as a haunting rendition of Itsy Bitsy Spider plays. These performers embrace the creepy and invite the audience to walk into their web.
Northmont HS (89.100) 8th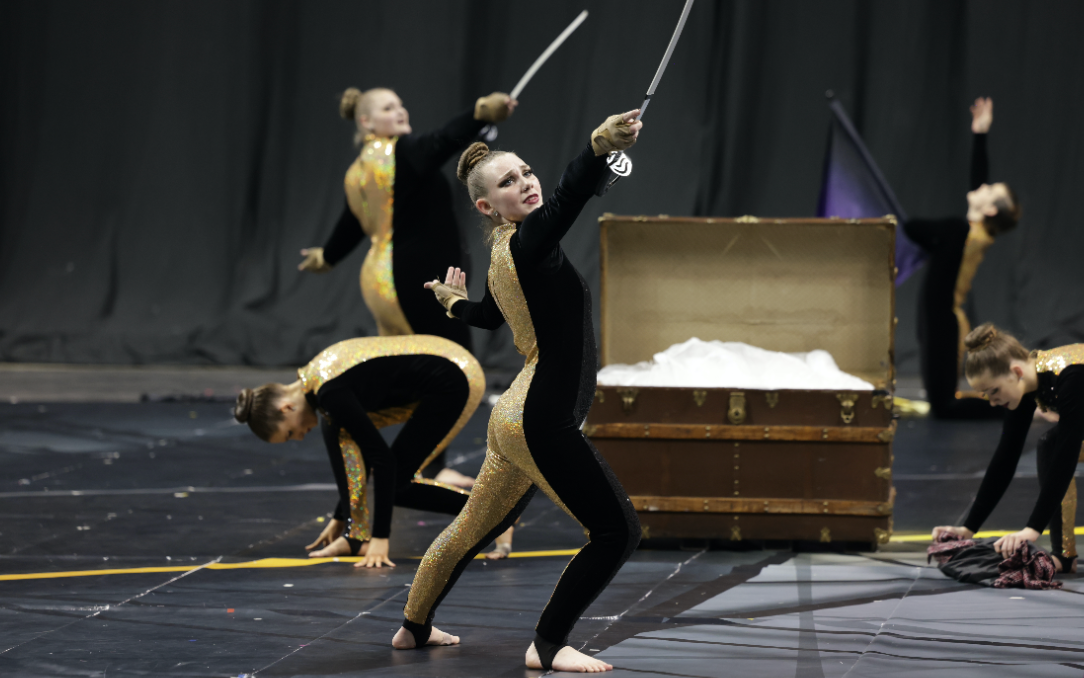 Northmont HS shows us the pain of losing a loved one with "Moving On". With plastic tarps covering cases of luggage, we see the act of packing up a loved one's items and letting them go. In a solemn moment, there is a beautiful dance feature with these plastic moving tarps. The cases of items move across the floor as this story unfolds and concludes with it reaching the corner of the floor as it's covered in plastic one final time.
American Fork HS (88.650) 9th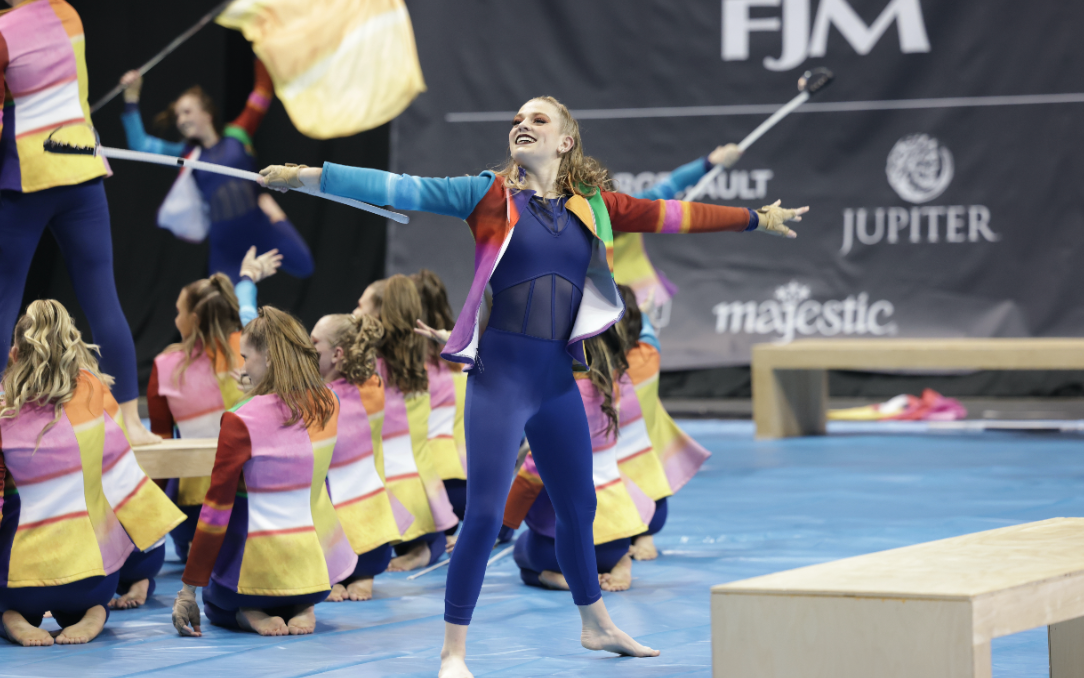 American Fork HS pays tribute to painter Mark Rothko, best known for his color field paintings that depicted irregular and painterly rectangular regions of color, with their performance "Rothko". With jackets showcasing the rectangles of colors, the performers use the jackets as an extension of themselves, taking them on and off throughout the performance. They also use benches to divide the floor and separate the audience's focus. They leave us with a final moment showing Rothko's portrait on the inside of their jackets.
Westlake HS (TX) (88.450) 10th
Westlake HS (TX) shows us how isolating loneliness can be with "My Own". "Dancing on my Own" fades in and out in a way that showcases how one might feel alone even when surrounded by others. There is a beautiful moment at the end with pink flags and performers slowly leave the floor, revealing a soloist dancing alone. They continue to dance even after the music has completely faded out and the rest of the performers have disappeared behind the curtain.
William R Boone HS (87.500) 11th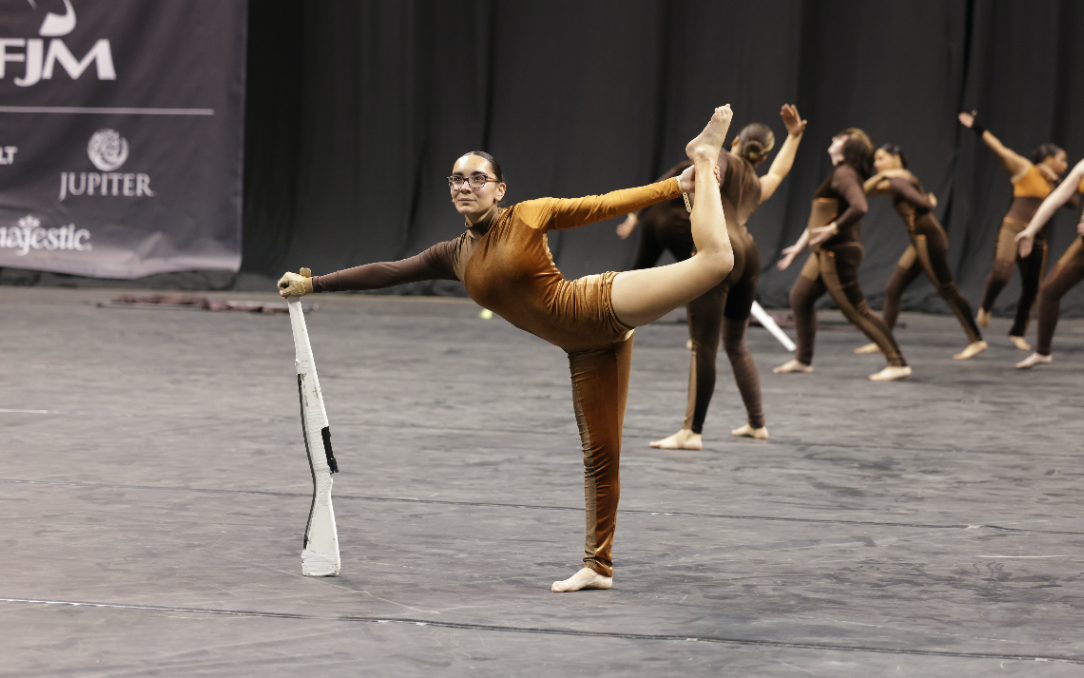 In William R Boone HS's "Upright", we are taken through the human's journey to becoming upright. With no backing music, these performers only move to the voice of a researcher describing different anatomy structures and comparisons. As they describe these different anatomical evolutions, performers move and articulate their bodies depending on which part of the body is being described. As the show ends, the performers casually spread out by simply walking and we see that they have posed showing the phases of humans standing upright.
Palm Desert Charter MS (85.600) 12th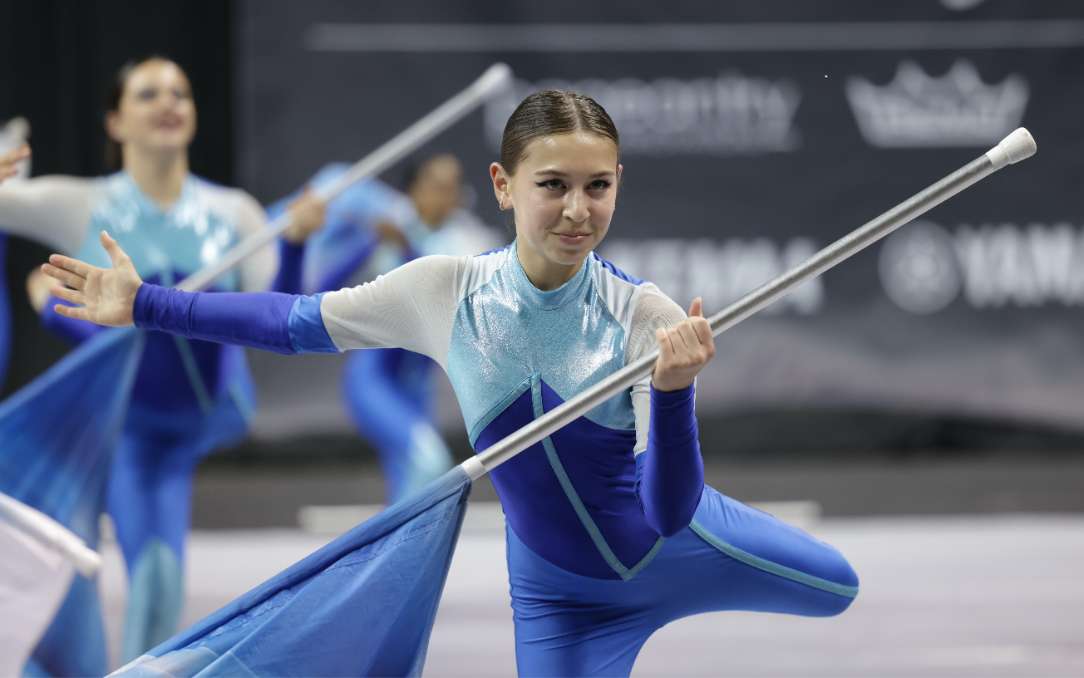 Palm Desert Charter MS begins "Along the Divide" by moving across the floor in a tight dance form. As they move, dancers break away and eventually divide into two lines. These performers have amazing synchronization as they give us a full ensemble rifle feature. They fill the floor with a beautiful and memorable performance, ending the show reconnected "Along the Divide"..
Friendswood HS (83.750) 13th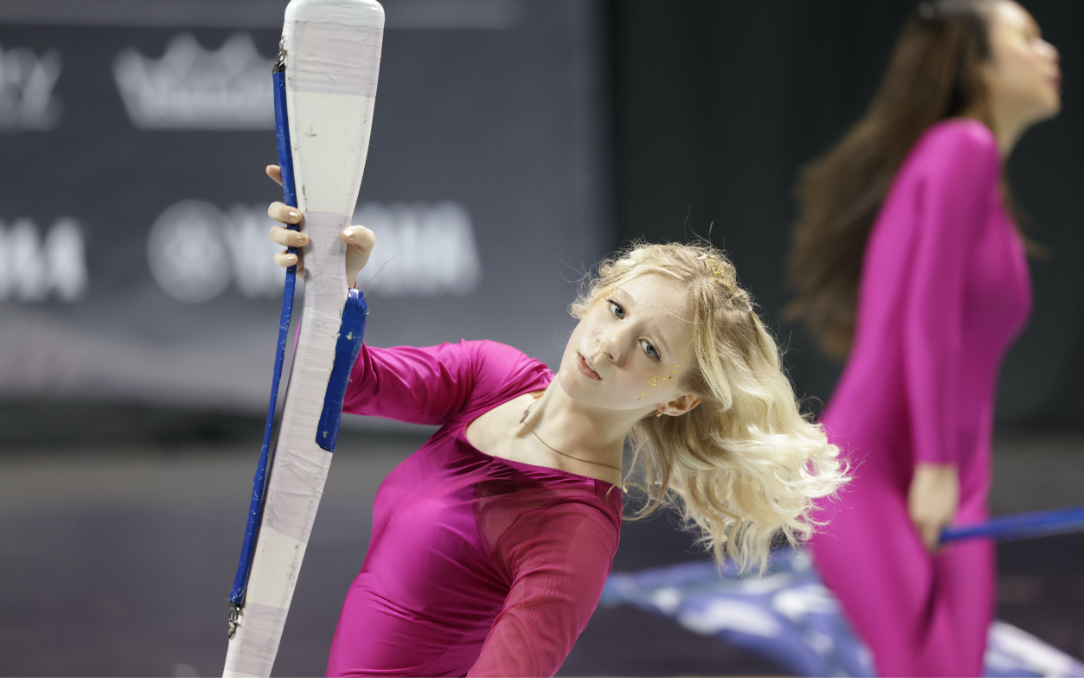 Friendswood HS shows us "A Safe Place to Land". In pink, the members move across a floor with three circles leading the audience 'through the dark' as the soundtrack repeats. The performers' control of their equipment is impressive and inspiring as they move within these circles on the floor. They leave the audience with calm reassurance as 'the sun comes up'.
Franklin Central HS (82.850) 14th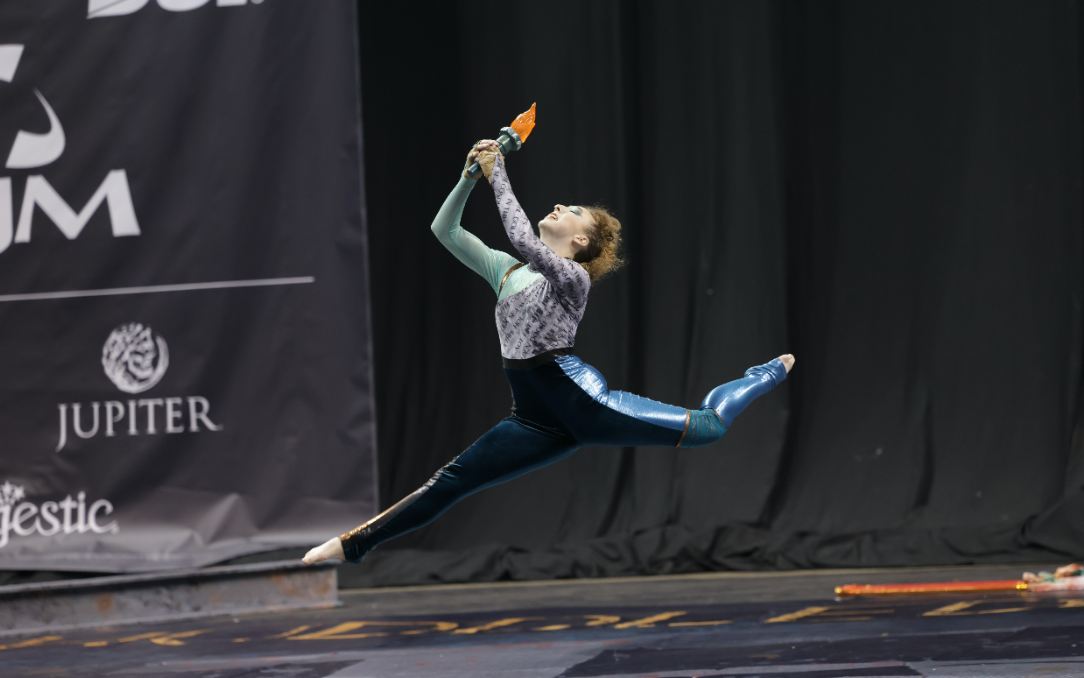 "And they are running…" starts with a stunning dance feature and a soloist holding a torch like the Statue of Liberty. Surrounded by steel beams and worn copper, Franklin Central HS is yearning to breathe free. There is a dance and rifle moment where the music is reminiscent of factory machines and noise. We are left with a hopeful message as the steel beams are rearranged to spell "HOME".
Naperville Central HS (82.850) 14th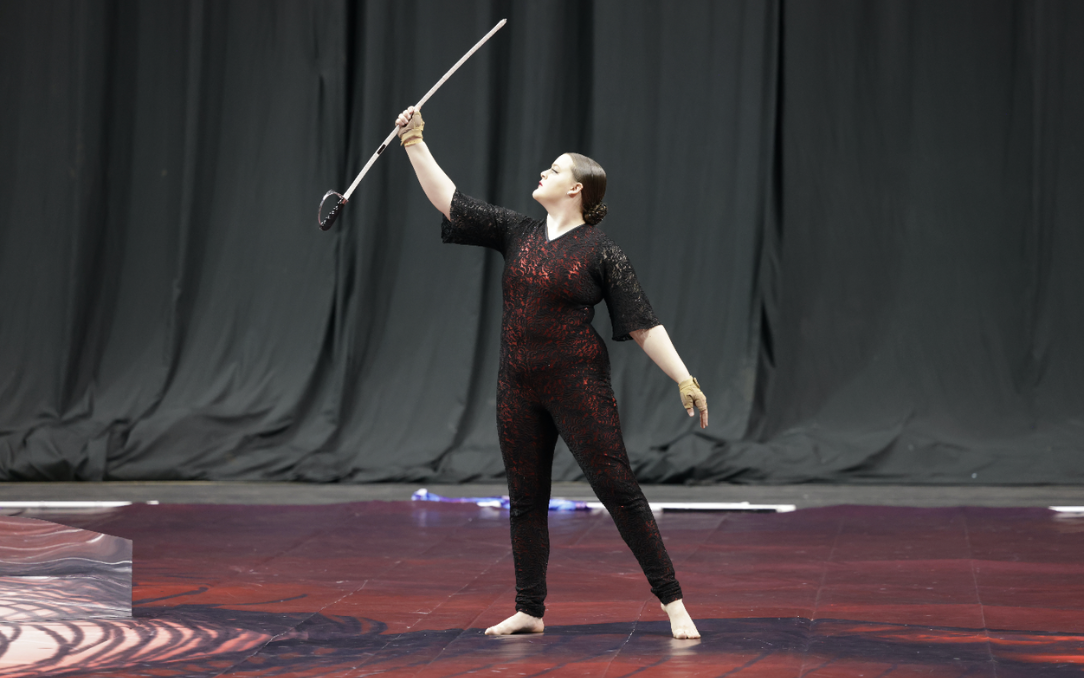 Naperville Central HS embodies the sad and beautiful nature of emotion with "Lament". The soundtrack is a sad duet of two voices lamenting for each other. The floor has a crying red eye featured prominently with mirrors that are used to give the illusion of the eye looking up at the audience. After a beautiful flag feature, the two performers representing the voices sadly sink behind the eye.