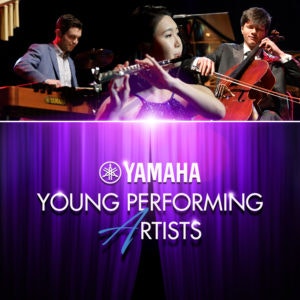 From a Yamaha Press Release
Yamaha today announced that the application process for the 2018 Yamaha Young Performing Artists (YYPA) competition is now open.
Between now and January 8, 2018, musicians aged 18–22 are invited to apply to the prestigious program, which has been recognizing outstanding young musicians from the worlds of classical, jazz and contemporary music for three decades.
Winners of the 2018 competition will be invited to attend an all-expense-paid trip to the YYPA Celebration Weekend, held at the Music for All Summer Symposium. There, they will have the opportunity to perform in front of thousands of students and music educators, participate in workshops designed to launch a professional music career and receive national press coverage along with a recording and photos of the live performance. Winners will also enjoy many of the privileges of a Yamaha Artist, including services and communication with Yamaha Artist Relations.
"The YYPA Program is one music competition where the prizes can last a lifetime," says John Wittmann, director, Artist Relations and Education, Yamaha Artist Services Indianapolis. "Since the program began in 1988, Yamaha has set young artists on track toward long, successful careers as both performers and educators."
"I absolutely loved my time as a 2008 YYPA winner," says Conrad Jones, who is now principal trumpet of the Indianapolis Symphony. "Soloing for such a large and enthusiastic audience really helped me develop a sense of what it takes to handle the 'hot seat.' I'm also very grateful for my relationship with Yamaha. I still rely on my Yamaha instruments on a weekly basis with the ISO!" Echoing that sentiment is Patrick Bartley, a Grammy-nominated saxophonist, composer and bandleader who won YYPA's saxophone category in 2015. "The YYPA weekend was truly, and unexpectedly, the most inspiring three days I've ever had," he says. "Coming into it, you think it's just going to be another 'camp'-like experience with some good players. But then you immediately realize just how serious everyone at Yamaha is about wanting to see you grow and flourish. They're like family. By the end of the weekend, I felt mentally prepared to build my career. People like John Wittmann and Jeff Coffin really helped me harness and internalize tools for being clear, confident and motivated while moving through this whole process!"
The competition is open to students studying in the U.S., who are 18-22 years of age at the time of entry. Applications will be considered for Piccolo, Flute, Oboe, Bassoon, Clarinet, Saxophone, Trumpet, French Horn, Trombone, Euphonium, Tuba, Mallet or Concert Percussion, Drums, Violin, Viola, Cello, Upright Bass and Piano.
"We want as many students as possible to get involved," Wittmann added.
"Of course, it's always hard to choose just 10 winners from so many gifted applicants, but we've seen that even the act of preparing their applications helps young musicians focus on their talent and their careers. For all who enter, the YYPA competition can be a step toward a promising musical future."
For full details about applying, visit https://app.getacceptd.com/yypa.
About Yamaha
Yamaha Corporation of America (YCA) is one of the largest subsidiaries of Yamaha Corporation, Japan and offers a full line of award-winning musical instruments, sound reinforcement, commercial installation and home entertainment products to the U.S. market. Products include: Yamaha acoustic, digital and hybrid pianos, portable keyboards, guitars, acoustic and electronic drums, band and orchestral instruments, marching percussion products, synthesizers, professional digital and analog audio equipment, Steinberg recording products and NEXO commercial audio products, as well as AV receivers, amplifiers, MusicCast wireless multiroom audio systems, Blu-ray/CD players, earphones, headphones, home-theater- in-a- box systems, sound bars and its exclusive line of Digital Sound Projectors. YCA markets innovative, finely crafted technology and entertainment products and musical instruments targeted to the hobbyist, education, worship, music, professional audio installation and consumer markets.