By Jeffrey Peterson
In an interview with the directors of Rhythm X, Tim Fairbanks breaks down some of the most iconic moments in the group's history and offers advice on ways to promote growth from both an organizational and member standpoint.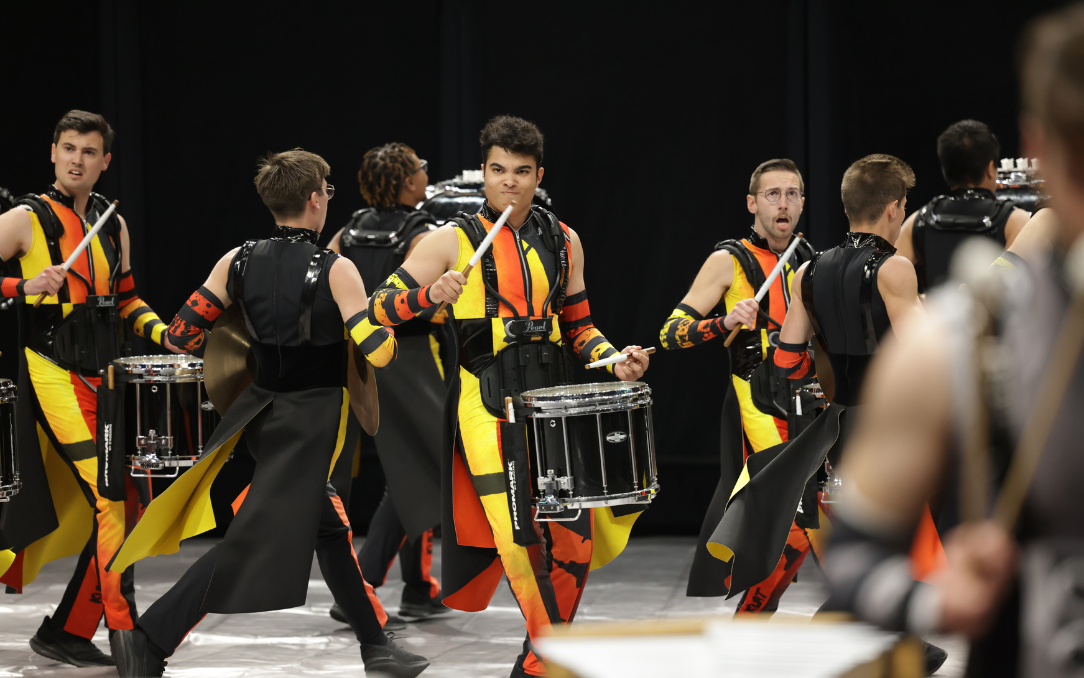 What was the original catalyst or reason for starting Rhythm X?
Rhythm X was started in the Fall of 2001 by Craig Dunn, the founder of the group. He was the Westerville South percussion director at the time, and the program had taken a turn. They lost some funding and weren't able to come out, but he wanted a place for his kids to be able to perform, so they started out in open class. He had a solid base of people in the Columbus area, plus North kids and South kids, and then some that people knew through drum corps. It started off as mostly a local thing. He and Kevin Hollis were the first two to really work with the group. He did the pit arrangements and the drill. They hired Colin McNutt, who wasn't really familiar with indoor as much but was well known at the time for battery beats. They started doing well competitively in open class.
At the same time, I was at Centerville High School, and I knew Kevin. Craig brought me in at the end of the year to kind of help with some visual things and some overall programming. It started as a local thing for kids in the area, but by the end of our first season, we ended up winning open class, which was kind of wild. Then they started to draw a lot more talent. I brought a bunch of my Centerville kids in 2002. In 2003 we tapped into Glassmen Drum & Bugle Corps. We had a bunch of staff from there too and just ramped up the talent level to a world-class group. The next year we were sixth or seventh, and now we're getting some notoriety.
Getting sixth in 2003 was a lot easier than it is now, but we still got some press. We brought Mark Reynolds in, and he did the pit while I took care of the visual and battery. We went out to San Diego with a show called "AV." We were fifth in prelims and jumped five points between prelims and finals and got third. That was the first time Blue Knights didn't medal. At that point, we started turning some heads. A lot more people were interested in auditioning. In 2005 and 2006, we were second both of those years. In 2007, we went to Europe and I wouldn't say it was an off year, but competitively we didn't place well.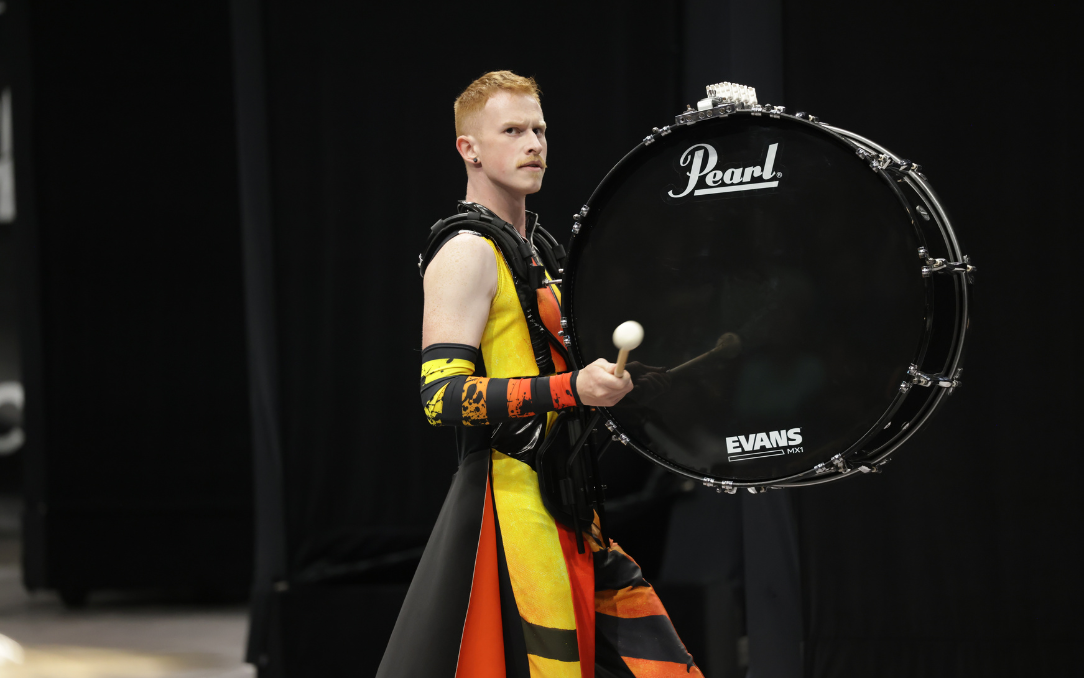 Would you say that your original goal was to create that home for those local players? Or was there another goal?
It was the original goal to create a home for local players until we realized that we were attracting more and more people from outside the area. Once we got into world-class, the goals changed. We've certainly become less local. We had a kid named Jared Thomas in the snare line once that drove from North Carolina every weekend, 13 hours one way. Around '08, we started attracting people that were commuting, and they finally realized to just move here. People started getting apartments for the semester.
What do you guys say your goals are now or maybe over the past five years?
The goal we talk about with the kids and the staff is we're just trying to create the best thing that's ever been. If that wins, then great. If it doesn't win, that's not up to us. But we're trying to come up with the best thing that we've seen in the activity. I think that we're kind of known for being a little bit more adventurous. You can see plenty of groups that are looking at and emulating the top groups in the activity to do well. For Tim Jackson, Andrew, and I, if we've seen it before, we probably don't do it.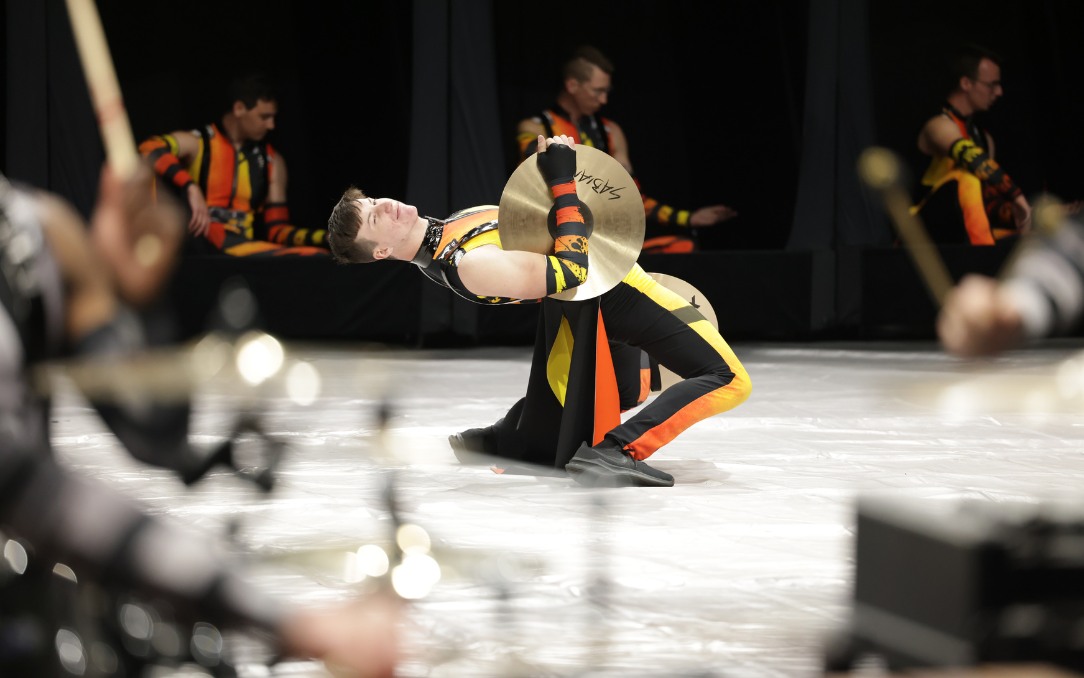 What year would you say was the most difficult as an organization, and how did you guys overcome it?
Our most difficult year by far was 2012. We were riding pretty high after consecutively high placements the past four years. We had a whole rehearsal facility set up and the day before our auditions, the facility that said they'd do the whole year backed out on us. We took some time and then checked every possible place within 150 miles and ended up landing on an abandoned carpet warehouse that was being leased as just open space. There was no heat. We had carbon monoxide detectors, and kids were still getting sick. The ceiling leaked. We had tons of tarps that were down for water and during the first rehearsal, a girl slipped and fell and broke her wrist. She was out for the rest of the season. The group played well but visually, we couldn't do much. The space was literally the size of the tarp. So when we would say "all right, go up" we would stand on top of one of the marimba frames and get a foot higher, and that's as high as we could get to clean drill.
Not even a scaffolding?
Yeah, if there had been room to rent scaffolding or put it up, we would have. That was still a year we got fourth, but the season itself was a grind. Tim, Andrew, and I were kind of the three main people that have been doing the show together. Since 2008, basically the three of us have taken over the job of director, depending on the year. It's been me for a while now, but around then, the three of us had kind of been switching on and off. Tim was the director that year but was in Columbus, and we realized that we needed someone as good at admin as we were at doing shows. We just didn't have that. We would get into a weekend, and we had spent our whole week worrying about what kinds of fire testers Buddies Carpet Warehouse had to pass and doing all the admin stuff, but we didn't work on the show like we normally would.
Before 2013, I was also Centerville's director, Andrew was the actual band director, and Tim was living in Columbus, so we were stretched really thin. The next turning point in the group was when we hired Mike Scott to do admin. He was a fresh age out, but we recognized something in him that was special as far as that set of qualities goes. He nailed 2013 to 2018. He did such a good job with us that he started to get noticed in other places. The Bluecoats hired him to be their actual corps director. He had to leave, and we didn't blame him. He was going from a job that paid either nothing or 3K to a full-time salary. Then the last couple of years have been a bit of a struggle with Covid, but we've hired a new person, and rehearsal facilities are locked in. We had a strong comeback from the shutdown of 2020 this past season.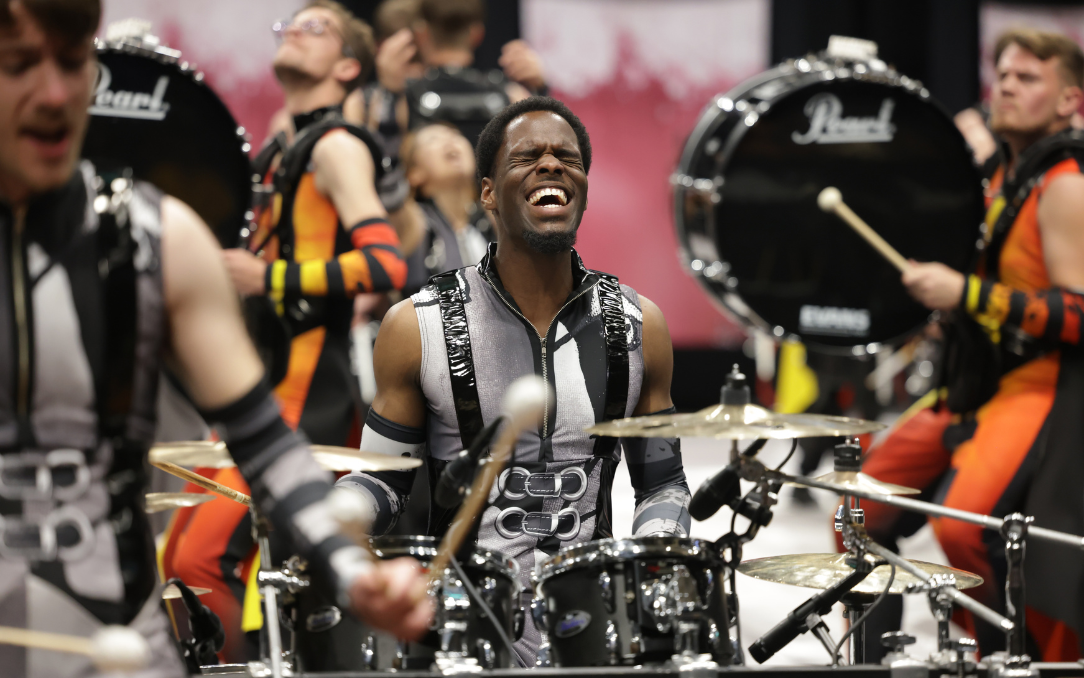 Why do you think Rhythm X continues to thrive? You guys are about to move into your third decade.
I think it's because everybody that's involved has gotten something from the group that they want to give back to. Our staff is largely voluntary, and we're all best friends. I'm one of the only people in the staff group that didn't actually march in the group, just because I was there from the beginning. The X numbers are a really big deal. Everybody cares a lot about that. And I think one of the reasons is that we're pretty chill as a group; our vibe with the kids is that we treat them with a lot of respect. We're able to attract a high caliber of students when kids go back to their drum corps because of social media. The kids out there are recruiting for us because they have a blast with Rhythm X.
So, I think that's how it thrives. It's just a circular path where the kids have a great time, so they recruit even better kids. The staff loves each other, so they are willing to put in the hours. Some of the best times we ever have are when the whole staff just goes out to lunch and knows that when we get back to rehearsal, we're really going to kill it in our separate captions or sections. We're all on the same page. Tim, Andrew, and I call it the three-legged stool. If the three of us are on the same page, then the ship is going right. If we're not, then we know something's wrong because a stool can't stand up with two legs. The three of us have really established a lot of trust, where one of us can say "what do you think about this skill move?" and the other person can go "I don't like it. I think it sucks." And the other person goes "Okay, let me take a look at it" instead of defending it or getting upset or getting envious. We've talked about it before, and if one of us was going to leave, we would just have to fold. We wouldn't be able to do it without everybody.
Well on that note, what advice would you give to another ensemble on how to maintain being active or how to get through difficult years?
The golden rule: treat others as you would want to be treated. And if you treat your members and your staff members right, then all that good karma comes back to you in lots of different ways. We have a common trust between the staff and the kids that we treat them right, so we end up having a good show.
About the Author:
Jeffrey Peterson currently teaches English and music at Fugees Academy and previously taught at the University of West Georgia and Spelman College. He graduated from the University of West Georgia with a BA in English and the MFA program of Sarah Lawrence College in Bronxville, NY, with a degree in Writing. Jeffrey currently directs Q2, a PIO finalist from Atlanta, GA. From 2017-2018, he served as one of their bass techs and previously taught bass for Atlanta Quest in 2011, 2014, and 2015. Jeffrey performed with ALLIANCE DBC from 2005-2008 and 2010-2011, while also serving as Executive Director for the corps in 2015 and 2016.