by Morena Guerrero
It was a segment on the news that sparked KC Perkins' interest in color guard. Boulder, Colorado was hosting the 1977 DCI prelim competition. A young KC and her family attended the show. It was the beginning of a lifelong passion that changed KC and has transformed her life into a message of community, connection, charity, and art.
KC and her father began attending WGI shows as spectators in the early 80s, traveling to Cape Cod, Syracuse, and Nashville, among other cities. Seeing these shows for the first time excited not only KC, but her father, an earthquake scientist. Because of his profession, KC's father had a strong appreciation for patterns. His excitement for seeing different patterns being created on the floor helped KC and her father develop a strong bond through color guard. As a spectator, KC enjoyed watching the other groups. They were "so solid, so precise, [and] so trained," which enthralled young KC enough to go to the souvenir booths after the shows where she purchased all kinds of merchandise including someone's flag – which she put on the end of a broomstick to practice spinning.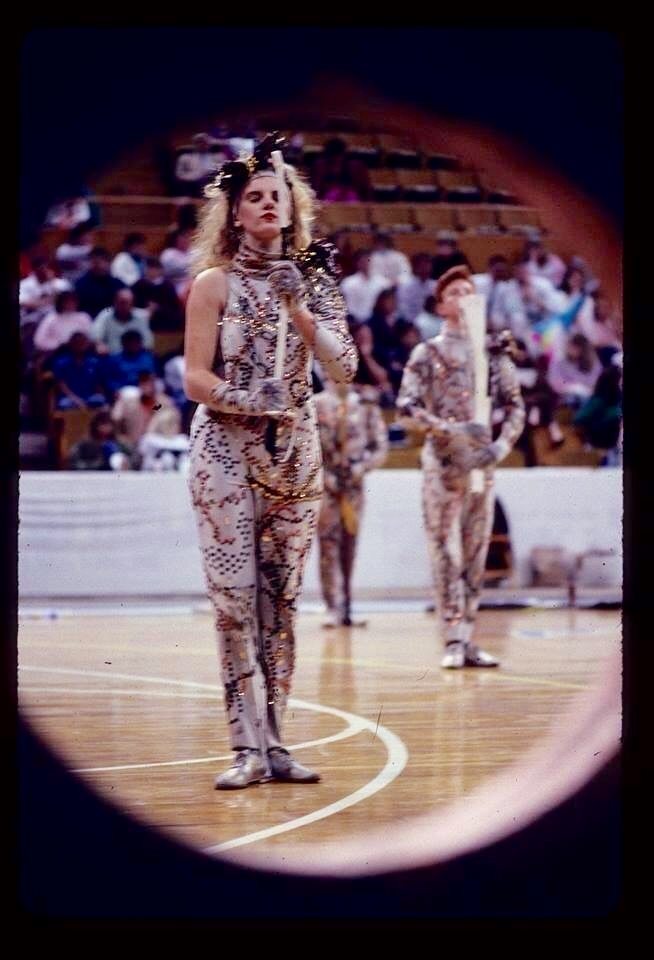 KC went from spectator to a performer when she joined an A Class winter guard, Nova, in 1984. She later competed in other groups such as the Thunderbolts, based in Wisconsin, and Emerald Marquis. KC recalls the first few years of competing with WGI being radical. "People who were teaching this were rock stars because they were inventing the language in their backyards, coming up with ways to spin the equipment," she said. KC felt fortunate to learn from her instructors. She loved the feeling of community that color guard provided. She was meeting tons of people and learning more skills. To her, this activity was nourishment.
After traveling with color guard her first season, her family saw a difference in KC when she returned home. They could see she was more responsible and willing to take chances. Her family was supportive of her decision to travel with color guard, seeing the positive impact it had on her life. With moving around the country, she experienced a "starving artist" life, yet she kept pursuing it. She sacrificed time with her family and even waited to attend college until she was 26 because she wanted to fulfill her purpose. WGI made her focused, driven, and gave her a suitcase full of skills; a suitcase she compares to the Mary Poppins purse. It offered her a way to connect and be with the world, utilizing spinning and dancing. "It healed me, gave me family, [it went from] finding a thing to do, a thing to learn, to finding myself. As a result, I found family, a sense of belonging, and a career," she said.

The most memorable moment of KC's color guard performance career was the ending of Emerald Marquis' Celtic show in 1991 because of how far they had come. KC said that all her favorite memories are watching shows come to fruition. "It goes past instructors, past performers; it becomes something everyone can enjoy. It's not just spinning. It's art. You are a brushstroke. It shows life and collaboration and we lose ourselves completely. It becomes a communal experience."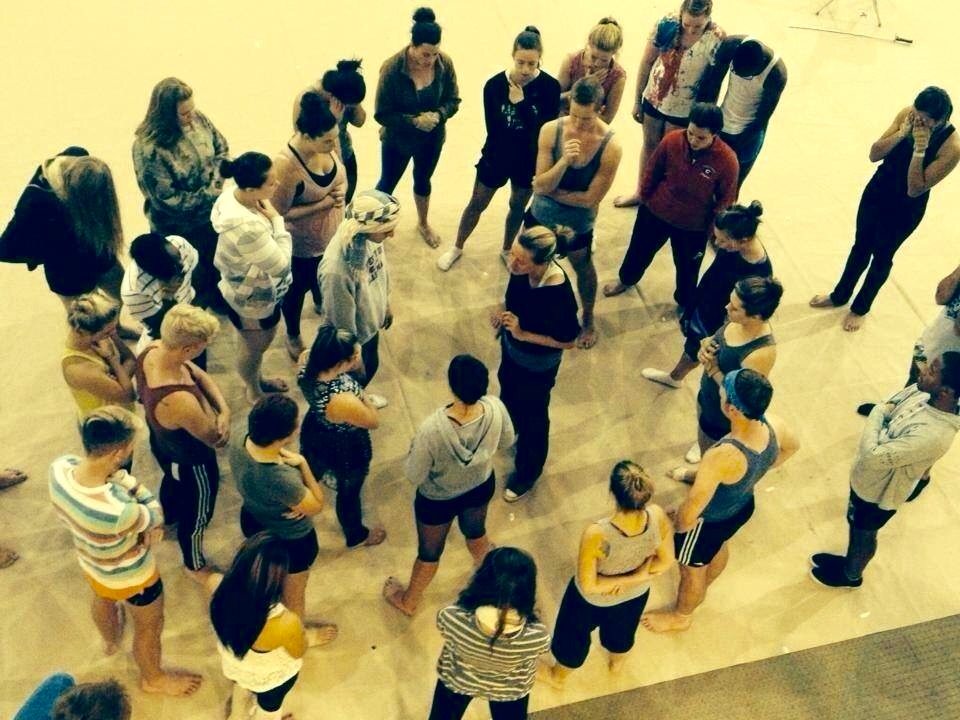 KC benefitted greatly from WGI so, she felt it was her responsibility to give back to the activity that had given so much to her. She has taught for 30 years in various high schools and drum corps groups such as the Madison Scouts. She currently consults, judges, and works clinics. KC works with 30 to 40 performers at a time. As time and the activity changes, so do the students. Teaching different kinds of students throughout the years looks different from person to person. Because of this and to become a better coach, KC stays current by intertwining the arts in her personal life through writing poetry, painting, taking authentic movement classes, hiking, and expanding herself as a teacher. KC focuses on developing performers to be their most real and confident, authentic self.
Now when she attends WGI events, she sees the people she has marched with and has known for 30 years. "You hug. I mean, you have to because you feel like 'yes we're still doing this! We're still in this activity!' Every year of your life is coming together. This person was with me when I was eating corn beef hash out of can, and this person was with me when the bus broke down, and this person was with me when we cried at finals. It becomes a life yearbook flashing before your eyes."
---
About the Author: Morena Guerrero is a writer currently based in Miami, Florida. Since high school, her marching career has transformed into an enthusiasm for the pagaentry arts. She enjoys writing content for the WGI website and following WGI winds closely. She is currently earning a bachelor's in English writing at Florida International University.