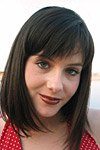 On Sunday, April 14, Kate Jablonski will conduct a master class on the floor of the UD Arena for up to 500 performers beginning at 10am. Dance and spectator tickets will be available at the UD Arena ticket office starting at 9am. Registration fee for dancers will be $25. Those wishing to observe the master class will be able to purchase spectator tickets for $10 per person at the door.
After recently being named Dance Chicago's Choreographer of the Year, Kate Jablonski will be the guest clinician for the popular "Day After" series to be held at the conclusion of the 2013 Color Guard World Championships weekend.
Ms. Jablonski
 is the Owner/Artistic Director/Choreographer of Beyond Words Dance Company currently residing in Chicago, Illinois. Her work for Beyond Words has a huge YouTube fan following, with over 16 million video views. Her work can be described as "passionate, quirky, challenging and full of character."


Watch – Nicest Thing

Produced by EMI Records, Kate most recently choreographed and co-directed Laura Marling's music video "I Was Just A Card" with Brian Lipchik.
Watch – I Was Just a Card

"WGI is excited to celebrate the work of Kate Jablonski by inviting her to participate in the Day After series," said WGI Executive Director Ron Nankervis. "We have discovered that a lot of our performers are already familiar with her work and she has dabbled in the color guard world which makes her a perfect finale for our largest world championships to date."
Kate began her professional career training in New York City as a member of Broadway Dance Center's Professional Program. Under the direction of Wes Veldink, this scholarship program allowed Kate to work alongside some of the greatest teachers and choreographers on the east coast. Kate is currently the owner and artistic director of Beyond Words Dance Company. She has also taught and choreographed internationally for dance companies in countries including Switzerland, Italy, and Holland. In September of 2011, Kate co-founded Foundations Performance Center along with Amber Alonzo of Expression Dance Studio. This 6200 square foot facility and performance space is now the permanent home of Beyond Words and Kate and Amber's apparel store, Ring It! Dance Wear.
Kate choreographed the All-State production of Hairspray, which debuted at the Krannert Center at the University of Illinois in January of 2009. In 2007, Kate was honored with the Silver Choreography Award at Leo's Competitive Event through Jazz Dance World Congress. In 2009, she received the prestigious Gold Leo's Award at the Congress. Also in 2009, Kate was chosen as a finalist in the Capezio A.C.E. Award for Choreographic Excellence. As first runner-up at the event, she debuted her professional dance show, "Beyond Words", at New World Stages in Manhattan in July of 2010.
In 2010, Kate founded a three-day dance intensive called "Camp Kate". This annual event brings in hundreds of students from all over the world. In 2012, The Kate Jablonski Statement, a professional company, was also founded and based in Chicago.
We expect this exceptional experience to near sell out status, so mark your calendars!
For more information on Beyond Words visit http://beyondwordsdancecompany.com