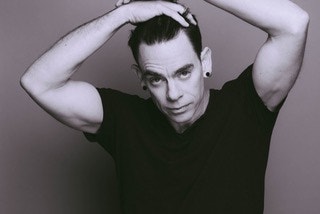 Cirque du Soleil Artistic Coach
Michael Duffy
We are excited to introduce our first Keynote Speaker for WGIcon: Cirque du Soleil Artistic Coach Michael Duffy!
WGIcon is a brand-new professional development experience for all indoor marching arts. Hosted at the New Orleans Marriott, this educational convention will provide you with the powers to excel in the indoor activity.
Featuring multiple motivational speakers and a Cirque Du Soleil® workshop, you will hear from leading designers and technicians on how they make their magic. Guardians of the indoor universe will also share their secrets on how to make a career from the marching arts, how to launch a new group, and more!
---
Beginning with a degree in Anthropology from the University of Central Florida, Michael Duffy embarked on the unlikely journey of becoming a performing artist in Cirque du Soleil.  For the last 15 years he has performed in and helped direct some of the most grandiose and surreal spectacles the company is renowned for. Being on both sides of the 4th wall has given him a special insight into the creative process not only in the realm of Cirque du Soleil, but in the phenomenon of spectacle itself.
Inspired by the company's willingness to take risks and be audacious, Michael sought to emulate this by moving to Quebec City, becoming fluent in French and attending circus school in the hopes that he might be considered for a show. In a surprising turn of events, he was offered the assistant directorship of a new project. Immediately thrust into directing began a learning curve and process unlike any other and forced him to learn how a large scale production is made at every level. Most importantly, it pushed him further into the language of non-verbal expression and the power of suggestion on stage.
Unrelenting in his pursuit of the stage, he found the time and energy to audition when possible and caught his first big break being cast in DELIRIUM (choreographed by Mia Michaels). In the years that followed, he would go on to perform in some of the most iconic theaters in the world, including Madison Square Garden, Radio City Music Hall and the Kremlin Palace Theater—realizing his dream of being a Cirque performer. In between the tours, he would go back to work behind the scenes as Artistic Director for some of the company's most ambitious and experimental large scale productions (Expo 2008 in Zaragoza Spain, Chemins Invisibles in Quebec City and the ongoing Cirque du Soleil at Sea partnership with MSC Cruises). With each change of role, his ability to explain and conceptualize grows stronger and more efficient.
Driven by an intense curiosity and desire to know the "why" and "how" something works on stage, Michael has developed the vocabulary to bring a process known for being abstract and ethereal into a tangible understanding accessible to anyone. The beauty is in the simplicity, but we must do the work to get there. And we must take the risk to be exposed and honest.
Michael is very excited to share this knowledge and experience with the WGI community and contribute to the creative evolution of such an exciting and dynamic artform.
---
WGIcon: Click here for more info and registration!
---