Sparkman HS (Gold Medal – 96.200)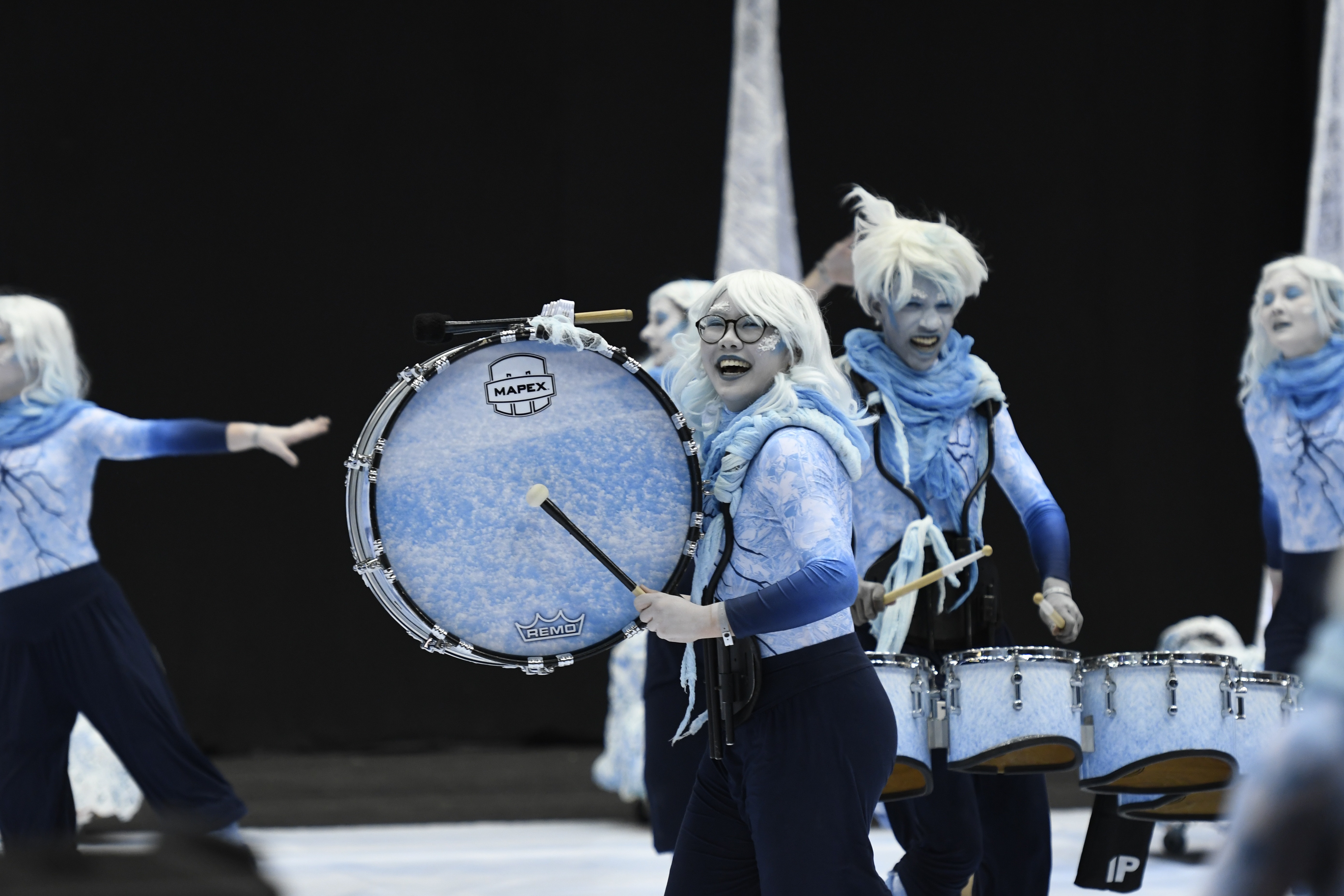 We embraced the chill with Sparkman HS (Gold Medal – 96.200) as they explored the Winter season in all its splendor in this gold medalist show. Dressed in icy blue and black costumes—with frosty white hair to match—and multiple spiked icicle props scattered about the floor, "For Now I Am Winter" visualizes the wonder and beauty of the winter season with swirls of whimsical colors and movements.
Clear Brook HS (Silver medal – 96.050)
"X marks the spot" where you can find Clear Brook HS (Silver medal – 96.050) performing their visually stunning new take on a pirate ship in search of treasure. One of the most gorgeous features of this show is the floor itself, which resembles the beauty of a sunset with its mixture of blues, cotton candy pinks, oranges and purples. The visual artistry and craftsmanship put into this show will not go unnoticed.
Norwalk HS (Bronze medal – 95.100)
Norwalk HS' (Bronze medal – 95.100) story is in your hands in their show "Re-written". Their uniforms feature earthy, brown sleeveless leather jackets and tan-colored shirts with words sporadically across each arm. With pages being tossed around and bright lights emanating from within their books, Norwalk does an astounding job telling their tale from beginning to end.
Fair Lawn HS (4th – 93.925)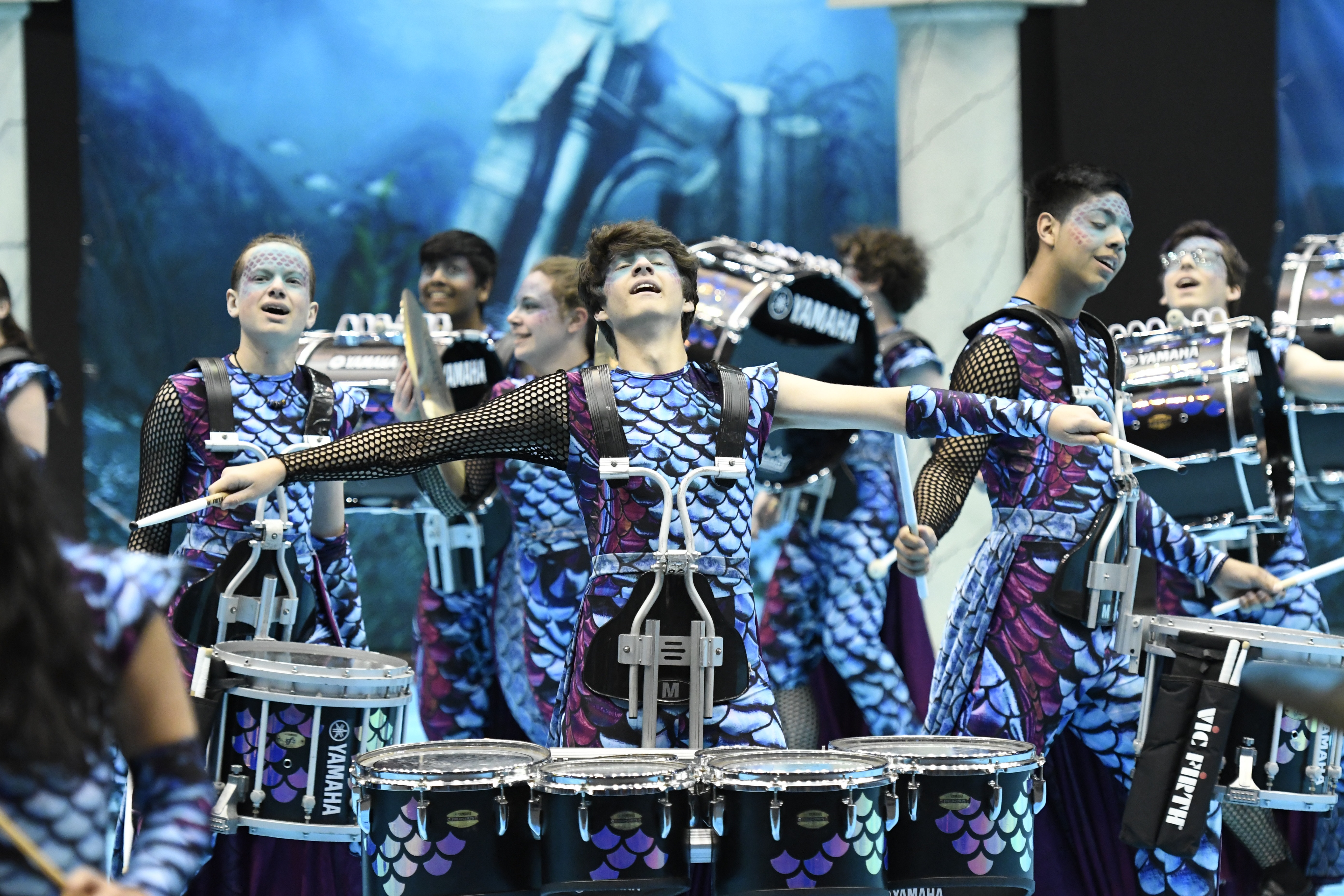 Can you keep a secret? Fairlawn HS (4th – 93.925) explores the beauty and mystery of the deep blue sea with us in their show "Secrets of the Deep". Showcasing an alluring stage with an array of ocean-blue hues and marble pillars to complement their scaly blue and purple costumes with long flowing capes—this show will leave you longing to dive into the unknown.
Los Alamitos HS (5th – 93.350)
All hands on deck, 'tis time for a bit of "Mutiny on Dark Waters"! We joined Los Alamitos HS (5th – 93.350) as they stole the loot (and the show) in this high-energy performance. Costumed in pirate coats in dark grey and red, with an elaborate ship prop, Los Alamitos' set us a'sail.
Fountain Valley HS (6th – 92.450)
Who is knocking on the door, you say? Enter into the world of Edgar Allan Poe with Fountain Valley HS' (6th – 92.450) twist on the classic "Raven" tale in their show "Stark Raven Mad". Featuring all-black costumes with bird-like feathers draping each arm, it's not hard to believe that we may all went a little "mad" for this show.
Plainfield HS (7th – 92.338)
Join Plainfield HS (7th – 92.338) on a quest to find their next Sensei in their show "Kung Fu". Dressed in bronze and blue ninja costumes, while handling Japanese sliding door props across a bright copper colored bamboo-like floor, Plainfield transported the audience to another time and place. Their stunning silk, copper-colored flag feature and streamer effect at the close of their performance offered a welcome wow factor that set their show apart.
Plymouth Canton Community Schools (8th – 91.938)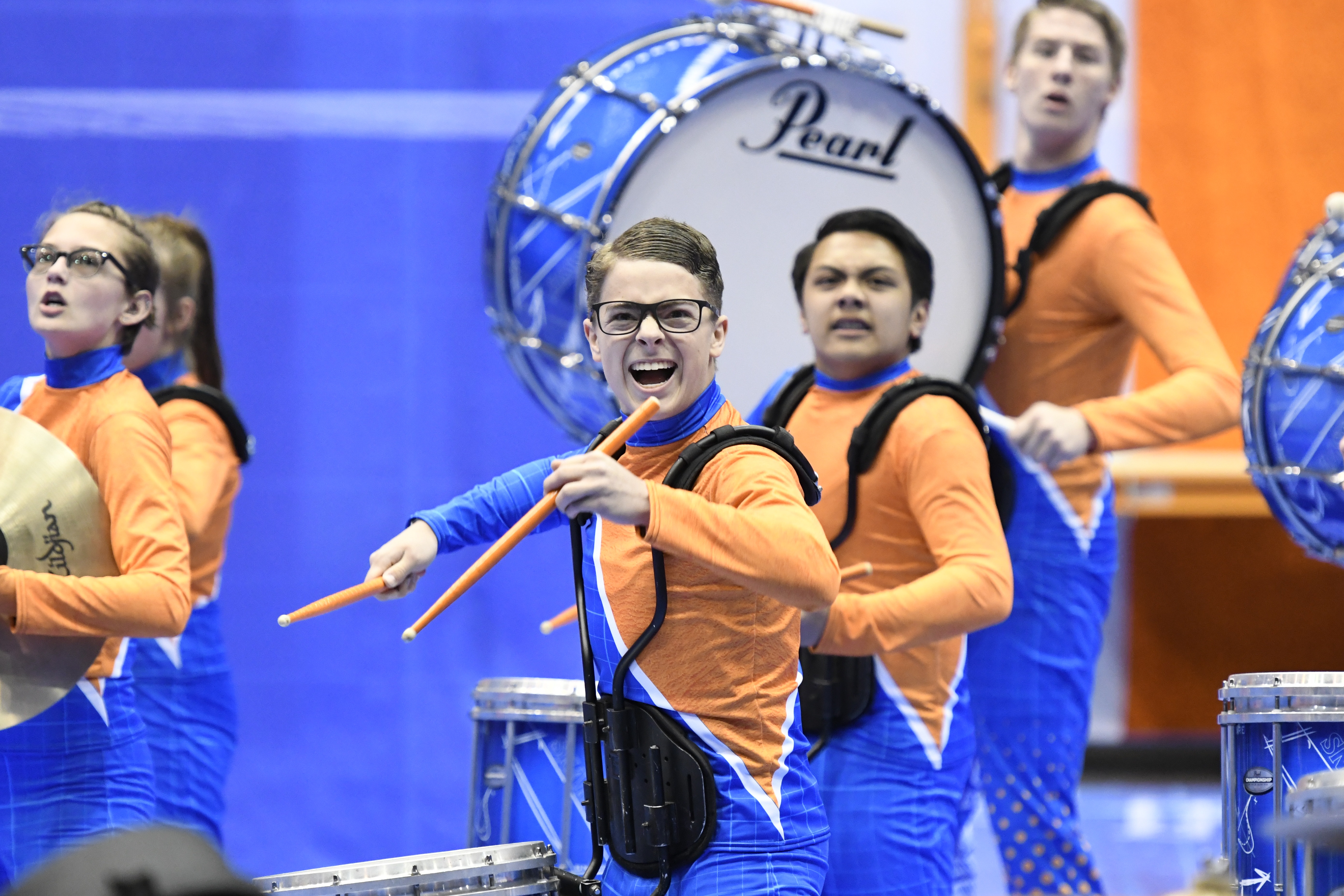 Join the Plymouth Canton Community Schools' (8th – 91.938) construction crew in their show titled "Everything in its right place". Dressed in electric blue and orange, they perfectly matched their blue construction plan floor and orange props. The group's consistent vibrant energy brought their performance, and spectators, to life.
Irondale HS (9th – 89.650)
Irondale HS (9th – 89.650) tugged on our heart strings with their show "The Innocent Warriors", a show heavily influenced by the tragedy that occurred at Columbine Elementary. In a touching gesture, they lined the back sideline with a row of lockers that, once opened, revealed dozens of lit candles in memory of those affected by violence in schools. Not a dry eye will be seen after watching this touching show that emphasizes the importance of a safe and healthy learning environment for all.
Arcadia HS (10th – 89.575)
Be sure to keep Arcadia HS (10th – 89.575) in your "Line of Sight" with their unique metallic silver, white and green uniforms. To top it off, their floor detailed a mixture of green, violet, and black to match. With over a dozen green and white metal pole props scattered across the floor, Arcadia's movement worked seamlessly to navigate the floor's complex visual features.
Victor J Andrew HS (11th – 89.275)
Things will never be the same after watching Victor J Andrew HS' (11th – 89.275) heart-wrenching show "And I Lost You". Opening the show with a soloist clutching an old sweater of the one she lost, which later becomes a recurring theme. The floor features an unconventional setup with five marimbas propped up on stands on the left half of the floor and an entire front ensemble that is offset to the front left corner, giving their show a unique look and sound.
Central Lafourche HS (12th – 88.413)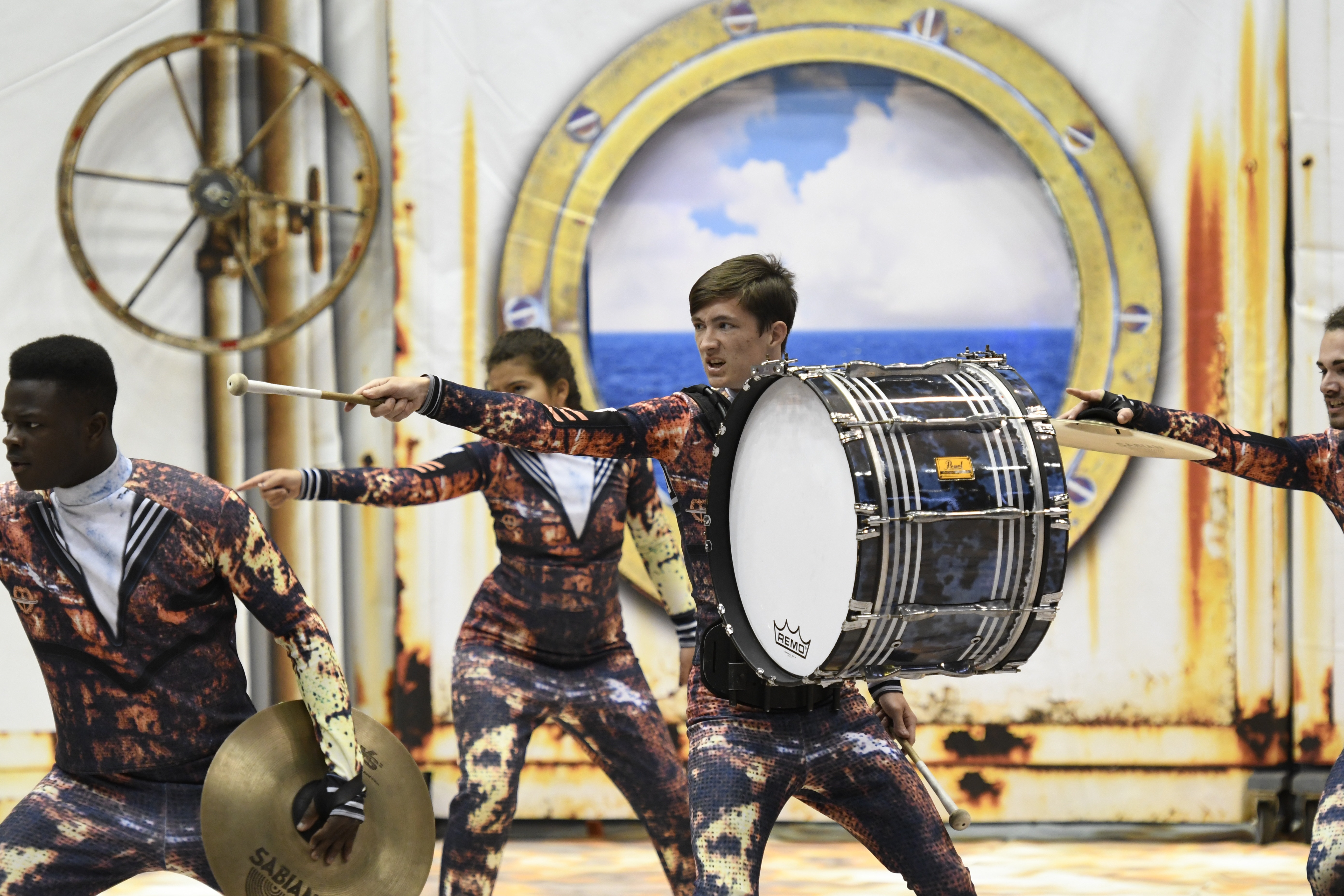 Take to the high seas aboard a well-aged submarine with Central Lafourche HS (12th – 88.413). Equipped with a rust-colored floor and props with port holes cut out, the audience was transported deep into the ocean. Their costumes are sailor outfits, but with a heated twist,  showing fire print from head to toe. After watching this show, you might just be tempted to dive "Into The Deep" with this Scholastic Marching Open fan favorite winning group!
Belleville East HS (13th – 87.713)
Glide along with Belleville East HS (13th – 87.713) in their show titled "A Thousand Paper Cranes", featuring dozens of delicate paper cranes strung across a gorgeous floor with a delicately painted cherry blossom tree. As the soloist gracefully moves across the floor in a glittering white costume with a pastel pink and black skirt, it's not hard to imagine yourself traveling along as one of the many delicate cranes in the air.
Choctawhatchee HS (14th – 87.325)
Choctawhatchee HS (14th – 87.325) shows us how it feels to be completely stripped of sight in their show, "Blind". Featuring a purple and white braille-covered floor, flowing white uniforms with matching purple accents and purple silk covering their eyes, they offer the audience a visually striking performance. Throughout the performance, the focus is shifted to their soloist, dressed in a glittering purple and silver costume and flowing cape. One thing is clear, their show is a sight to be seen.
Trumbull HS (15th – 86.938)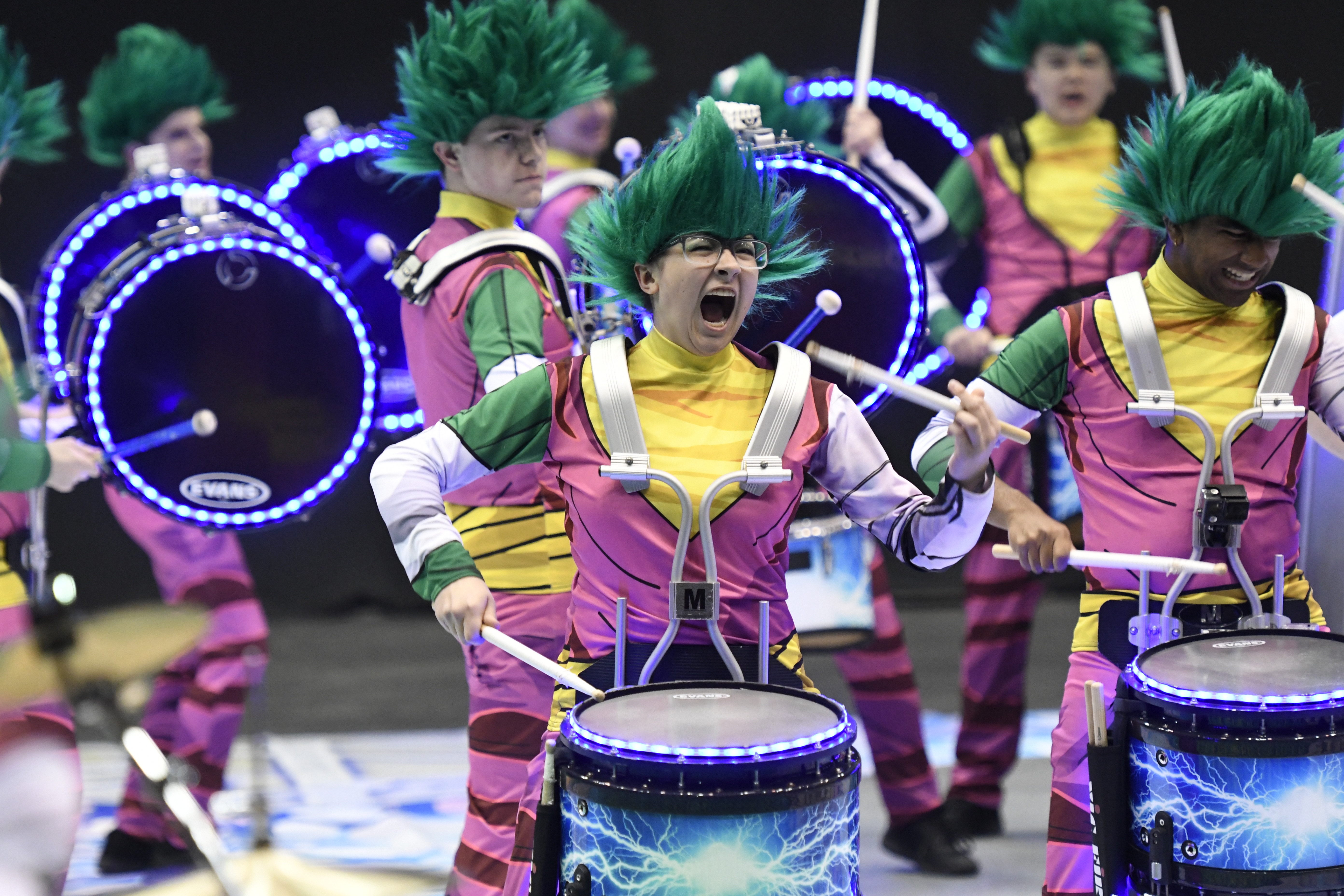 With eye-catching vibrant green hair and funky purple and yellow uniforms, Trumbull HS (15th – 86.938) takes us with them on a "Power" trip. Featuring a massive multi-color electrical prop lined with LEDs at the center of a floor covered with grass and brick details, the structure is a stunning visual addition to the show. With a drumline and front ensemble that light up with bright blue LED's, the audience was sure to be sure to be "shocked" by their performance!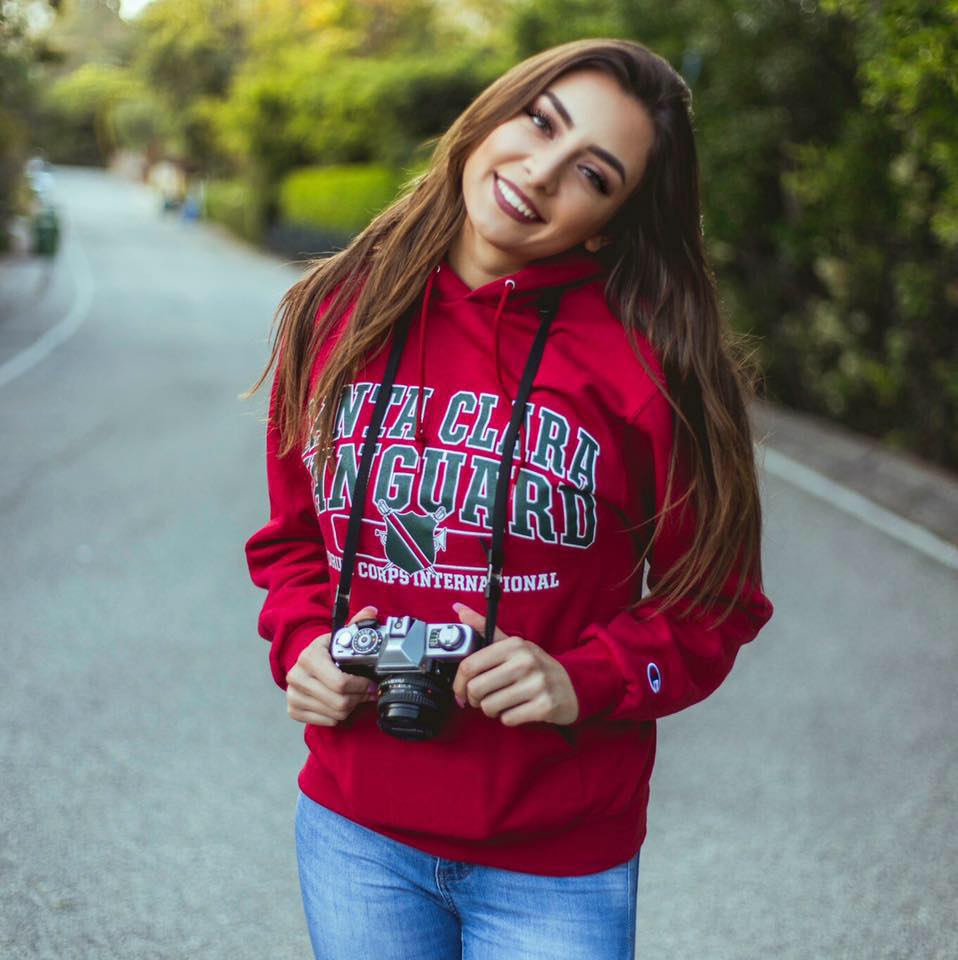 About the Author: Joselyne Grace is a media studies student at California State University San Marcos, with an emphasis in marketing. As an avid supporter and alumni of the arts, she marched cymbals with Dark Sky Percussion in 2015 and 2016, as well as participated in DCI for 6 years. Within those years she was able to march in WGI Independent World Finals with Dark Sky in 2016, and won a gold medal with the Vanguard Cadets in 2017.