Grand Blanc HS (Gold – 96.075)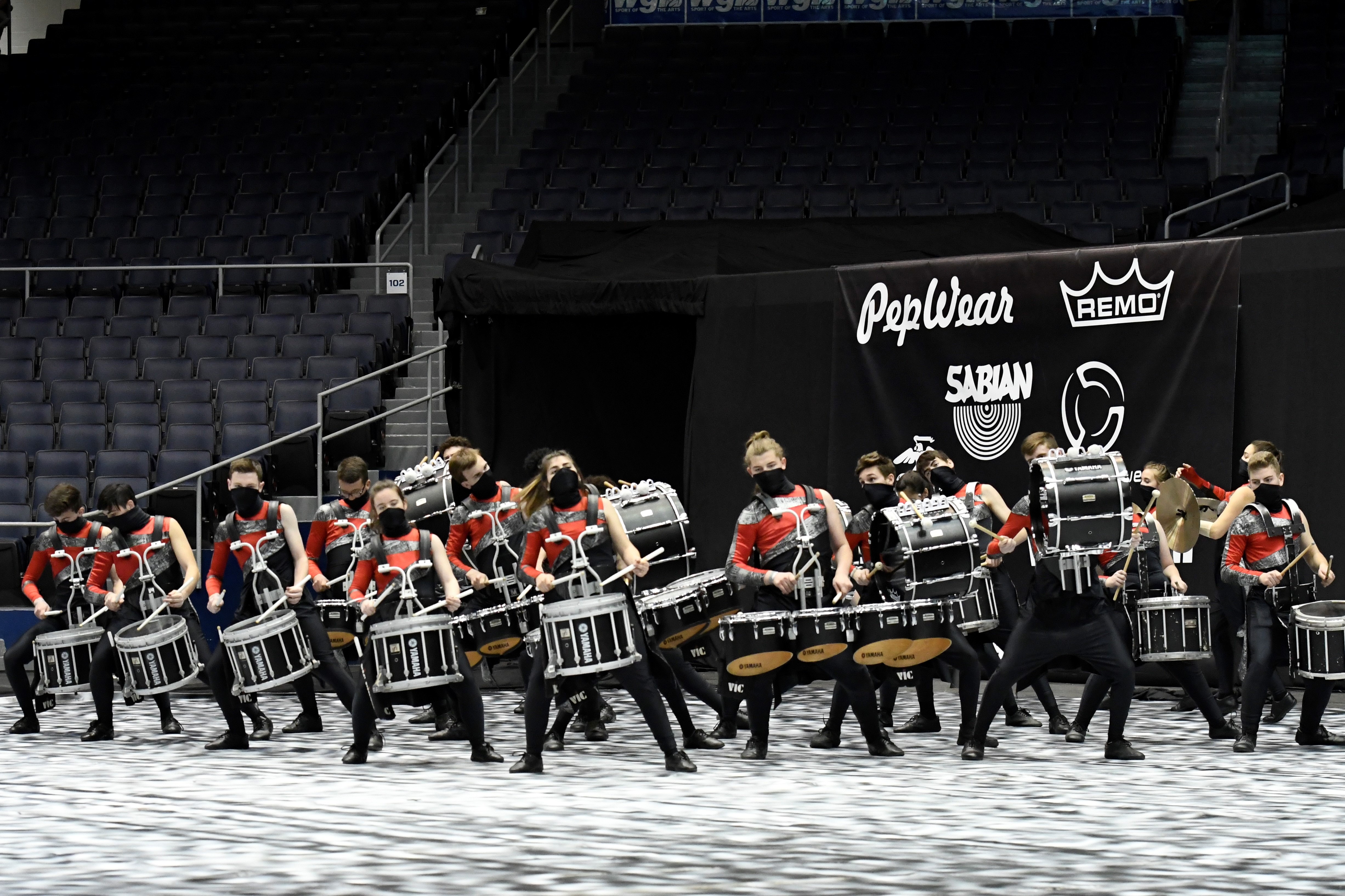 Moving up from fourth place in Semi-Finals, Grand Blanc HS (MI) (Gold Medal – 96.075) grabbed our attention with an absence of sound, a striking contrast in an activity known for loud volume. "MUTE" was characterized in ways obvious and subtle. The line had coverings over their mouths and expertly used silence. Simon and Garfunkel's iconic Sound of Silence was an apt choice for a ballad movement, and dampened sounds from the drums provided a creative way of illustrating the concept. Sheer black screens in front of sections caused a muted look, culminating with a long sheer black fabric covering the entire floor at the end of the show.
E.D. White HS (Silver – 95.925)
E.D. White HS (LA) (Silver Medal – 95.925) used ancient trees as a metaphor for living with an eye to the future in "Redwoods and Daisies." Performed on a floor in shades of green and brown with large tree props and a backdrop showing a pathway through the forest, the line took us on a journey away from self-centeredness into an awareness of living for something that will be here after we are gone. In one of the most stunning endings of the weekend, flats showing the pathway separated to reveal an illuminated clearing as a man moved through the backdrop, headed for some place a little further down the road.
Zionsville Community HS (Bronze – 95.05)
Members of Zionsville Community HS (IN) (Bronze Medal – 95.05) filled in the blanks in "The Missing Link." Marched on a black tarp containing white partial letters, narration provided positive guidance as members laid down to complete the words. When the voice mentioned "Communication," TALK suddenly appeared. As the show progressed, other words such as LOVE and HOPE flashed before our eyes. In one memorable section, a group formed FAST as the music accelerated rapidly. The program ended with the advice "throughout life, all you have to do is be the missing link" as the line spelled MISSING LINK.
Hamilton Southeastern HS (4th – 93.788)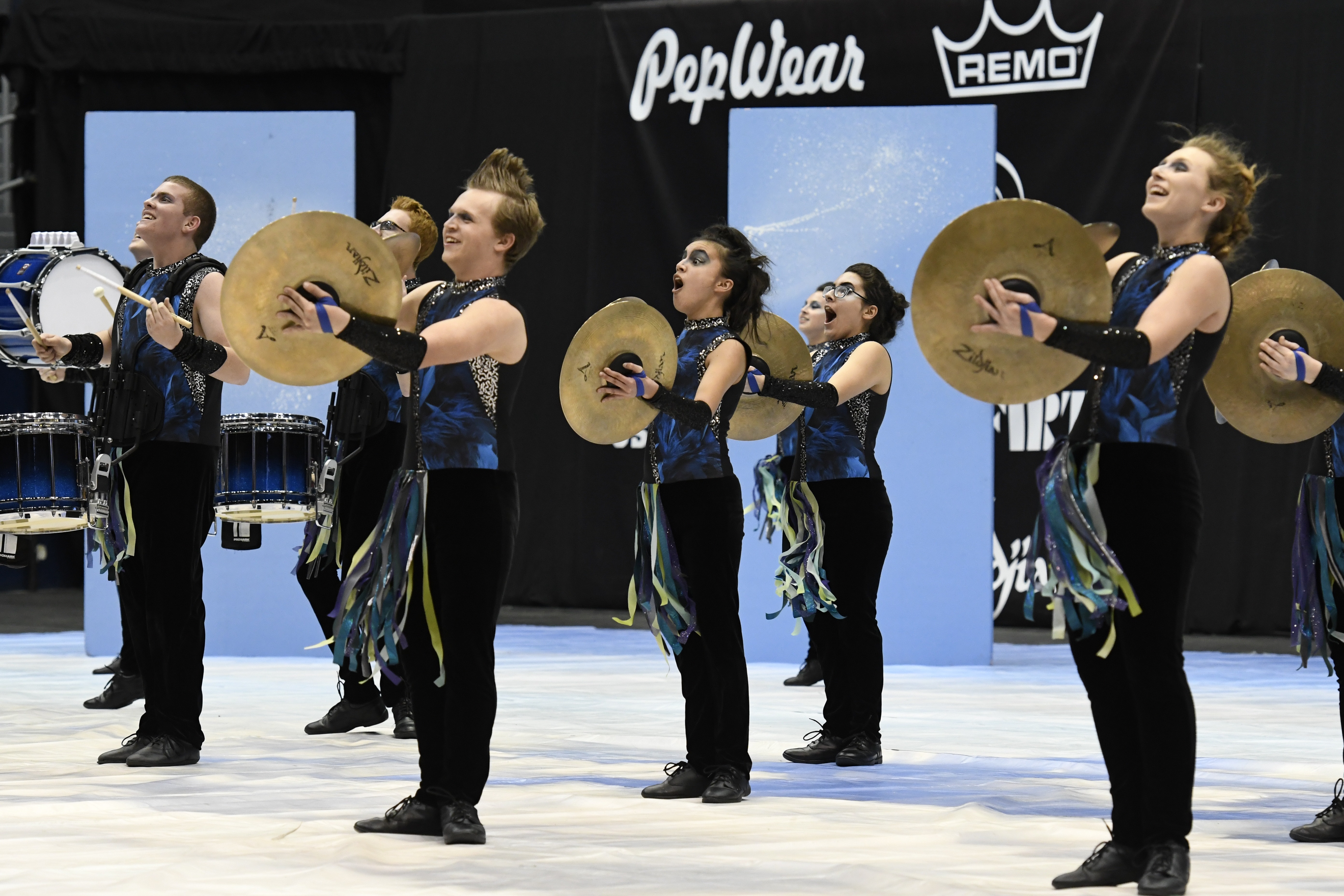 Hamilton Southeastern HS (IN) (4th – 93.788) performed "Birds of a Feather" on a white puffy cloud tarp with clear sky-blue backdrops. The line visually depicted soaring with graceful flowing movement augmented by blue and yellow feathers on their costumes. Sampled lyrics of the show title song by Vulfpeck combined with light, airy mallet work to truly give a feeling of flight. A flute trio playing ostinatos and flying blue jays attached to poles only heightened the effect. The program ended after a powerful hit when a realistic looking little paper bird fluttered its wings and flew above the clouds.
Kamiak HS (5th – 92.613)
Kamiak HS (WA) (5th – 92.613) exhorted us to be mindful of protecting the planet in "Mother." A woman in blue, representing Mother Nature, pleaded and warned about the importance of conserving resources. A lush green leafy floor with a woman's face on the planet earth gave a feeling that all of creation was watching the actions of mankind set to a music book with tasteful hints of jungle music. Carrying an orb that changed color depending on the mood, Mother Nature reminded us "Your actions determine your fate, not mine. I am nature. I will go on. I am prepared to evolve. Are you?"
Milford HS (OH) (6th – 91.475)
Milford HS (OH) (6th – 91.475) was completely untamed in "The Wild." The group created a primitive vibe with a soundscape that included sounds of bones, a ram's horn, and tribal drums. Tall poles were utilized in choreography during a slower movement performed to the Lullaby from Pan's Labyrinth. The serenity got savagely demolished in an aggressive closer featuring lightning fast 16th note mallet passages. The poles formed a cage, briefly confining the line who responded by kicking down the bars with a primal scream of rage.
Vandebilt Catholic HS (7th – 90.175)
Vanderbilt Catholic HS (LA) (7th – 90.175) featured three elegant ladies in flowing yellow dresses as "The Bringers of Light," in contrast to the rest of the group donning dark black hoods. The women took three yellow spheres from stands and moved as a unit among the battery. The line was slowly drawn to them when yellow lights turned on, removing their hoods with drum shells illuminating. The show concluded when a hooded female appeared, shown to be an emissary of brightness when her robe was removed, revealing a bright yellow dress.
Dorman HS (8th – 89.713)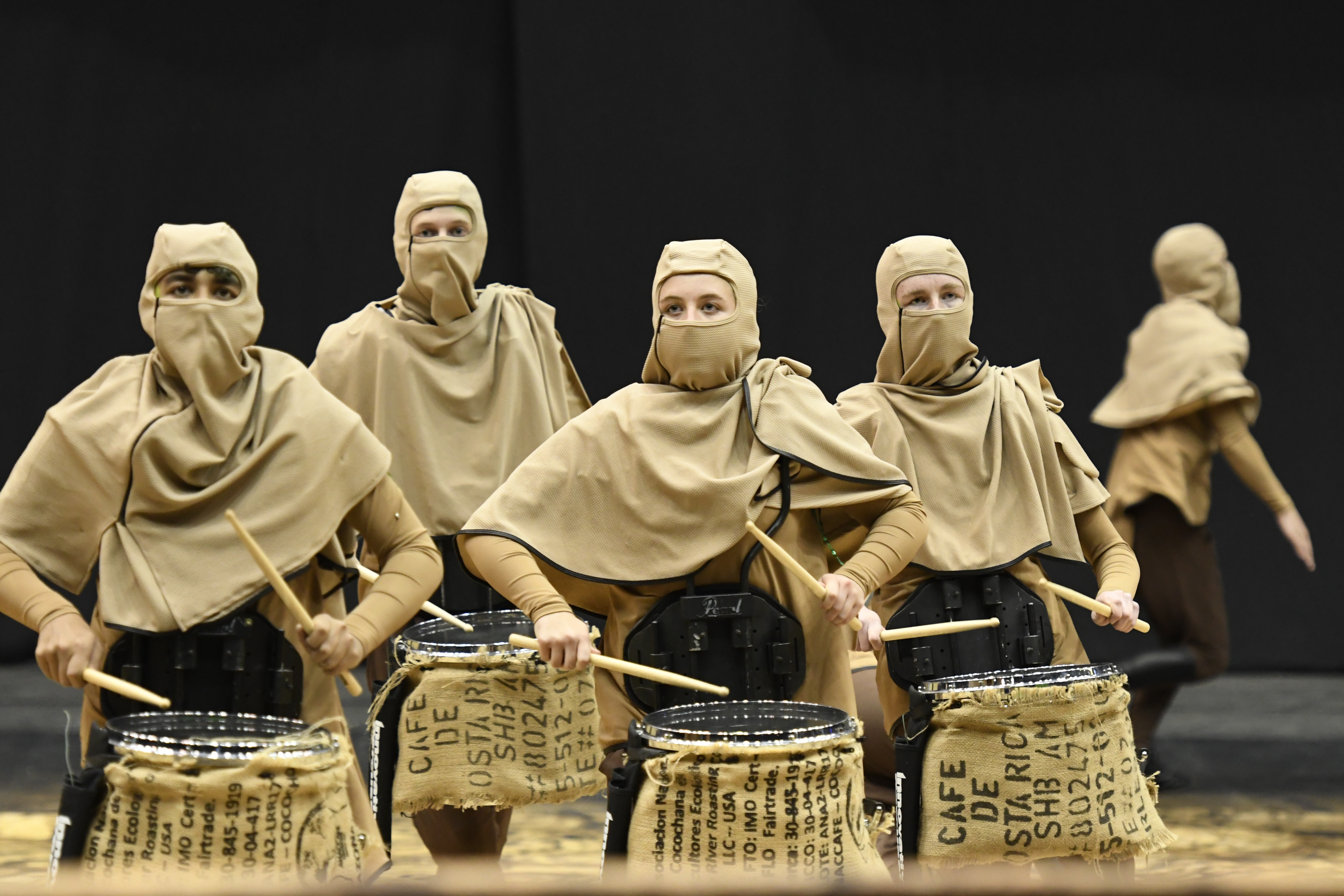 Dorman HS (SC) (8th – 89.713) depicted the desperate struggle to find life-saving water in "Dying to Live." Performed on a parched earth set, the rain came with a vengeance in the middle movement, as shiny banners of in shades of blue and teal appeared, causing a red desert rose to blossom. Reminding us that the heaviest storms in our lives can bring the most beautiful growth, the entire floor soon bloomed as backdrops turned to reveal flowers and a green tarp was pulled out, the arid ground now alive with vegetation.
Unionville HS (9th – 89.650)
At the beginning of "Jane," a woman awoke, shocked to find herself on a tropical jungle island. The confusion and horror of the situation was aptly displayed by Unionville HS (PA) (9th – 89.650). She discovered she wasn't as alone as she thought. Large tree trunks turned to show inhabitants wearing drums inside. Slowly, her fears subsided when the tribe accepted her as one of their own. Eventually, even her tourist clothing changed into tribal wear as she picked up a drum, joyfully pounding it standing proudly upon a large boulder.
Sycamore HS (10th – 89.638)
Sycamore HS (OH) (10th – 89.638) incorporated a pun in the musical selections of "On and Off" by playing music of Rachmaninoff, including Rhapsody on a Theme of Paganini and Piano Concerto No. 2. With a red and white color palette in costumes, floor, and small square platforms, a voice said "on" or "off" as the line followed the direction in a variety of ways, including snares playing "on" the rims during one segment. In the closer, members stood on the platforms which lit up as the line was definitely ON for this performance!
Perry Meridian HS (11th – 87.925)
Perry Meridian HS (IN) (11th – 87.925) performed "Echo" on a water drop floor with ripples emanating outward. The line visually and aurally captured the essence of the concept, utilizing almost any permutation of the theme. A drummer clapped a pattern to start, joined by others to create layers blended with sequential visuals. Throughout the show, the pit played ostinatos of varying dynamics, adding to the aura. The show ended with a drummer clapping a final pattern, faintly echoed by the rest of the group from behind a black curtain.
Dassel-Cokato HS (12th – 87.313)
A whispered voice inside a wooden crate tempted members of Dassel-Cokato HS (MN) (12th – 87.313) in "The Voices Within." Whatever was inside the box beckoned be let out, promising to give the line power, strength, and anything else they desired. When the crate was opened, a metallic orb appeared, as the voice mockingly shouted "Fools!" and demanded the line's worship. The group ultimately attached a cable from a tall crane to the orb, raising it high in the air then releasing it to the ground, shattering it.
West Bloomfield HS (13th – 86.538)
The beauty and complexity of our genetic code served as inspiration for West Bloomfield HS (MI) (13th – 86.538) in "Woven." With a pink and baby blue color scheme, the line utilized spiral staircases on a floor with DNA strands. A movement about unknown dark DNA featured a sensitive bass clarinet soloist. Pink and blue strands from the top of the tallest staircase intertwined, creating double-helix effects. The unit noted the millions of unknown traits in our DNA, mentioning music as one of them with the aid of a guitar soloist.
Beavercreek HS (14th – 85.600)
A young lady in red plaid pajamas wound a music box to play a lullaby before bed time for Beavercreek HS (OH) (14th – 85.600). By the end of "Sweet Dreams," she probably wished she had never touched it. When she was about to fall asleep, red-hooded figure sneakily rewound the music box. Soon, she sat upright in terror and was chased by a menacing phantom who crawled out from under the bed, but the line kept blocking her escape. When she finally awoke, the tormented teen broke the music box and ran screaming out of her bedroom.
Kings HS (15th – 84.800)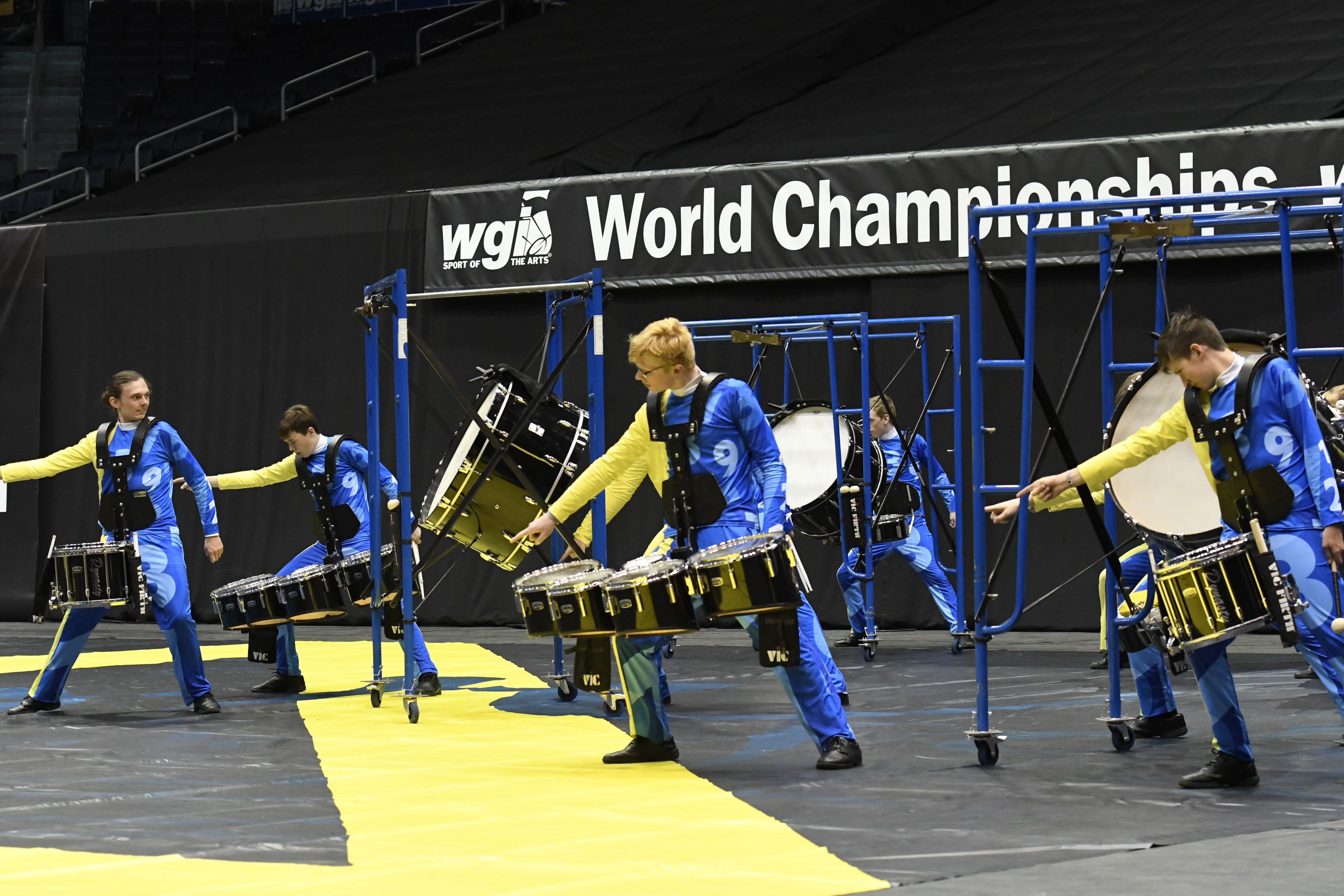 Kings HS (OH) (15th – 84.800) took their show title "Four on the Floor" quite literally, with a large sideways yellow 4 on their tarp, along with the word "for" spelled in aqua letters. They were also the 4th line form Ohio to make Finals in this class. After opening sounds of children counting to four, the music book that followed was an eclectic mix ranging from Verdi's Requiem to the Bee Gees disco anthem Stayin' Alive. What better way to end the program than with four very loud punctuated beats?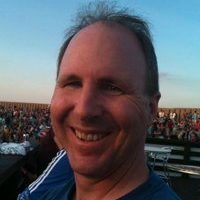 About the Author: Michael Reed provides online and print media content for WGI, Bands of America, and Drum Corps International. 2019 marks his eighteenth year of writing for WGI. He is an active music arranger, composer, and all-around avid pageantry fan. Michael was a member of the Cavaliers Drum and Bugle Corps and holds a bachelor's degree in music composition and music education from Ball State University. He currently works in the health care field and resides in Fishers, Indiana.