Week 3 Group Event Details
---
Important Dates
---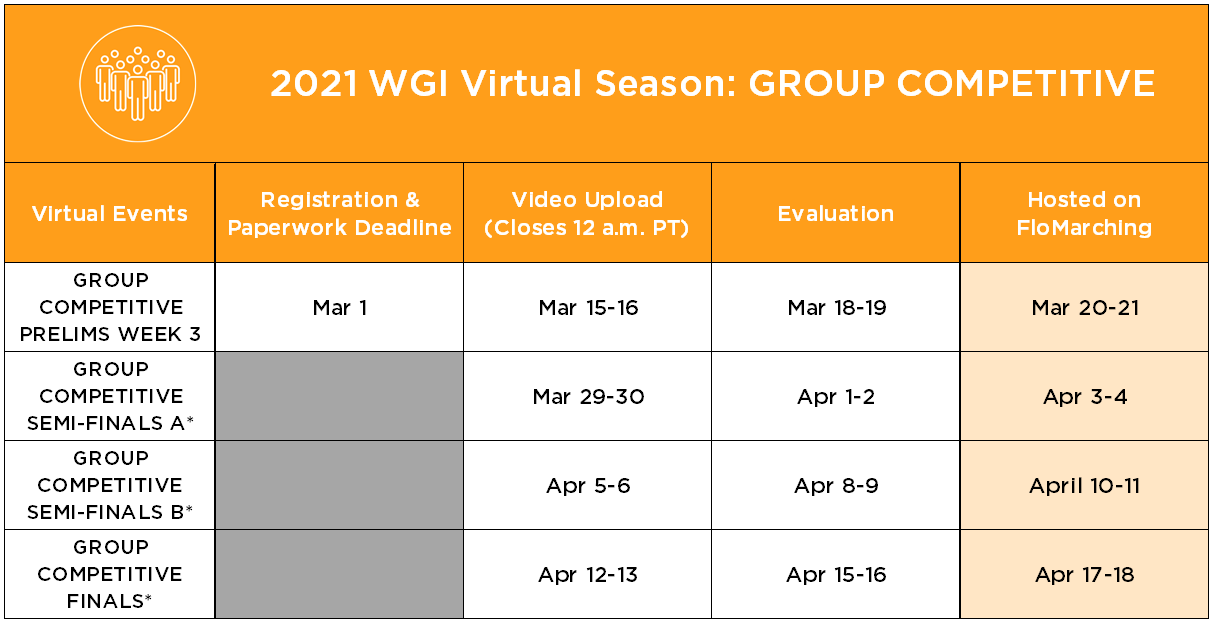 ---
* Only those registered in the Group Competitive category will progress to semi finals and/or finals.
---
Video Upload Instructions
---

To upload your video, each group will need a FloMarching.com account (you do not need a subscription to upload your video).
How to Create a FloMarching Account
Upload Video Here (this link will be available on Sunday, March 14th)
If you are participating in multiple events, you must upload a video each week. Videos from the previous week are no longer available.

We highly encourage you to upload your video on Monday, March 15th, so if there are any issues with your video they may be addressed on Tuesday with FloMarching before the upload deadline.

Keep in mind that all videos must be uploaded by Tuesday, March 16th at midnight, Pacific Time. Those groups who fail to upload their video by this deadline will forfeit their entry and be removed from the event.
---
Video Upload Issues
---

FloMarching.com is managing all video uploads. If you have any issues while uploading your video, please contact FloMarching Support. Live support is available through the FloMarching.com help page.
---
Performance Times
---

Performances will be available on FloMarching.com and may be viewed beginning Saturday, March 20th at 9 am through Sunday, March 21st at 11:59 pm.
---
How to Watch
---
---
CompetitionSuite Details
---

WGI uses CompetitionSuite to provide scores and judge commentary to all participants.
Commentary, Ratings and/or Scores/Score Summary Sheets will be available on CompetitionSuite.com following the conclusion of the WGI Award Show. Those in the Group Non Competitive will receive commentary only.
Below are additional details about managing your CompetitionSuite account.
---
Awards & Scores
---

The WGI Award Show will broadcast live on FloMarching.com every Sunday at 5 pm eastern. You will not need a subscription to watch the WGI Award Show.
Depending upon the division, some ratings and/or scores will be published on WGI.org shortly after the conclusion of the WGI Award Show. See progression details for further information.
---
Rules, Criteria, Progression
---

Each division has selected how those competing in the Group Competitive will progress to Semi Finals (and then to finals). Please read through the progression details for further information.