By Emeline Beltran
Here are some tips to put your best foot forward when applying for the 2018 WGI Scholarship.
1. Start Early
Even if you are years away from being eligible to apply, your application process should not wait till senior year or later. Develop organized and efficient study habits and time management skills early to result in an outstanding GPA, which could increase your chances of receiving the scholarship.

2. Letters of Recommendation
Plan ahead and attain all required documents for the application. Note there are two required letters of recommendation. For a quality letter, and for the convenience of your references, kindly request your letters in advance so they can schedule an adequate amount of time to write the best letter possible. Suggested people to use as references include teachers, coaches, or counselors, but they may not be your director(s). Choose someone who has known you for at least a year and has experience with you in an activity or subject in which you excelled. For example, a letter from a teacher during your junior year of high school will result in a more thorough letter than your freshman year because your accomplishments and efforts are easier to recall. References may ask for an interview or an information sheet of academic achievements, goals, extracurricular activities, and other miscellaneous information to help them write the letter. Make sure to follow up on the status of your letters frequently to ensure they are completed on time for your application to be submitted. Be sure to thank both references for their time and effort on the letters!
3. Scholarly Transcripts
Official transcripts are also required as part of the application. You may attain these either through your counselor or Parchment.com. Be mindful of potential fees associated with transcript requests. SAT/ACT scores for high school seniors are not required, but recommended. Scores may be downloaded directly from CollegeBoard.org (SAT) or ACTStudent.org (ACT).
4. Be Yourself
WGI doesn't ask for anyone to be "perfect;" applicants are only asked to be themselves. Whether you've been performing for seven months or seven years, obstacles are learning experiences to endorse strengths, and reveal weaknesses to be improved. Answer all questions honestly. The questionnaire is a large component the scholarship committee's decision. They want to know exactly who you are and how you present yourself.
5. Believe In Yourself
There are a lot of components to the application, and hearing the results live at World Championships is more nerve-wracking than other awards where you are notified via email or personally. However, there is nothing to fear about this scholarship! Applying is half the battle. Regardless of the outcome, the fact of putting yourself into a competitive pool of applicants proves you are not afraid to take the leap. Remember, you have already come so far in your performance career, whether you've been performing for four months, four years, or more. Performers have the natural instinct and talent to show the audience who they are, what they're best at, and what they're passionate about; this scholarship asks the same – through paper. Having the same mindset and energy towards your application will defeat the intimidation in no time.
6. Submit your Application on Time
The deadline is February 2, 2018. Don't wait until the last minute to upload your application. You may experience internet connectivity issues and miss the deadline.
7. Stay in Good Spirits
Once you have submitted your application, sit down, relax, and pat yourself on the back for a job well done! You are one of a few who take the leap of faith to apply for the WGI Scholarship. Whether you receive the award or not isn't important. What is important is that you continue to put yourself out there instead of never knowing what could have been.

Good Luck!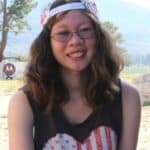 About The Author: Emeline Beltran studies Communications at Pasadena City College, where she serves as the assistant news editor for the school newspaper. She plans to transfer to a four-year university with emphases on journalism and/or media design. Her involvement with the Sport of the Arts began her sophomore year of high school when she joined Arcadia High School's percussion program as a vibraphonist. In 2015, she competed at WGI World Championships in the Percussion Scholastic Open level, where the ensemble ranked fourth place. Emeline was awarded the WGI Scholarship in 2015. Along with mass communications, Emeline is passionate about nonprofit management and philanthropy– specifically, organizations that focus on childhood cancer awareness. She hopes to pursue a career which combines both passions.