WGI Sport of the Arts provides a venue for young people to achieve the extraordinary through performance and competition and is committed to supporting these young people as they seek higher education. Since its inception, the WGI Scholarship Program has provided more than $500,000 to WGI performers. The following is the experience 2013 scholarship recipient, Shaina Nunes, has had because of color guard.
If I were asked to describe a number that represents my life, it would be two. There is a rather simple explanation. You see, I have an identical twin sister. We have grown to love the same interests so it was no surprise when we both acquired a strong passion for guard. This past season marked our 10th winter season, our 6th with the University of South Florida.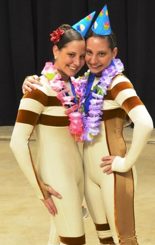 WGI has taught me so much through the years. It goes much beyond spinning a flag, sabre, and rifle. This sport teaches discipline, pride, commitment, responsibility, accountability, consistency, patience, respect, and most importantly teamwork. These qualities help build an individual and make them stronger, resulting in learning valuable lessons that are carried throughout life.
My name is Shaina and I am a second year graduate student at the University of South Florida majoring in Rehabilitation and Mental Health Counseling. I will be graduating with my Masters this December. Being able to spend time in the gym with my USFWG family for three days each week for the whole season allowed me to take a step back from assignments, exams, presentations, and internship responsibilities and focus my attention on a passion and dream of mine. Performing is an indescribable feeling. During the show, surrounded by teammates and my twin sister, there is only one thing on my mind. That one thing is to go out on the floor and hold nothing back and perform for the audience and ourselves. My most memorable experiences is being able to share all of the happy moments with my best friend; knowing that she is on the floor with me, eases my nerves and makes me proud to be able to share such a special moment with a person who has impacted my life from the very beginning. From my first Independent Open audition, to my first finals in Dayton, to our Silver Medalist Season, to my first Independent World audition, to making a World Class team, we have always been together. It has all been a dream come true.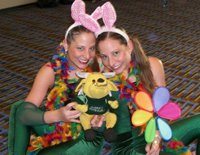 Often times pursuing the same interests can either make or break a bond. For me, it brought my sister and I even closer. It made me realize that the experiences that have occurred have all been extra special because I have been able to share it all with my twin. For many seasons we were given the opportunity to have a moment together on the floor. This moment included doing a double turn around sabre duet. This was always a fun experience for us as we were duet partners for 15 years in baton twirling. From the best of times, to the frustrating times, to the emotional times, she has always been there for me and in the end I grew stronger as a performer and as an individual because of her guidance and support.
WGI has been the best experience of my life and I will always cherish the memories and friendships I have gained throughout this wonderful activity. I also have to mention that I couldn't have done it without all of the wonderful coaches throughout the years: Gavin Miller, Shannon Berkstresser, Marcus Hopkins, Cheryl Wimberley, Mary Dooley, Jamie Dyer, choreographer, Michael James and to all the other staff members who have truly made an impact. I am so thankful to have been blessed with the opportunity to march with two incredible teams, be a part of the WGI organization, and to have my twin sister by my side every step of the way.
-Shaina Nunes
---
If you are interested in donating to the WGI Scholarship Fund, please send your donation to:
WGI Scholarship Donation,
2405 Crosspointe Drive
Dayton, OH 45342
Or you can donate online here.