By: Emeline Beltran
WGI has awarded over $500,000 worth of scholarships for the last thirty years to performers who have demonstrated both academic and personal accomplishments outside of the indoor activity. It's exciting to see where recipients head off after being rewarded, as well as welcoming a cycle of new, brilliant applicants and recipients each year. Here are some checklist tips and stories on applying for the 2016 WGI Scholarship, featuring two scholarship recipients from 2015: Tyler Kim, a four-year pit member of Chino Hills High School Drumline and Chelsea Toner, previous captain of ATX Winterguard, and the current color guard tech of McNeil High School.
Download the 2016 WGI Scholarship application here!
1. Start Early
Balancing practice and competition schedules with academics and friendships is a challenge Tyler recalls from his time performing. "There were definitely plenty of sleepless nights but in the end, those nights really helped discipline to become a diligent student [in the future]," he explains. Even if you may be years away from being eligible to apply, that does not mean your application process should wait till senior year or later. Develop organized and efficient study habits and time management skills early to result for an outstanding GPA, which could increase your chances for receiving the scholarship. "My biggest advice would be to work smarter, not harder," suggests Tyler. "While working hard is really and definitely important, I [have seen] many students study really hard and produce results that don't reflect the work they put in… they just study unneeded or already learned information. So, my advice would be to figure out what you need to know, and study that." Finally, once you know exactly what material to study, stay focused to for an effective study session, resulting to expected and desired grades. "I would also recommend that during finals or before major tests to stay away from social media, or more specifically your phone, because we all know that leads to….procrastination."
2. Letters of Recommendation
For incoming applicants, plan ahead on attaining all required documents for the application. First, note the two letters of recommendation that are required. For a quality letter, and for the convenience of your references, kindly request your letters in advance so they can schedule an adequate amount of time to write the best letter they can. Suggested people to use as references include teachers, coaches, or counselors, but note that they may not be directors. Choose someone who has recently spent at least a year with you in an activity or subject you excelled in. For example, a letter from a teacher in high school junior year will result into a more thorough letter than freshman year because the accomplishments and efforts are easier to recall. Note that references may ask for an interview or an information sheet of academic achievements, goals, extracurricular activities, and other miscellaneous information that they may need to write the letter. Lastly, follow up on the letters frequently, to assure that they both get finished on time for the application to be mailed. Be sure to thank both references for their time and effort on their letters!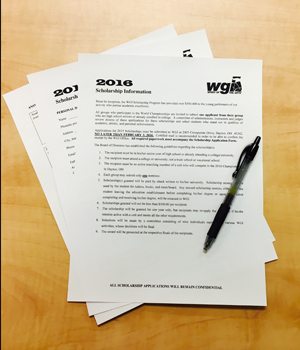 3. Scholarly Transcripts
Official transcripts are also required as part of the application. Anyone of any grade may attain these through either their counselors or Parchment.com. Because WGI requests for a hard copy of the transcript, those ordering through Parchment should mail a copy to themselves and enclose it along with their application being mailed. Additionally, be mindful of potential fees. SAT/ACT scores for high school seniors are not required, but recommended. Scores may be printed directly from CollegeBoard.org (SAT) or ACTStudent.org (ACT). Again, please do not order these to be sent to the WGI office.
4. Be Yourself
In applying for the scholarship, Tyler recalls that he did not do anything more than show who he was by "being himself in writing." In both applying and performing, a lesson Chelsea emphasizes as a tech is "There is no such thing as perfection. Only a perfect approach." That's just it! WGI doesn't ask for anyone to be "perfect," applicants are only asked to be themselves. Whether you've been performing for seven months or seven years like Chelsea, obstacles are learning experiences to endorse strengths, and reveal weaknesses to be worked on. Everyone has them both, but that's what makes a true performer. Answer all questions honestly, because the questionnaire a large component the scholarship committee considers. They want to know exactly who you are and how you present yourself. Note that there are also no limits to answers, so a separate sheet of paper may be used, as well as typing the answers right onto the application.
5. Good Portraits
Not only should you show yourself through words on the application, but also through the two required headshots. For an excellent photo, first, consider the background of the shot. From a solid colored wall to an environmental background, keep your background simple and free from distractions. If the background is taken outside, be sure to (photographically) focus on yourself. Secondly, attire, makeup and expression does not need to be overdone. Again, these headshots visually capture applicants in their true character. Although nothing specific is required, keep it simple, appropriate, and presentable, since these will be seen by the committee and potentially used for the WGI website. Lastly, headshots taken from your marching activity aren't required, but accepted.
6. Believe In Yourself
There are a lot of components to the application, and hearing the results is more daring than any other award in contrast to getting emailed or personally notified. However, there is nothing to fear about this scholarship! Applying is already overcoming the intimidation enough. Regardless of the outcome in the end, the fact of putting yourself into a competitive pool of applicants showed you weren't afraid to take the leap. Remember that you have already come so far in your performance career, whether you've been performing for four months, four years, or more. Performance have the natural instinct and talent to show the audience who they are, what they're best at, and what they're passionate about, and this scholarship asks the same through paper. Having the same mindset and energy towards applying will defeat the intimidation in no time. Also, applicants may reapply next year as long as they are a continuing performer who have met all the requirements.
7. Know Your Supporters
Chelsea was encouraged by her "adoptive parents," or the directors of ATX Winterguard, to apply. "They know how important school is to me and they wanted me to connect my future with my past," she explained. From the last seven years she's been at ATX Winterguard and the last four serving as captain, she knew applying could potentially benefit her in fulfilling her academic goals. Similarly, Tyler kept his parents in mind when applying for scholarships, because he wanted to aid them financially at the potential university he'd end up in. Also, he kept the activity itself in mind, saying it was the largest school activity he was ever involved in, so the idea of receiving a scholarship from an activity he gave his four years four sounded amazing to him. For either one season or four years, regardless of marching activity, remember the ensemble is a second family that will support each other through the journey, regardless of outcome.
8. Mail your Application On Time!
The deadline is on February 3, 2016. Consider allowing your application to travel 3-5 business days if you are out of state, and 2-3 business days if you live in-state of the WGI Office.
9. Stay in Good Spirits.
Once you have sent off your application, sit down relax and pat yourself on the back for a job well done. As we have reviewed earlier you are already one of the few who take the leap of faith to apply for the WGI Scholarship. Whether you receive the award or not isn't important. What is important is that you continue to put yourself out there instead of never knowing what could have been. Good Luck!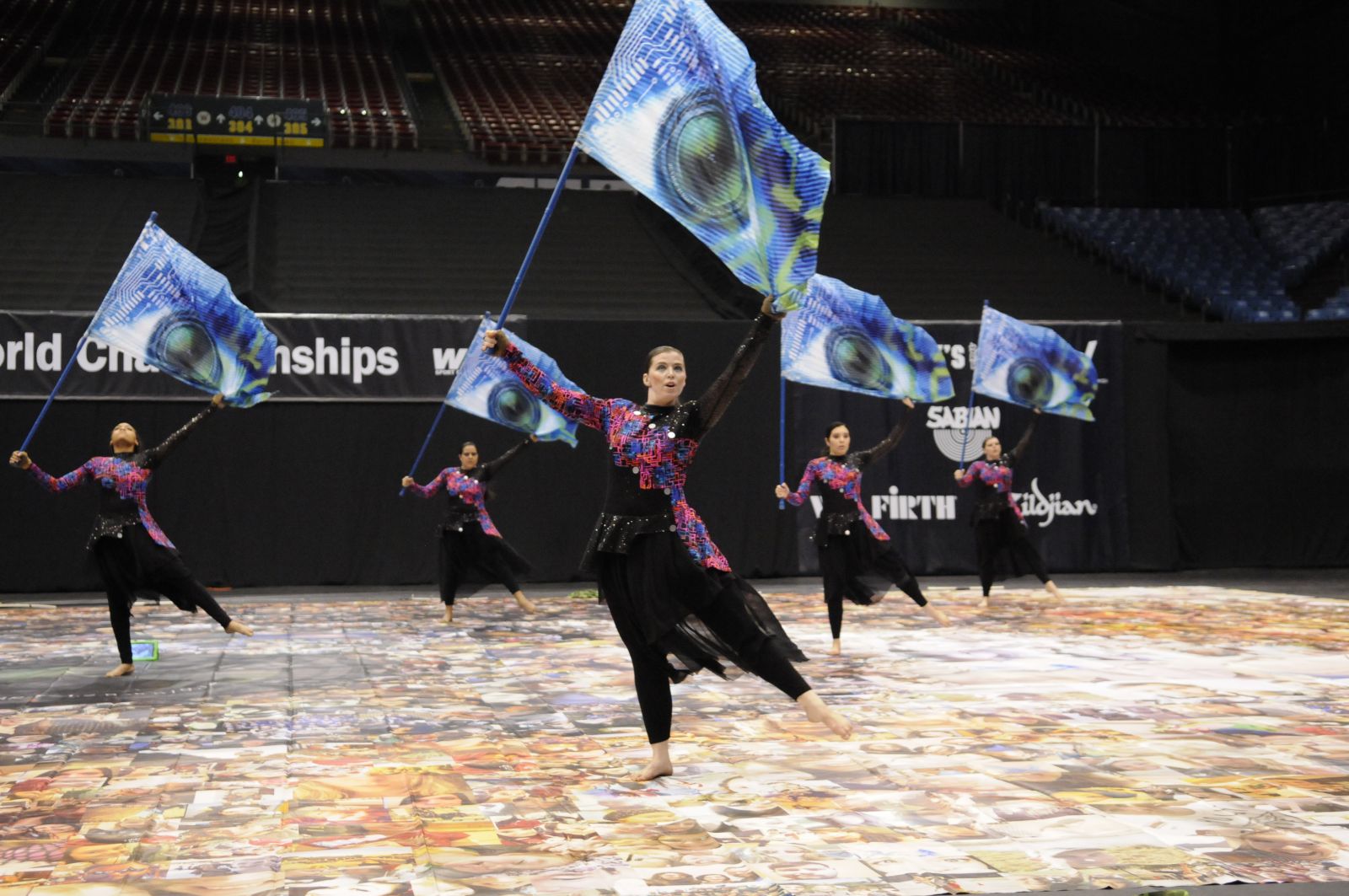 As a freshman at the University of California, Irvine, Tyler is studying Business Economics with hopes to be either a Financial Advisor or an Accountant. He strives to help out his family, as well as find time to give back to the community through church mission trips and volunteer in mission trips worldwide. On the other hand, Chelsea is double majoring in Microbiology and Biochemistry at Texas State University, aiming to be involved in academia. With both being in different performance sports, in different competition levels, with extremely contrasting career goals, both share the same excitement and pride upon winning this scholarship.
"I am really grateful to WGI for giving me the chance to perform in front of huge crowds, and win a scholarship from doing something that I love," Tyler concludes.
Similarly, Chelsea is grateful to have this opportunity close an unforgettable age-out. "It [is] a memory I'll hold close to my heart and I'm very thankful to have received a scholarship from the organization that I had dedicated so much of my time towards to use for my future. It was a nice close to my age out and the end of my performing career."
Download the 2016 WGI Scholarship application here!
---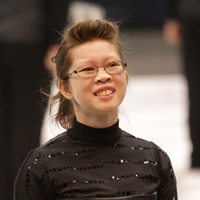 About The Author: Emeline Beltran is a recent graduate of Arcadia High School, formerly a part of the school's percussion program as a member of the front ensemble. In 2015, she was awarded the WGI Scholarship at the Percussion World Championships. Emeline is also studying Communications at Pasadena City College where she plans to transfer to a four-year university and pursue a career in mass media.