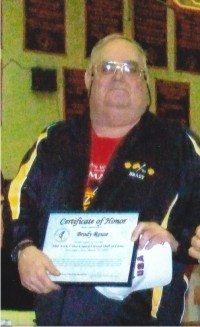 The color guard and marching community recently lost one of its very special members. Brady Rouse, the longtime director of the Marcus Whitman color guard died on October 21, 2015, in Rushville, New York. Brady began participating in the marching activity as a soprano bugler with the Shortsville Shamrocks and the Syracuse Brigadiers Drum Corps. After serving in the United States Navy, Brady began instructing and designing drills for numerous drum corps, marching bands and color guards in New York State, including the Purple Lancers, Squires and Tri Town Cadets, as well as the Blue Stars from La Crosse, Wisconsin.
The majority of Brady's career was spent with Marcus Whitman High School where he taught for 45 years. The Marcus Whitman Color Guard was a fixture in the early days of WGI. The guard was a finalist at the first seven WGI Championships, 1978-1984, including a 4th place finish in 1982 in Nashville. During his time with "Whitman" the Whitman band won over 15 state marching band championships and achieved multiple honors.
Brady worked as an adjudicator throughout the United States and Canada, as a member of the New York Federation of Contest Judges. He was a member of the Hall of Fame of both the Mid-York and Northeast Color Guard Circuits.
Brady touched the lives of thousands of students, teaching them to expect nothing but the highest level of achievement. This expectation helped his students to develop into productive adults.