By: Christine Ngeo Katzman
WGI Sport of the Arts began crowning indoor marching percussion champions in 1993, and the category has majorly evolved through the various decades. "What could win ten years ago would barely make finals today," says John Mapes, percussion director and designer at Chino Hills (California) High School, a six-time WGI Percussion Scholastic World Class winner, most recently in 2019.
The same top contenders in Scholastic and Independent World Class tend to vie for the top five each year. Several groups tell us how they consistently hit the mark.
Kevin Sherrill, the band and percussion director at Arcadia (California) High School, credits having "consistent and highly talented staff and designers for a long period of time."
Sherrill himself has been in the realm of the program for more than 21 years—since September 2000. Arcadia has medaled in WGI Percussion Scholastic World Class five times since 2011, most recently with a silver medal in 2019.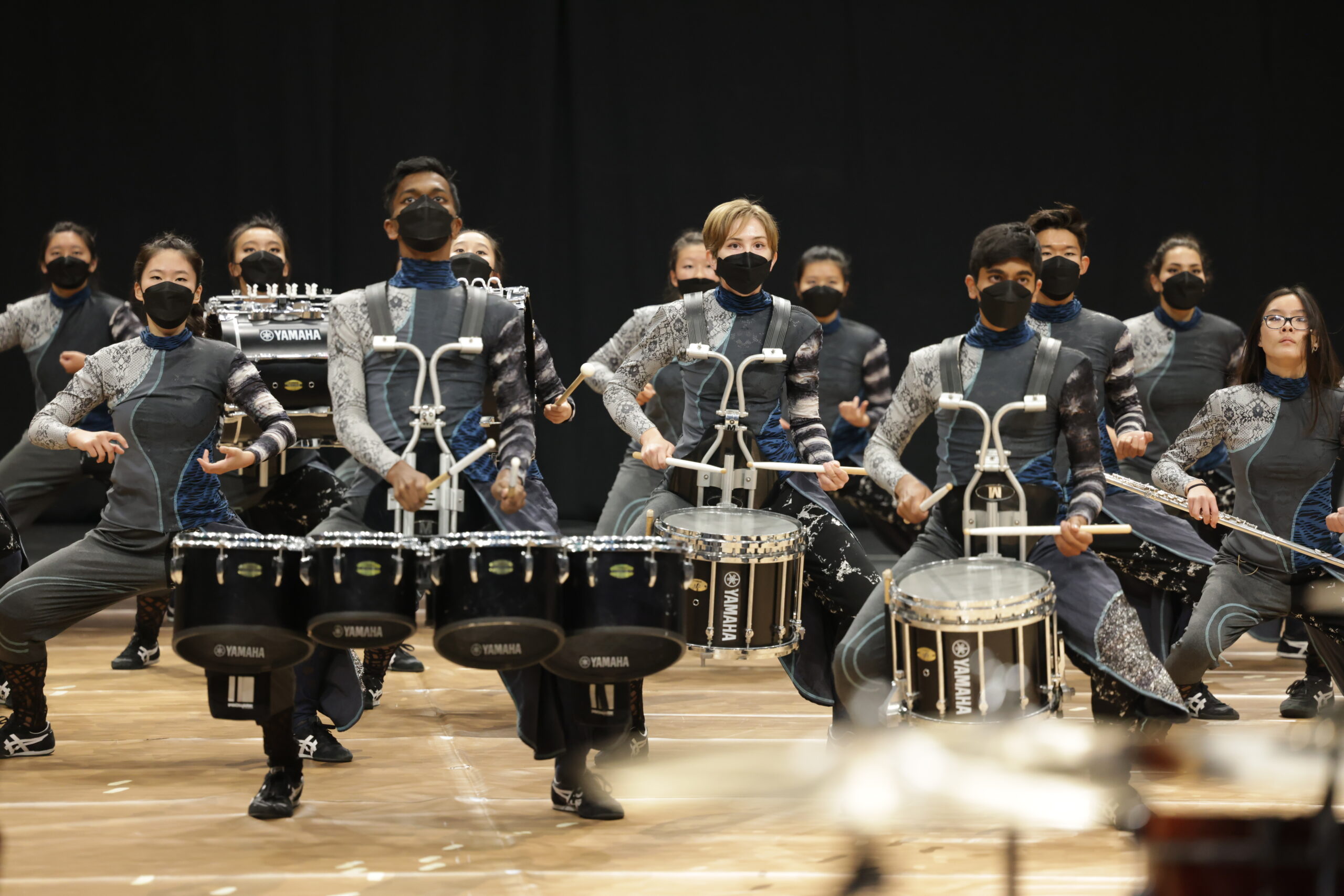 Similarly, Craig Dunn founded Rhythm X in 2001 in Dayton, Ohio. He quickly brought on Tim Fairbanks, current executive director, and Andrew Markworth, now the front ensemble and music designer, onto the staff. Other designers have been on the team for many years as well. "Our staff has been very consistent," Fairbanks says. "We have been together designing shows since 2008."
Fairbanks says that developing talent from within is better than hiring external designers and composers to create the show. "Make sure that the team you're working with gets along," he says. "I think it's worth committing to good designers with potential and building that potential and not always trying to go outside to find a designer."
One year, Fairbanks and two other people wrote a program for Arizona State University, and it came in last in WGI Independent World. "Just looking for the solution that might be this big-name designer is not necessarily the best route," he admits. "Nobody's first draft is that good. It's not just [about] the first product they put out there. It's how you edit it; it's how you produce it; it's how you work together to make it better as the season goes on."
An important staffing decision also occurred for Rhythm X in 2008 when the organization's leaders created a board of directors and hired its first operations director, Mike Scott, who later became CEO of Rhythm X and then CEO of the Bluecoats Drum and Bugle Corps but still serves as vice president on the Rhythm X board. Rhythm X won back-to-back Percussion Independent World Class championships in 2008 and 2009, as well as in 2013.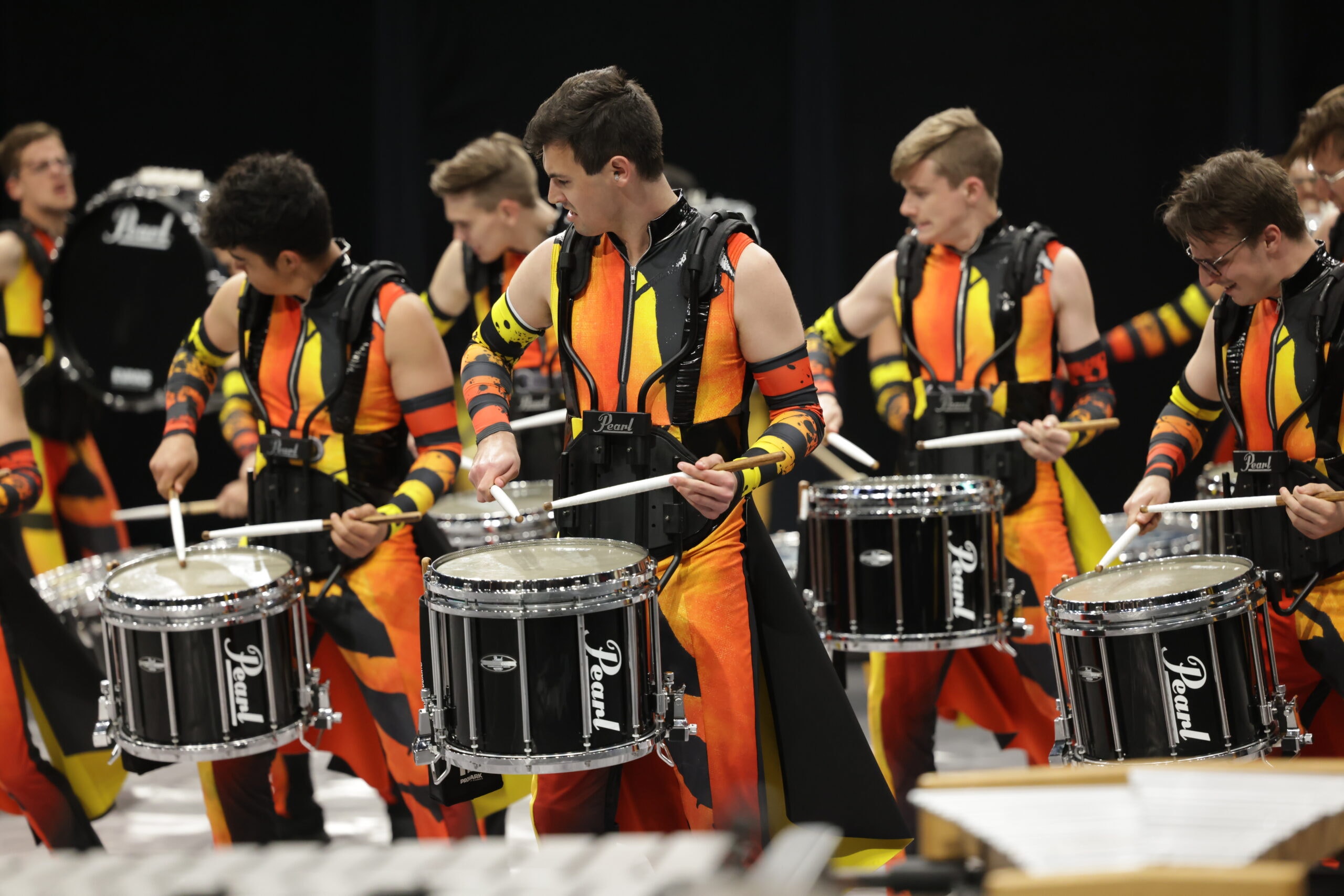 Lee Allman, director of percussion with the Avon (Indiana) High School Drumline, gives his staff much autonomy. "Surround yourself with smart/talented people and let them do their jobs," he says.
The Avon winter drumline started in 1993 and has won all three WGI Percussion Scholastic classes: A in 1996, Open in 1997 and 2001, and World in 2002. Most recently, Avon was named a finalist in a virtual competition in 2021 and became the World Class champion for 2022.
Especially for this 2022 season, Mapes advises directors to "Go all in." "My … advice … is to not treat this season coming back full time like a training year," he says. "We are putting everything we have into this season and trying our best for our students. We have already lost two seasons of indoor and refuse to let 2022 be anything less than we know it can be!"
Winning programs have a potent combination of musical and visual components. "We pride ourselves on our playing but keep putting more effort into the visual side each year," Mapes says.
Rhythm X's style is "brave, courageous, [and] risky," Fairbanks says. "Innovation is one of our strengths. If we've seen it in someone else's show, … we're not doing that. … We try not to look the same each year. … [We] tend to try to hit home runs. Sometimes, when you try to hit home runs, you hit foul balls or strike out. Other teams will go for a single or a double every time they're up at-bat, and it works, … but we want … people to walk out of the arena and go, 'Oh my God, did you see Rhythm X tonight? They did this, and this, and I've never seen it before.'"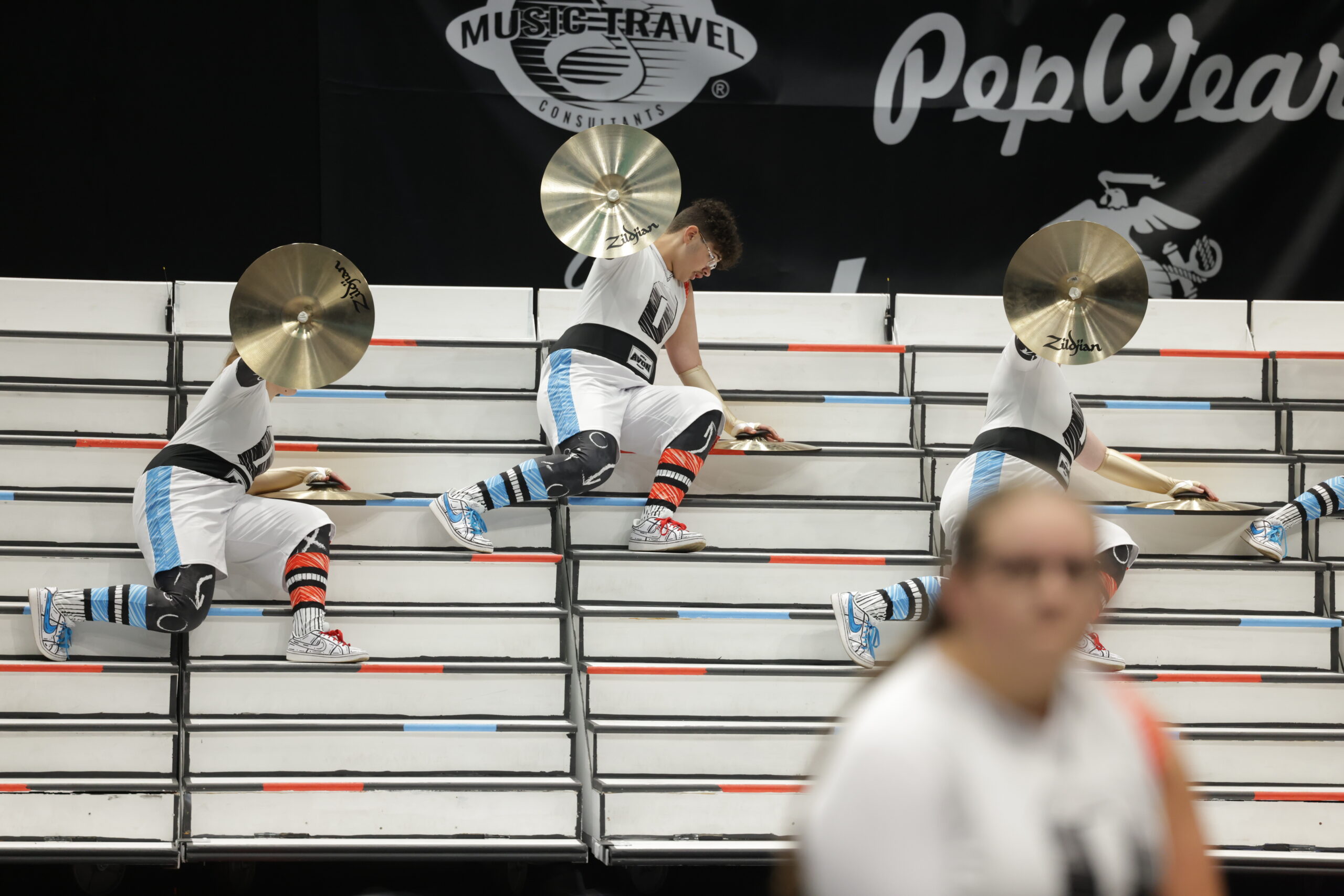 For example, in its silver-winning 2018 show, "All the World's a Stage," Rhythm X didn't use a tarp and took up the entire floor space. "The pit instruments moved around throughout the show; the cast members changed. The bass line played a vibe solo; … our center snare played a marimba solo. … Our cast was more like it would be in a musical theater where people are doing multiple tasks throughout the show. And the way that we used the actual arena was very atypical."
Sherrill from Arcadia echoes the importance of innovation. "The group has grown through the years to give the performers the best experience possible while focusing on creating fresh, innovative programs that audiences would enjoy."
Many top groups have a feeder chain that brings talent up the ranks. Chino Hills directors put more effort into working with its junior high program through the years. "At first, we relied on the talent we had [at the high school], but as those performers graduated, we needed to have a more consistent system," Mapes says.
Arcadia offers participation in Percussion Open and World Classes to its high school students. From 2009 to 2018, it also had an A Class unit. "Our group is unique in terms of the multiple levels of ensembles at one school," Sherrill says. "[We have a] strong training program with our younger students."
In the past, the Avon Drumline also had an A Class group to complement its World Class program. Though its A Class has been discontinued, Avon's World Class percussion ensemble is seen as an integral part of the band program. "Doing drumline is very much a part of the community," Allman says. "It's something that the students grow up knowing about and want to be a part of."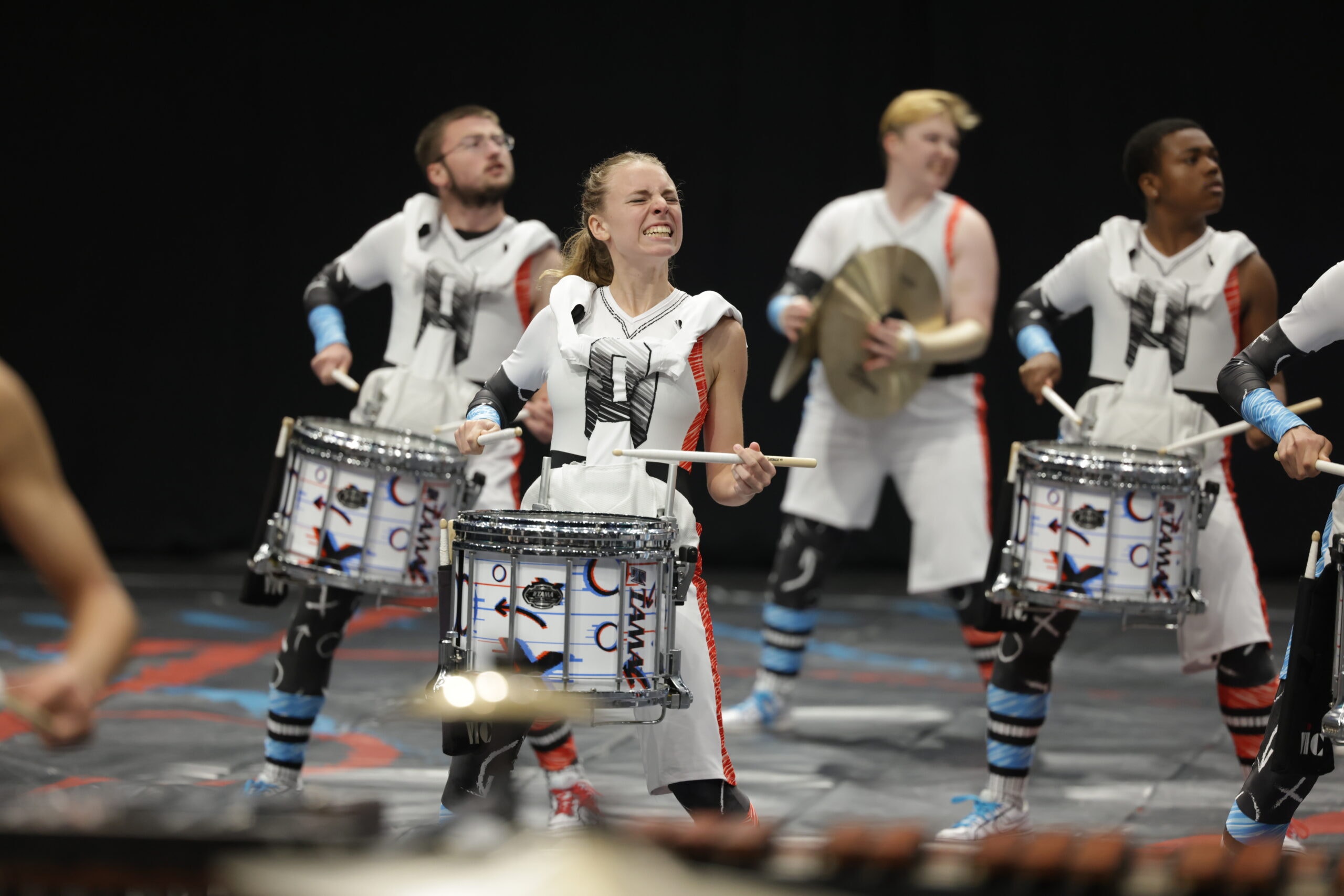 Independent group Rhythm X started out primarily with students close to its hometown. Much of the original talent at Rhythm X came from musicians who had graduated from Centerville, where Fairbanks and Markworth have worked and where Fairbanks currently serves as director of percussion and visual designer. But the organization began attracting national talent following its third-place finish in WGI World Class in 2004.
Rhythm X relies heavily on word of mouth for its recruiting. "We tend to have a really chill demeanor in our rehearsals," Fairbanks says. "Our staff is nice to the kids. There's not a lot of screaming and yelling. … So, when our kids march here, they enjoy it; they enjoy each other. … And then when they go out into the drum corps, many of them are marching in … top groups. They [tell] the person they're standing next to in the line … to come to Rhythm X. … Our recruiting is happening because the kids that are in the group really enjoy it, and then they tell their friends, and those friends come the next year."
Finding appropriate rehearsal space comes up as a constant challenge for many groups. Some scholastic ensembles may not be able to rehearse in their own school gym, while independent groups may scramble for space from year to year or even from week to week. One season, Rhythm X practiced in an abandoned carpet warehouse that had carbon monoxide and water leaks.
Recently, Rhythm X established a contract with Camp Chautauqua in Miamisburg, Ohio. The team started its 2019-2020 rehearsals at the camp and will hold every practice in the 2021-2022 season there. "We've established one rehearsal facility where everything happens," Fairbanks says. "The trucks get to stay there; the kids get to stay there. They have a huge gym and a cafeteria that we get to use. I think that's probably the most effective thing that we've done in the last couple of years."
A significant commonality among top groups is their effective use of time. "Don't start rehearsals late," Allman from Avon advises.
Chino Hills works hard "to be more efficient with the time we have," Mapes says. In addition, students "rehearse year-round to be better prepared for indoor."
Rhythm X intentionally creates a "more lax" weekend schedule—from 7 p.m. to 11 p.m. Friday, a full day on Saturday from 9 a.m. to 11 p.m., and 9 a.m. to 4 p.m. on Sunday—to account for very long commutes and time for socialization. "We try to be efficient with what we are going to do in the block," Fairbanks says. "Our lunches are an hour and a half long, and our dinners are two hours long. … We know that some of those times are when the kids establish those memories and make those friendships that last forever. … As long as we're smart and efficient during the rehearsal, … we try to keep as humane of a schedule as possible for everybody—the kids and the staff."
Of course, no group could win without hard-working participants. "The entire Avon band program has a strong commitment to excellence," Allman says.
Arcadia echoes the sentiment. "We have a strong student work ethic and talented, hard-working students," Sherrill says.
About the Author
Christine Ngeo Katzman is founder and chief executive officer of Muse Media, LLC, creator of books, magazines, and additional content highlighting performing arts and youth activities. Christine is publisher, and editor-in-chief for Halftime Magazine, a publication for marching arts participants and fans, and managing editor for Yamaha SupportED Magazine, a publication sponsored by Yamaha Corporation of America for K through 12 instrumental educators. Christine graduated from Northwestern University with a bachelor's degree in journalism in 1997 and earned a Master of Business Administration from the University of Southern California in 2007. While at Northwestern, she marched in the Northwestern University Marching Band, including the 1996 Rose Bowl and 1997 Citrus Bowl.