Mary Anne Wiles, age 76, one of WGI's first volunteers, passed away Wednesday, July 25, 2018, with her family by her side. She was born June 18, 1942, in Chicago to Gerald and Madeleine (Michaels) Mayfield. She married Robert Wiles on September 13, 1963, in Illinois.
Commonly known as "Ma," she was a mother figure to countless young people, instructors, judges and tirelessly served WGI as a volunteer for nearly four decades.
"There is a saying that to be hit by lightning, you have to stand in the rain," said Ron Nankervis, Executive Director for WGI. "While we are all sad today, the 'lightning' that was Mary Anne broke the mold. Whenever WGI gathers each April, we will always picture Mary Anne scurrying around headquarters with a welcoming hug to anyone lucky enough to enjoy the pleasure of her company."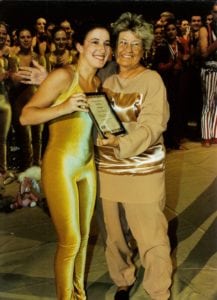 Mary Anne and her husband, Bob, were instrumental in the development of the Midwest Color Guard Circuit and created Anthron, a WGI finalist in 1986 and 1988. Anthron chose to turn the concept of traditional color guard upside down and challenged the color guard activity with a bold new approach.
In addition to all their contributions in the winter guard activity, Mary Anne and Bob Wiles were volunteers with Drum Corps International, having a special relationship with the Cavaliers Drum & Bugle Corps from Rosemont, Illinois.
The Wiles family continues to be deeply involved with all of the marching arts as most of Bob and Mary Anne's children continue to be active in the marching arts. Upon Bob's passing in 2000, WGI created the Bob Wiles Memorial Scholarship that has assisted performers in pursuit of higher education the past 18 years.
Nankervis continued, "We are pleased to announce that scholarship so important to Mary Anne will be renamed the Bob and Mary Anne Wiles Memorial Scholarship. We can think of no more fitting tribute to someone who devoted so many years to WGI."
Mary Anne was a lifetime resident of McHenry, Illinois. She was formerly a member of The Church of Holy Apostles, before attending St. Mary Catholic Church of Woodstock. Mary Anne was a valued operator with Illinois Bell for over 25 years. She loved to cook for her family and friends.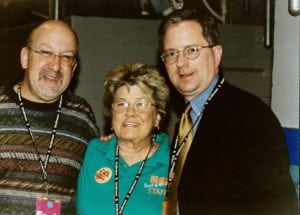 Mary Anne leaves behind, six children, Debbie (Randy) Wiles-Isoda, David (Paula) Wiles, Donald Wiles, Dennis (Cindy) Wiles, Denise Wiles, Daniel (Sarah) Wiles; thirteen grandchildren, Katherine, Emily, Elaina, Blake, Samantha, Ryan, Ethan, Ellie, Joshua, Tara, Olivia, Aidan, Brennan; her sister, Frances "Fran" (Don) Herdrich; and her brother, Robert Mayfield. In addition to her parents, Mary Anne was preceded in death by her husband, Robert "Bob" in 2000, and her two brothers, Gerald and Michael Mayfield.
Visitation will be from 3 p.m. until 8 p.m., Monday, July 30, 2018, at Justen Funeral Home & Crematory, 3700 W. Charles J. Miller Road, McHenry, IL 60050. Visitation will resume Tuesday from 9 a.m. until 10 a.m. followed by Mass at The Church of Holy Apostles, 5211 W. Bull Valley Road, McHenry, IL 60050. Interment will be in St. Patrick Countryside Cemetery, next to her beloved husband.
For those wishing to send an expression of condolence, the family suggests memorials to the WGI Scholarship Fund, 2405 Cross Pointe Drive, Dayton, Ohio 45342 or by making an online memorial on the WGI website.