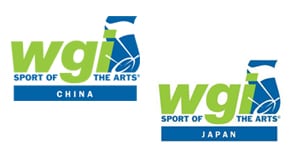 WGI Sport of the Arts, the world's leader in producing indoor marching arts events for color guard, percussion ensembles, and winds groups, today announced the return of WGI Japan scheduled to take place on February 3rd at the Makuhari Messe Event Hall in Chiba, Japan, located near Tokyo. Also announced today were plans for a new international event, WGI China, to take place near Beijing next June at a date to be announced soon.
The announcement comes as WGI begins accepting registrations for events in the United States for the regular competitive season starting this February. In addition to 75 events to be held in the United States this winter, this past year saw international events in Indonesia, Malaysia, Thailand, and the Philippines along with an inaugural event in Costa Rica scheduled for September 30. The competition season culminates with the WGI Color Guard World Championships April 3-6 and the WGI Percussion & Winds World Championships April 10-14 to be held in Dayton, Ohio.
"We cannot overstate how pleased we are with the return of WGI Japan as well as the addition of WGI China to our event schedule," said Executive Director Ron Nankervis. "Last year's Tokyo event was a fantastic experience for Warren Central High School to attend and we hope to keep encouraging groups to participate in international travel. Preliminary plans with our China event partner will yield a whole new world for WGI as an organization as well."
For more information on international events, please visit the international section on WGI.org.