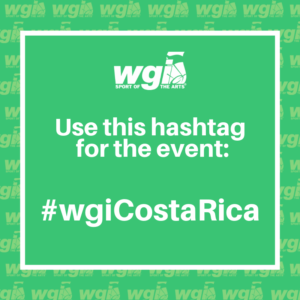 We are excited to hold the first ever WGI Costa Rica this weekend!
Hosted at the Villa Olímpica de Desamparados Costa Rica on September 30th, over 30 groups from Guatemala, Panama, Colombia, Brazil, and Costa Rica will showcase their skills. With the educational focus of this event, seven international judges will be responsible for bringing this event to another level; judging color guard, percussion and winds ensembles.
Judges include:
Shavon Garcia (Blue Devils Drum and Bugle Corps)
Roman Montoya (Spirit of Atlanta Drum and Bugle Corps)
Tim Fairbanks (Rhythm X)
Michael Gaines (Santa Clara Vanguard Drum and Bugle Corps)
Kevin Shah (Blue Knights Drum and Bugle Corps)
Rick Subel (Carolina Crown Drum and Bugle Corps)
Andria Foerch (Paramount)
Steve Mason (Crossmen Drum and Bugle Corps and Rhythm X Winds)
Are you attending the WGI Costa Rica event?
Use #wgiCostaRica in all your social posts!