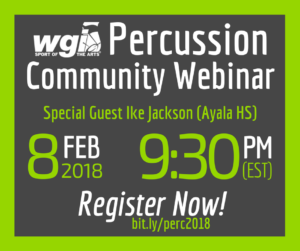 Join us for our next Percussion Community Webinar which will be equal parts interview and audience Q&A!
Percussion Education Coordinator, Caleb Rothe, will pick the brain of our special guest, Ike Jackson, to find out how Ayala High School has developed from an A class ensemble in 1997 to the powerhouse program they are today. We will explore how the program balances having both marching and concert ensembles participating at the highest levels, and all sorts of other behind-the-scenes insight into the program.
There will also be an opportunity for webinar attendees to ask Caleb and Ike any questions on any topic. We are looking forward to a fascinating conversation!
Register for Percussion Community Webinar