From a University of South Florida Winterguard Press Release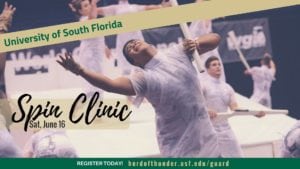 University of South Florida Winterguard will be hosting two spin clinics this summer! Multiple classes for ALL skill ranges and ages will be offered for Rifle, Sabre, and Flag. Our choreographers, staff, and guest clinicians teach the classes. Plus a Dance Masterclass and Elite Flag Class taught by choreographer Michael James!
Registration and more information can be found on our website at herdofthunder.usf.edu/guard
June 16- Tampa Bay Area, Florida
July 21- Orlando, Florida
Any questions can be sent to ebannon@mail.usf.edu.