By Michael Reed
Charleston, South Carolina. Orlando, Florida. Dallas, Texas. Waco, Texas. Four cities that bring thoughts of Southern culture, mouse ears, the Cowboys, and shiplap. The four cities also had tragic occurrences: The Branch Davidian Siege in Waco made international headlines in the 1990s, while the other cities had tragic multiple shootings within the past two years, and one of the most infamous shootings in U.S. history occurred on Dealey Plaza with the assassination of President Kennedy.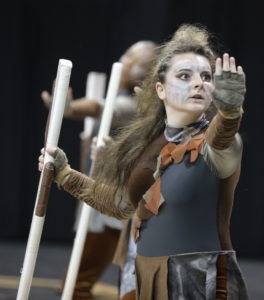 Color guards from each of these places competed at this year's World Championships. The sadness of these tragedies was the furthest thing from the minds of the performers. They were focused only on giving their best performance. Yet in the shadow of the unfortunate events that may come to mind when thinking of these places, members of guards based in these cities provided thoughts on better ways to grow as a team and overcome conflict.
Any time a diverse group of people gathers, the chance for disagreement is always there. People have different backgrounds and temperaments. Even during a productive rehearsal, conflict can set in when fatigue or frustration occur. What methods do members use to ease tensions when stress levels rise?
Members of Orlando's Pegasus A discussed the importance of working towards a shared purpose. Wayne Notice mentioned, "We always end up with a common goal, and that focuses us back on not being angry at each other, because if we're angry, we're not getting anything done." Teammate Iva Snead added "Even though we all come from different places, we come together to make that common goal happen despite our differences. We push each other positively."
One tactic used by Pegasus A to break down barriers is getting members to open up about themselves. Sneed explained, "We have a lot of different things. We do icebreakers. We sit in a circle and go around and tell each other our names and something special about us just so we get to know each other better. We also do team bonding activities and whatnot outside of practice."
Kayla Canava of Waco's Somnium reflected on how her guard creates a spirit of unity and trust. "I really think it's about learning perspective. You have to learn yourself before you can learn your show, and then you learn your show and you learn these people at the same time, and it gives you a whole new outlook. You become more confident in trusting others. You can depend on others."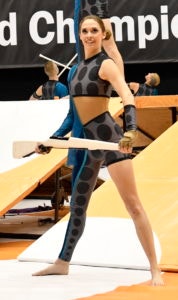 Fellow member Danny Zermeno reflected on another aspect that draws his guard together. "I think there's so much passion for the sport and so much attention to detail that no matter what your personality type is, finding that in somebody else is admirable, and something that I personally appreciate so much and it makes me respect that person."
One aspect of guard that was a common theme among everyone interviewed was the sense of closeness from working together at such an intense level. Allison Argentino of Charles Towne Independent from Charleston said "It is kind of like a family. Most of us are college students, and we're always stressed out and complaining about everything else we have going on, but when we're together on the weekends, its stress free. We don't have anything else to worry about except spinning and having fun."
Jon Overton of CGT Dallas has a perspective from somebody competing with years of experience to draw upon. "I think we all join the activity for pretty much the same reason: We love to perform, and whatever group you join, no matter where you come from you become a family. I've been in the activity for a long time and marched with multiple groups, and no matter where I go, pretty much everybody feels like a family."
Teammate James Cope expressed similar sentiments and summed up the essence of the activity. "I really think there's one central aspect of color guard that everyone can love no matter where you come from, and it's just performing and having fun. When we come together in these competitions we all have this one thing that we love and we can all enjoy it together." If the rest of the world could emulate the attitude of these young adults, our planet would surely be a better place.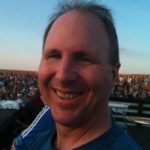 About the Author: Michael Reed provides online and print media content for WGI, Bands of America, and Drum Corps International. 2017 marks his sixteenth year of writing for WGI. He is an active music arranger, composer, and all-around avid pageantry fan. Michael was a member of the Cavaliers Drum and Bugle Corps and holds a bachelor's degree in music composition and music education from Ball State University. He currently works in the health care field and resides in Fishers, Indiana.