From a Towson University Winter Guard Press Release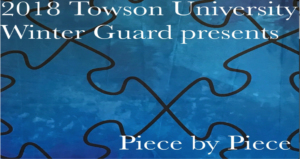 Towson University is proud to present their 2018 production, "Piece by Piece" with music by Kelly Clarkson. The group is made up of 15 members from Maryland, Pennsylvania, and New Jersey. Many of the members competed in local circuits and WGI with their high school program. This is Towson's 5th season and we are very excited to continue to show the growth of the program.
The Towson University Winter Guard is a program of the world famous Towson University Marching Band directed by John Miliauskas. Membership in the Towson University Marching Band is open to all incoming freshman or transfer students including non-music majors. Every member of the band receives a $500 to $1000 dollar scholarship.
The unit is lead onto the floor by captains Jacob Allison, Leah Beiswinger, Kelsey Kurzawski, and Kathleen Lucero. Color Guard Staff includes Director Amy Brown; Design Team Kristy Templin, Robert Sherretz, and Bobby Glass; and Instructional Staff Josh Hinkel, Megan Murphy, and Elizabeth Wolfkill.
The color guard would like to thank Band Director, John Miliauskas, Assistant Band Director, Taylor Yozwiak, and the Towson University community for all of their support throughout the season. The color guard would also like to thank the Brothers of Kappa Kappa Psi and the Sisters of Tau Beta Sigma for all of their help and being our biggest cheerleaders! The Towson University Winter Guard would like to wish all units a successful 2018 season.
For more on the Towson University Winter Guard or Marching Band please visit us online at our website towsonbands.com. Next time you are on Facebook be sure to lookup the Towson University Marching Band Fan Page and click the Like button, or follow us on Twitter or Instagram at @TowsonBand.