By Caroline Meister
People all over the country have watched WGI Winds evolve from an idea into a reality, myself included. As this season of winds comes to a close, I realized I still had a few unanswered questions about the inner workings of a winds group. How do directors start a winds group? How do directors arrange winds instrumentation? How do directors decide when to include guard, front ensemble, or battery? How do directors structure a winds rehearsal? I went searching for the answers, in the process chatting with Rhythm X, STRYKE Wynds, FIU Indoor, and Crossmen to discover more about the new kid on the block.
There's an old saying that curiosity killed the cat, but Mike Scott, CEO of Rhythm X, Inc., would have to disagree with that statement. Curiosity is the reason that a winds ensemble exists at Rhythm X, Inc. Scott was intrigued immediately by the endless possibilities winds offered to explore and push the boundaries of design. Curiosity might have played a huge part in Rhythm X's conception, but Christina Colletti, director of STRYKE Wynds, shared a different origin story, one centered around family. STRYKE, already boasting two percussion groups, wanted to become more well-rounded and decided to bring winds into the fold. FIU Indoor was already an accomplished marching arts organization before winds came along, but something was missing. Adding winds, director Christian Cruz Vargas explained, was like "adding the final piece to the puzzle."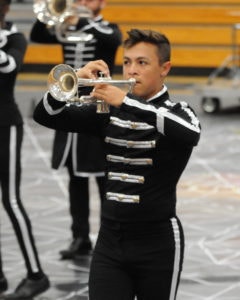 Perhaps most unique in their origin story is Crossmen. If you're a fan of Drum Corps International, the name probably sounds familiar. Crossmen are a world-class drum corps that have been touring the country since 1974. Director Joel Moody noticed that the organization was missing out on performance opportunities by limiting themselves to only the summer months. To remedy this, he created a winds division of the drum corps, seamlessly integrating the winter season with the summer season. Regardless of their beginnings, all four of these groups have expanded their reach and impact on the marching arts world by adding winds groups.
Instrumentation might seem like a simple task, but nothing could be further from the truth. Instrumentation is a multi-layered system, beginning with the first layer, wind instruments. Does one only include brass? Only woodwinds? Or a mixture of both? For their first year of competing, all four of the new wind groups began with a heavy brass influence with minimal woodwind participation. As years have gone by, woodwinds have begun to crop up more and more in the instrumental fabric, resulting in a delicate balancing act between the two families of sound.
Rhythm X's 2018 ensemble closely resembles a full woodwind choir, even including baritone and tenor saxophones. Crossmen follows a similar approach, carefully balancing brass and woodwinds to create a full sound. FIU Indoor follows this same formula, but this season they've completely eliminated contras from their show. Why? It's all about mobility. Contras are heavy, restricting the amount of mobility performers are able to have, which, in turn, restricts the visual potential. For STRYKE Wynds, it's all about experimentation. Director Christina Colletti wants to push the boundaries, adding in piano, bass, or even electric guitar into the overarching instrumentation. Implementing these additional timbres into the fabric of winds will offer new, creative textures. .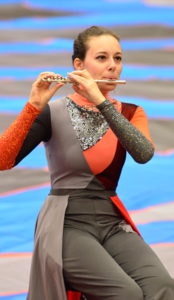 With the first layer down, I moved on to the equally important second layer, comprised of front ensemble, guard, or battery. All four groups utilize a front ensemble, a component that adds a unique pop of color to the tapestry of sound.
Interestingly enough, FIU Indoor has consciously decided to make their front ensemble smaller and smaller each year, shifting their focus back to the first layer of instrumentation. Mike Scott isn't opposed to including either guard or percussion in Rhythm X's shows, but explained that both guard and percussion have very distinct sounds that must seamlessly integrate into the show. One can't install a second layer if it doesn't mesh perfectly with the first layer, otherwise it will be a structure with no support.
While Crossmen director Joel Moody is open to experimentation, he hopes to keep the use of acoustic percussion a constant. Some groups eliminate percussion altogether, instead using a click track. This practice, at least to Moody, lacks the authenticity that a real drum beat provides. Christina Colletti is looking to take the second layer in a completely different direction, explaining that she would love to get students who have a flair for technology involved. "Technology, when included in a performance, is the number one thing every director worries about," Colletti admitted. With the growing necessity of technology, Colletti hopes to not only preemptively solve technology problems, but also include more tech savvy members.
The organization of a winds rehearsal posed a serious dilemma to me. How do directors manage the balance between visual and musical? How do they combine aspects of a marching band rehearsal with those of a wind ensemble rehearsal? Mike Scott struggled with this same question, admitting that deciding how a wind group would rehearse was "one of the most unexpected challenges."
That being said, all four groups have found a rhythm (no pun intended) that works, as evidenced by their steady competition scores. All four groups hold their rehearsals on the weekends and utilize the common blocking technique that can be found across multiple divisions of the marching arts. Take, for example, a Crossmen rehearsal. They begin their Saturday with a four-hour visual block, then break for lunch, then do another four-hour block of sectionals that alternate between music and movement. Various variations of this pattern can be found throughout the four other groups discussed in this piece, typically culminating in a run-through of the whole show on Saturday night, then proceeding to Sunday with more or less the same schedule as Saturday, just with shorter blocks. Occasionally, STRYKE's schedule will look different, if it falls on one of the weeks when they have guest arrangers, choreographers, or clinicians. No matter what their rehearsals look like, these groups are working as hard as possible to produce great performances.
WGI Winds is young compared to its other indoor marching arts counterparts, but it's youth is not a detriment, it is its strongest asset. After diving head-first into the world of WGI Winds and learning everything there is to know about the origins, instrumentation, and rehearsals of Rhythm X, STRYKE Wynds, FIU Winds, and Crossmen, I have the utmost faith in WGI Winds' potential to take over the world.
---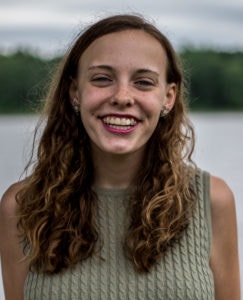 About the Author: Caroline Meister is a sophomore studying Telecommunications, Spanish, and Creative Writing at Ball State University in Muncie, Indiana. Prior to college, Caroline graduated from Zeeland East High School in Zeeland, Michigan. In high school, Caroline was heavily involved with the marching band, wind ensemble, and pit orchestra where she played flute, an instrument she's been playing for almost ten years. Currently, Caroline is in the Pride of Mid-America Marching Band where she marches piccolo.