By Michael Reed
Terry Cooney was born in Brooklyn, NY, and faithfully served his country for over 26 years as a proud member of the United States Navy as a carrier pilot. He eventually went into research and development work, and came to Dayton when doing work at the Air Force Research Facility at Wright-Patterson Air Force Base. He really liked the area and has lived in the Dayton area ever since.
Terry has years of experience in public speaking. He was a national speech finalist in high school, and in college was on the debate team and broadcast sports on the radio. While in the Navy he gave hundreds of presentations over the years. As his children developed an interest in marching during high school, he and his wife enjoyed volunteering. After graduation, one son marched in the guard for Carolina Crown Drum and Bugle Corps, a winter with the Pride of Cincinnati, and several seasons with Crown Guard. His other son also marched for Carolina Crown in the percussion section.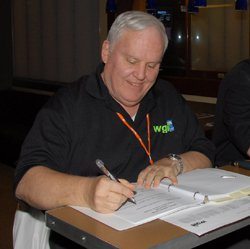 Cooney volunteered at WGI events for several years and with his speaking background decided to ask if an extra announcer was needed. The rest, as they say, is history. He has been lending his vocal talents at Championships for six years, and really likes the camaraderie that has developed with the WGI staff. One of his favorite aspects of announcing is watching the crowd reaction as the groups are announced. He explained "We try to give each group a resounding welcome so the feel like they're on a big stage."
Cooney said the most challenging part of announcing are the unusual names of shows or staff members. He chuckled when reminiscing about one memorable announcement. "One time I murdered either the name of show or director's name and the whole guard turned around and "No, its xxxx" from the performance floor.
Being retired allows the Cooneys to experience their favorite pastime: Travel. He explained "my wife and I go on three trips a year. We love to travel. We got back from the Galapagos Islands (off the coast of Ecuador) in February. We like river cruising. Our problem is we're running out of rivers. We've been on river cruises to China, Egypt, Peru, and all the major rivers of Europe."
While acknowledging his entrance into the world of pageantry announcing was unique, ("I started out at the top" he noted) he recommended the best way for someone who wanted to become an announcer would be to get involved at a local level. "If you work at the local circuit, I think you have an easier time being selected to work at the major events. Also, volunteer wherever you can. Keep track of where the competitions are and get in touch with people running circuit. Be persistent."