By Michael Reed
WGI's longest tenured announcer also comes the farthest distance of any of the veteran announcing crew. Richard Kramer hails from Canyon Country, CA, located north of Los Angeles. He works as a store manager for Trader Joe's when not behind the microphone. His recognizable and unique voice has introduced countless guards at WGI competitions over the years, and thousands more fans have heard him on DVDs and videotapes.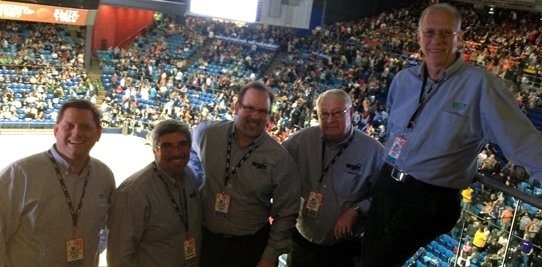 Kramer announced several years for his local circuit in the Golden State, and volunteered for Championships starting in 1989 by cutting oranges for the guard members to eat after performing. The next year, 1990, saw the organization venture to a new location for Finals: Buffalo, NY. The organization was on a stratospheric growth pattern and it was evident the cast of voices needed to increase.
It was against this backdrop that WGI Leader Lynn Lindstrom recruited Kramer to do announcing duties. "Lynn knew we would need to expand to more sites. She knew more announcers were needed, and drafted me. I was under the tutelage of Ernie (Zimny). He taught me a lot and explained things to me."
That first year was a trial-by-fire experience, as Zimny developed a bad case of laryngitis during the weekend. Kramer was called upon to announce the Open Class Finals (analogous to today's World Class Finals). His voice has been heard at the "big event" ever since. He fondly recalls working with Zimny during those early years, remembering "Ernie would help with pronunciations, like French or Polish names. We spent more time talking than announcing. Listening to Ernie's stories was fun, like listening to your Grandpa. We got to be really good friends. I miss him a lot."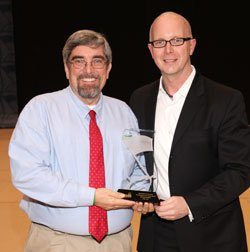 Kramer has seen his share of unusual occurrences at shows over the years, and has had the occasional close call. He smiled when telling of one eventful moment. "A couple years ago I was announcing at a local circuit show. The announcing table was at the end of the arena and the guard was coming my direction. A flag came right at my nose. I dived under the table, and the flag smashed my laptop and broke it. At championships that year they gave me a hardhat."
There is more to announcing than meets the eye (or ear). There are a lot of moving parts required to keep a show moving along, including watching for visual cues. He stressed the importance of "making sure you and the timing and penalties judge are connected. There are definite times when things need to happen to make sure we go on schedule. It's the same thing with video. You're juggling several things at once."
When not announcing, Kramer enjoys sports and artistic events. "I like to watch baseball. I play a little bit of golf and spend time with my family. I like listening to music, seeing movies, plays, and musicals."
What keeps him coming back after all these years? He states "I just love the activity. I think the whole activity is fantastic. I love just being a small part of the energy and excitement this sport has to offer the performers, the audience and everyone involved.