By Michael Reed
Jim Miller is a chiropractor from Miamisburg, Ohio. He got his introduction to the activity while treating injuries to the Miamisburg High School color guard kids. Over time, he began treating kids from all over the country, earning his nickname "Dr. Jim." His announcing exploits started with the local circuit when WGI Administrator Lynne Lindstrom happened to be in attendance and was impressed enough with Miller's voice and delivery to ask if he would like to announce at WGI events.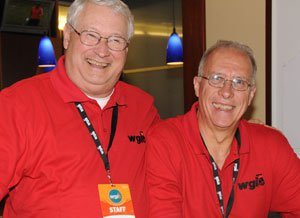 Jim's first Championships announcing experience came in 1992 and found him partnered with Ernie Zimny, who was the "voice of WGI" at that time. He explained "Ernie taught me a lot in the years he was here and how it's for the kids and the groups. You do everything you can to make their opportunity to perform the best event you can make it." For the past 18 years Miller has been teamed with DCI Hall of Fame announcer Brandt Crocker. The two have made a wonderful pairing.
The highlight of announcing for Miller is the crowd reaction the groups get when they are introduced. "I think when the kids come out and you announce their name and see the look on their faces with the crowed response, that is everything. When they are finished and you announce their name again, the joy those kids have hearing their name after their performance is wonderful."
His announcing career has not been without a few humorous moments. He recalled back when he started they used to sit near the floor on the north end of the arena to announce. "I was sitting with Ernie. I put my head down a little bit and dozed off. One of the weights came off the end of a flag. I didn't see it and it landed on the table a few inches in front of my face and I got startled. Ernie turned to me and said 'That will teach you to fall asleep.'"
When things go smoothly, the announcing may seem effortless. That is not the case behind the scenes. While there is a standard script for introducing groups, he explained sometimes "people will come in and hand you something with changes. With awards ceremonies we try to make sure everything is in proper order. It looks like it goes smoothly. It gets a little chaotic at times. We have a proofreader check over all announcements before announcements go out. For example, sometimes a score of 89 is written as 99" (and has to be verified before read).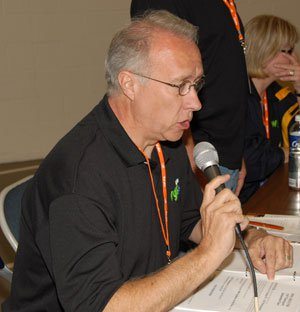 When he gets time for leisure activities Miller loves to golf when the opportunity arises. He also values spending time with his wife and three grandchildren. He also noted "I love coaching basketball, and have coached from 3rd grade all the way to high school."
If counseling somebody who wanted to become an announcer, Miller advised "expect long days, and always remember everything we do is for the kids and their performances. Make sure you have the enthusiasm for those kids so they can watch the video and experience the same emotion all over again. I've had people I didn't know come up and say 'you do WGI, don't you?' It makes them feel at home that someone they've heard before can announce their group. It makes you say to yourself 'maybe I did do something right.'"