By Michael Reed
Warren, Michigan's Brad Bell got his announcing start working at Cedar Point amusement park in northern Ohio after aging out of the Glassmen Drum and Bugle Corps. He recalled "They put me in games department where I could talk to people. When they realized I was good at talking to people they moved me to the scales where we had to be on the microphone all the time. I realized I could talk to people and make them laugh." Fast forward a couple of years when he got an opportunity to announce at the All Star Review, which is the Glassmen's home show.
His big break with WGI came when he received a call from Percussion Administrator Jim Haskell asking if he was available to announce at the Indianapolis Percussion Regional. "The next thing you know my phone started ringing more and more," he noted. His first World Championships was in 2006 as the alternate site announcer. In 2008 he announced the World Class finals with Joe Bartko and the two have worked together at Finals ever since. 2013 marks the 6th year the two have worked together.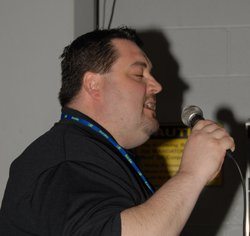 Bell enjoys the activity and especially the friendships he has made over the years behind the microphone for WGI. "I get to see up close and personal a lot of aspects of this activity that a lot of people don't. I get to see instructors, judges, administrators, volunteers. It's really rewarding to me to be able to do this. Just the fact that I get to be a part of this on a regular basis is the greatest feeling ever," he explained.
Through his 16 years of announcing pageantry events, he has developed a system that allows him to be both organized and ready to make changes at a moment's notice. He explained "I have spiels sheets sent to me several days before an event. I have announcements ready to go. I have Word document pulled up on my laptop to be able to edit things. If I need to throw something in real quick, I'll type things out and try to make it sound as professional as possible."
What is the key to his success? "Preparation. Preparation. Preparation. It's not as easy as it looks. The veterans play off of the people who are trying to be entertained by the kids on the floor. The better your announcer is the better your show will be." Like a coach viewing videotape to prepare for an upcoming game, Bell watches the WGI Fan Network to analyze himself. He added "I took a voice over class to learn how to really refine what I was doing. Emily Rose and Kate Hart were tough and meticulous on me in pronouncing words, mouth sounds, and vowel sounds." In addition, he mentioned that he practices voiceovers while driving his car. Perfect practice makes perfect.
While he enjoys a good round of golf in his free time and is a football and hockey enthusiast, for Bell drumming and the whole WGI experience is a way of recharging his batteries. "Marching arts is one of the ways I blow off steam. Drums in a gym is relaxing to me. I still play my drum kit a lot. I still have my chops."