By Kathryn Hardison
The end of the 2017 World Championship closing ceremonies marked the end of an era for many.
Alex Cary and Tanner Bergersen were of the first members to join Minnesota-based River City Rhythm indoor percussion in 2009. The young ensemble began competing in Independent A class, but Cary and Bergersen finished their eight-year journey in Independent World class this year.
Eight years ago, executive director Beau Hansen and three other staff members combed Minnesota high schools for willing students to join River City Rhythm. Indoor drumline was budding concept to the Twin Cities, and Hansen wanted the local high schools to have an opportunity to enjoy the world-wide sport.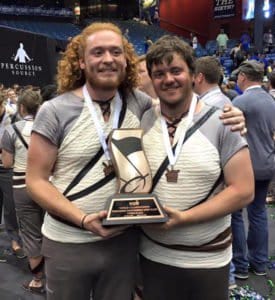 "At the time, we were just excited to get off the ground. We had to beg kids to come and check it out," he said. "We were thinking that if we could do okay in (Independent) A class, and go up to WGI (World Championships), we could give the kids a good experience."
Hansen underestimated the newly formed group, and was blown away by the dedication and skill of the ensemble.
"We did a lot better than we were expecting to that first year, and I can say that about every year since then. Every year we've exceeded expectations, and its largely because of guys like them," Hansen said, referring to Cary and Bergersen. "Looking back at that first year, and if you had asked me if we would last more than two or three years, that would have been exciting, but eight years?"
Cary and Bergersen admit that they were originally a little weary about joining RCR, but now could not imagine their high school or college experience without it.
"I had a lot of friends talk about this indoor drumline thing, and I didn't know much about indoor drumline at all," Cary said. "They tempted me to come check it out and the rest is history."
Cary, a snare player, joined RCR when he was a freshman in high school with no marching experience. When transitioning from high school to college, Cary considered leaving the group, though, he says he could "feel the way the group was headed, and wanted to stay in Minnesota" to be a part of it.
Unlike Cary, Bergersen had a year of marching band under his belt before joining RCR his sophomore year of high school.
"I had no idea what I was getting myself into. Looking back, I was more nervous to audition than getting a spot in the group," Bergersen said.
Bergersen spent a season marching snare, but ultimately identified as a tenor player. He says the activity became a part of his school year, and it would be difficult for him to not participate in the sport.
"The motivation to learn and get better at music and perform an art for other people to spectate was kind of the reason that I wanted to do it more, and it was an activity outside of school that I could grasp onto other than sports," Bergersen said.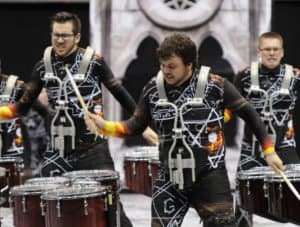 Since its conception in 2009, RCR has grown not only in size and talent, but has joined the world of color guard and drum and bugle corps. In 2014, RCR added its presence to the WGI color guard realm through a partnership with Lux Independent, an Independent World class group, according to the RCR website. A year later, RCR expanded its talents to include a drum and bugle corps ensemble, meeting the need for a DCI group in the Twin Cities area. RCR Drum Corps has placed in finals competition for the last three years in Open class.
RCR's indoor drumline has been performing in the Minnesota Percussion Association and WGI since its founding year. In that time, the group has placed in Independent A finals, and competed in Independent Open and Independent World classes.
Hansen says RCR leaders were hesitant this year to reclassify the group to World class mid-season.
"There was mixed feelings about building on that success," Hansen said. "These guys deserved that opportunity, even if it's going to be one-and-done in World class. We built the group in (Independent) A class and finished in World – that's cool."
RCR did not make finals in the 2017 WGI World Championships, but Cary and Bergersen were proud of how far the ensemble came in eight years.
"I hope they continue to push the activity, grow RCR, and grow the percussion talent in Minnesota," Bergersen said.
As the two move on to other new adventures in their life, both men have favorite memories of WGI to hold on to.
"For me, it's a tie between taking bronze at World Championships last year and getting reclassified this year," Cary said.
For Bergersen, his favorite memory was experiencing WGI for the first time.
"The first year was awesome. It's super inspiring to see where the talent can go and how far you can push the activity," he said. "The amount of people that were interested in watching a snare sub-lot, or watching the warm up outside before the show, and knowing how many people get together each year to come around this activity is awesome."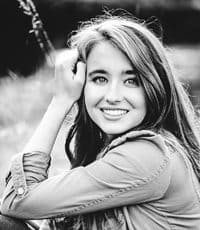 About the Author: Kathryn Hardison is a journalism student at the University of Missouri, majoring in news reporting and minoring in political science. Prior to college, Kathryn went to Kickapoo High School in Springfield, Missouri, where she marched the flute in the fall and played the cymbals for the Kickapoo Indoor Drumline. During her four years in marching band, Kathryn competed with the Kickapoo Golden Arrow Marching Band, of which she later became the flute soloist and junior and senior flute section leader. Kathryn's career in the Kickapoo Indoor Drumline included placing 8th in PSA World Championship finals in 2015 and a promotion to PSO. After college, Kathryn plans to write for a newspaper.