By Christine Ngeo Katzman
Coaching ages 1 to 18 creates the ultimate feeder chain and unique growth opportunities for the West Bend Winter Guard.
The West Bend Winter Guard organization is truly all in the family, with Kathy Nienow and Cami Janzen-Guare, sisters, and Janzen-Guare's daughter, Lindsay Guare, as co-founders. All three have backgrounds as musicians and extensive experiences spinning equipment with competitive winter guard and drum corps groups. The three leaders and other volunteers coach participants ranging from ages 1 to 18 at three distinct levels.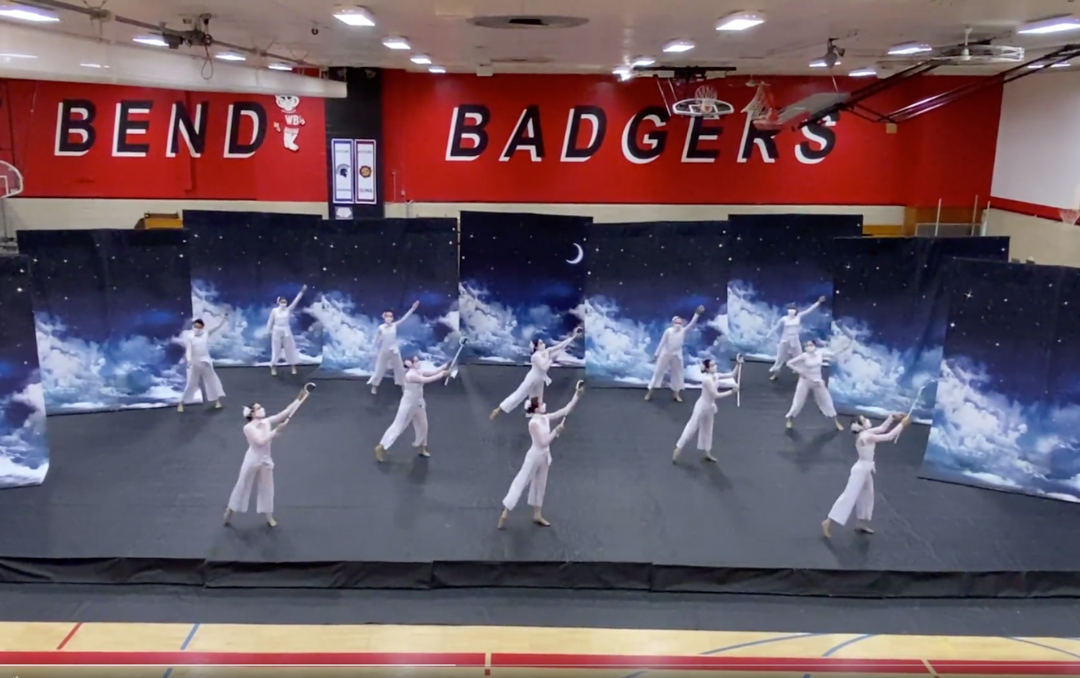 A language arts teacher in the West Bend (Wisconsin) school district, Nienow first created a middle school color guard club to march and spin at local holiday parades. Expanding those learnings to perform a whole winter guard show became a natural extension. In the 2013-2014 season, the founders formalized the organization with an indoor exhibition team at Badger Middle School. In its third season, the Cadets group began competing in the Midwest Color Guard Circuit and most recently split temporarily into separate 5th-6th and 7th-8th grade groups at Silverbrook Intermediate School and Badger Middle School, respectively. The Varsity Cadets at Badger earned the top "Master" rating in the WGI Sport of the Arts 2021 virtual competition.
"Being a middle school team, we have never before had an opportunity to compete nationally with other middle schools," Guare says. "We were ecstatic to learn that WGI would be including a competitive Junior category in [last] year's virtual season."
WGI will continue its Junior Class for 2022.
The Minis
West Bend's family connection grew even stronger when Nienow's granddaughters also began to spin in the 2016-2017 season with the start of the Minis. "[They had] been dancing since they were tiny," Guare says. "They love performing, and we were happy to give them another outlet for it."
The Minis group is also open to younger siblings of Cadets members and now has approximately 10 to 15 participants each year ranging from ages 1 to 10. "With the Minis, we start with some ballet basics to develop their sense of coordination," Guare says. "Getting them all to hold their equipment the same way is the next goal. Concerning choreography, we utilize a lot of swing flag-type motions to allow a basic blend of body and equipment, which sets them up well for the future. We now have two performers in the middle school group who started on the Minis team, and I think they got a head start by acquiring some earlier training."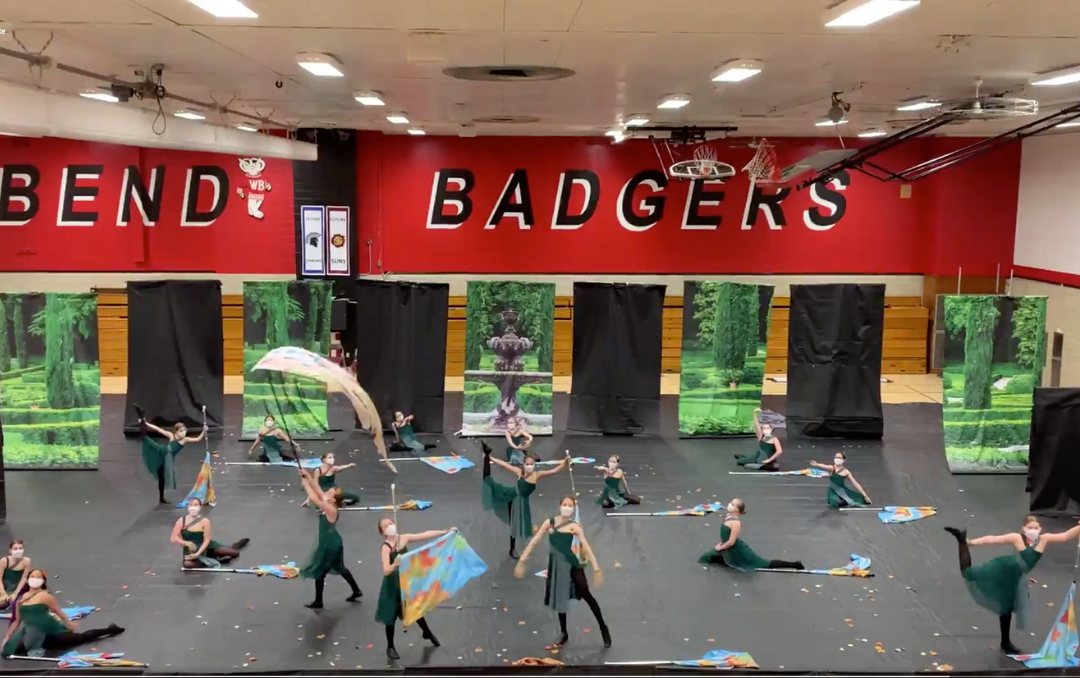 Higher Learning
In 2018-2019, West Bend expanded in age by adding a high school group competing in Scholastic Regional A. "We started the high school team for performers that had gone through the middle school program and wanted to continue spinning," Guare says. "We waited to do so because that's how long it took to have a solid level of interest and commitment."
Though West Bend High School does have a fall marching band program with a color guard, students must also participate in traditional instrumental programs to join. "This [rule prevented] almost all of our performers from joining that group, so we just haven't been able to build a strong connection," Guare says. "We're working on it, but it definitely takes time."
In the spring of 2020, when COVID-19 abruptly ended its season, West Bend started a virtual enrichment program called "Color Guard Karate," which placed skills and exercises into a color progression. The members would submit videos demonstrating their achievement of the skills with the end goal of earning their "Black Belt" and becoming a "Color Guard Karate Ninja."
"This was a great way to maintain technique through the off-season," Guare says. "Additionally, it provided some of our more motivated members with the tools to improve their skills. This program was reinforced during the summer, and as a result, the members were much more prepared for the season once we started back up again in the fall."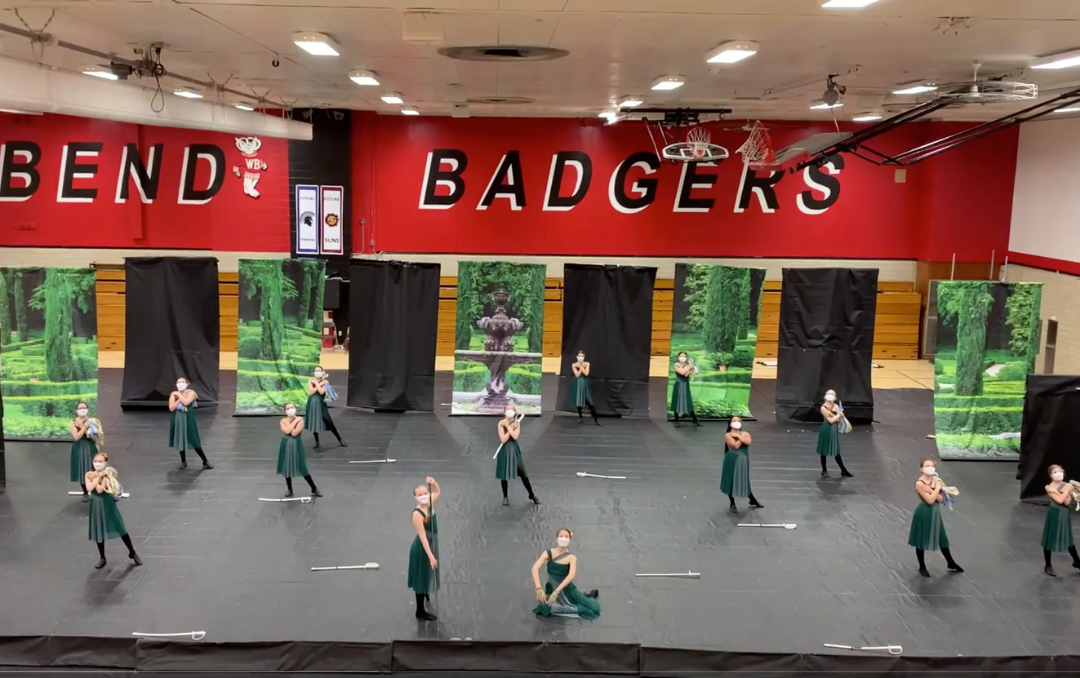 Rising to Expectations
As of December 2021, the Minis haven't yet decided on its 2022 program. The middle school group will produce a "powerful and inspiring show … conveying a message that their voices matter," and the high school team will perform to a "vibrant piece of music [that] has an organic and earthy feel."
West Bend currently has 16 performers in middle school and 11 in high school for 2022.
Seeing students grow through the program has been particularly rewarding for Guare and the other founders. "Winter guard is a great environment to foster important life skills like teamwork, confidence, and accountability," Guare says. "We hold our performers to high standards and give them the tools they need to rise to the expectations."
Coordinating groups at varying levels can be challenging but also has benefits. "In the last few years, we have had graduating seniors that spun with us for seven years," Guare says. "It was so exciting and rewarding to watch them grow as people and performers over time. Some of the older members become junior coaches, which is a win-win for everyone involved. They often become role models for the younger members."
Space and time management have been complex as the organization itself matured through the years. "When all of our teams rehearse simultaneously, it's tricky because of space restrictions and sometimes staff shortages," Guare says. "But we communicate well and try to stay organized to make it work. Recently, we've started splitting rehearsal time so that we could focus on groups individually, and that has made a huge difference."
Building a comprehensive program requires patience, Guare says. "It took us almost a decade to get where we are now," she says. "Working with a wide range of ages is so much fun, but you have to build up some loyalty to the program to retain performers over time."
Guare also expounds on the value of networking. "Mrs. Nienow is a huge recruiting asset," she says. "She's an exceptional teacher, and students are eager to be part of her after-school programs. In addition, her connections with the scholastic dance and parade guard teams have been essential to keeping kids coming into the program. Finding synergistic affiliations and collaborations is highly beneficial. … We're [also] fortunate to have multiple volunteer staff members with affiliations with other guard programs. Sometimes this helps with borrowing equipment, sharing rehearsal space, helping teams on/off the floor, and overall building camaraderie and our color guard community."
About the Author:
Christine Ngeo Katzman is founder and chief executive officer of Muse Media, LLC, creator of books, magazines, and additional content highlighting performing arts and youth activities. Christine is publisher, and editor-in-chief for Halftime Magazine, a publication for marching arts participants and fans, and managing editor for Yamaha SupportED Magazine, a publication sponsored by Yamaha Corporation of America for K through 12 instrumental educators. Christine graduated from Northwestern University with a bachelor's degree in journalism in 1997 and earned a Master of Business Administration from the University of Southern California in 2007. While at Northwestern, she marched in the Northwestern University Marching Band, including the 1996 Rose Bowl and 1997 Citrus Bowl.