By Irving Lopez
Every marching member remembers the high school from which they came from. Its the place where they contributed countless hours of rehearsal time in the sanctuary they called home. Once the high school experience is over they can never go back and re-live it again. That is why it is important to cherish the memories with your team while you still have it.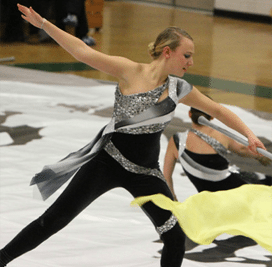 Sharing their story with us, WGI caught up seniors Olivia Ormond from Trumbull High School and Madison Adcock from Marvin Ridge High School who will soon be performing their last winter guard show as a high school student. Olivia and Madison have each been in their high school color guard for four years. Each of them has experienced tough and special moments in their spinning career.
As freshmen, students have endless possibilities of the types of sports or clubs they can join. Fortunately, some freshman join their high school's color guard team and find their passion for spinning.
Olivia shares that her freshman year was the most memorable out of her four years in high school, because she marched with her sister.
"Color guard has allowed me and my sister to share something that we are both so passionate about, and I owe most of that passion to that first season where I fell in love with performing with the people I cared most about," said Olivia.
Guard members that work hard and commit to their programs throughout their years in school have a good chance of ending up in a leadership position from which they learn positive leadership lessons that benefit their future.
Olivia shares that when becoming a leader she had to "learn from my instructors and lead my peers. These skills are some of the most beneficial lessons I have learned and have given me confidence in knowing that I will be able to succeed in the future as I was able to lead successfully without losing the respect from my peers."
Olivia has recently begun her last winter guard season and she would like to be remembered "as someone who truly loves performing, and someone who grew into a confident performer and leader, who always had the team's best interest at heart."
Every year, a captain has a goal for their team to be the best that they can be. Not only do captains have to stay on top of their game, they have to keep their team motivated with inspirational words of wisdom.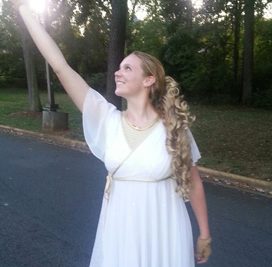 "My main goal this year for the team is to be more confident as an entire entity. Each and every person has some amazing skills and they all know it, but at times they're shy about it" Says Madison. "I just want for all of us to be confident and not wonder 'what if I did this differently?' After the season."
Madison admits that she has already found it difficult at the thought that she will soon be leaving her high school color guard. She shares that at her first recent competition of the season she began to tear up.
"It's going to be so difficult to leave my high school guard, but I know that it just opens up bigger and better opportunities for me," said Madison.
Both Olivia and Madison will soon be performing their last high school winter guard show at the 2013 WGI World Championships. Their goals are to have the best memorable final show as a high school student.
"I want my last winter guard high school performance to be as close to perfect as it can be," says Madison. "By that, I don't mean have a perfectly clean show, I want the entire ensemble to know that they did the best they could all season to build up to this very last show."