WGI is excited to see you this season on the performance floor, in the stands, on twitter, instagram, and facebook! We have recently made separate accounts devoted strictly to each division of WGI, so each weekend you'll see more of what you want to see!
Color Guard fans should follow
http://instagram.com/wgicolorguard
https://twitter.com/WGIcolorguard
Percussion fans should follow
http://instagram.com/wgipercussion
https://twitter.com/WGIpercussion
Winds fans should follow
http://instagram.com/wgiwinds
https://twitter.com/WGIwinds
Our main social media accounts will still be posting updates as well, so if your not already following @WGItweets on twitter and @wgisportofthearts on Instagram, do so now!
We'll have a social media commentator at each show to provide LIVE updates on these separate accounts, but we want your help too! Each regional will be assigned a specific hashtag so that you can join in the conversation. Starting this Saturday, February 7th we'll see you at color guard events in Bakersfield, CA (#wgibakersfield); Houston, TX (#wgihouston); Nashville, TN (#wginashville); Corning, NY (#wgicorning); and a percussion regional in Troy, MI (#wgitroy).
The most popular posts featuring those hashtags could then be featured on WGI.org. Take a look at a couple of examples we did last year.
2014 Mid South Percussion
2014 Eastern Color Guard
If you are interested in being a WGI Social Media commentator at a regional this year, please email a writing sample, your Twitter handle, and the name of the event you're interested in covering to [email protected] We still need help at Kansas City, Amsterdam, Trumbull, Atlanta, San Antonio, Denver, Fresno, Houston, Spartanburg, Norfolk, Pensacola, Hattiesburg, Richmond, Denton, and Bowling Green.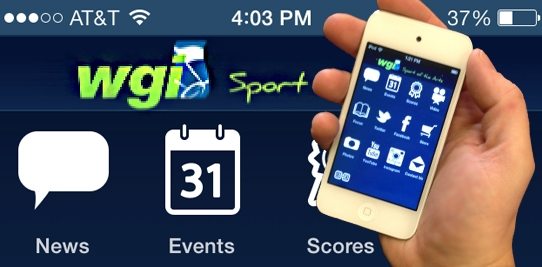 Don't forget to download the WGI app which allows you to access schedules and info for all WGI events, see scores as they're posted, read the latest headlines from wgi.org, see photo galleries, and much more. Of course you will also find quick links to all WGI social media posts, so jump in there and join in the fun! When you're looking at the News column, make sure to click on the Event Coverage tab at the top to find recaps of social media posts about each regional!
Download the WGI app for iPhone here.
Google Play offers the WGI app for Android here. Unfortunately the app does not "officially" support Android tablets, and it may display errors. However the tablet will run the app because it will run any android app. We hope to develop a clean set up for Android tablets in the future.