By Michael Reed
As WGI begins its fifth decade, the "I" is more relevant than ever in the world of color guard. Two Asian Regionals debuted in 2015 to go with a longstanding European Regional, and both continents have active circuits. As the activity grows internationally, it's only natural the expansion would not only be east and west, but also south.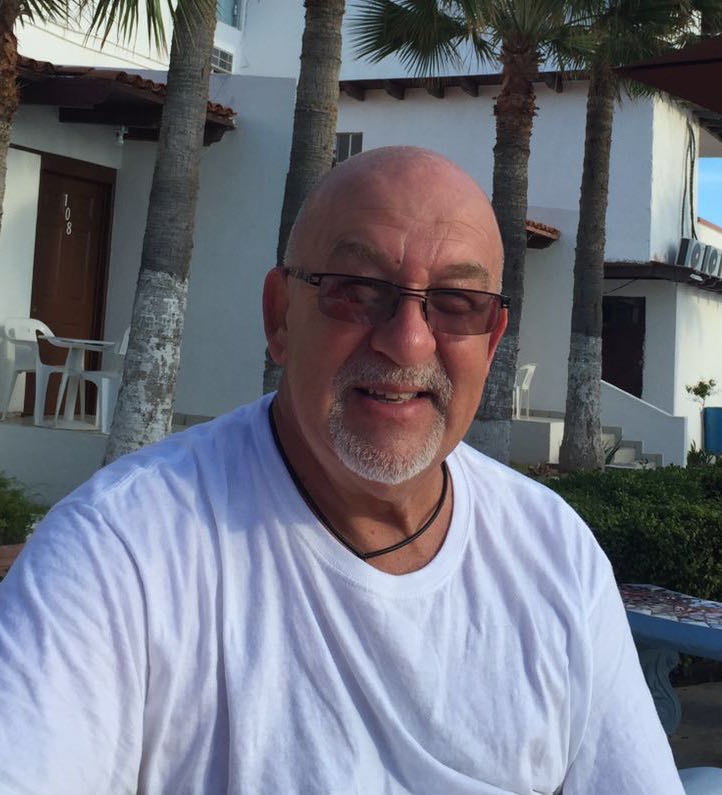 Tony Christofano has been involved in pageantry for fifty years, starting with the General Butler Vagabonds Drum and Bugle Corps from Pennsylvania. "I joined at age 10 as sort of a mascot drum major. We went to a drum corps show that year and I saw guys spinning rifle and said 'this is what I want to do.' At the next rehearsal the Director gave me a rifle."
He started teaching at the ripe old age of 15. "I marched in a parade in Harrisburg. After the parade this guy comes running up to me and says 'I need somebody to teach a camp, can you do this?' I got my parent's permission. My dad put me on a bus to Williamsport, PA. The next day I was introduced as the rifle instructor. I taught 75 girls!"
After aging out from the Royal Crusaders Drum and Bugle Corps, he continued teaching and got involved with WGI. He was a Regional Director, and then worked at Headquarters after moving to Denver in 1998. When the organization moved to Dayton, he opted to remain in Colorado, but has been a World Championship volunteer every year since.
Shortly after moving to Denver, he met his partner Martin, who was from Mexico. After trying to work within the system to allow him to stay in the U.S., Tony had enough of the red tape. "I said 'we're done. We're moving to Mexico.' We knew either we would move or he would be deported." Out of this situation, circumstances arose which paved the way for a Mexican color guard.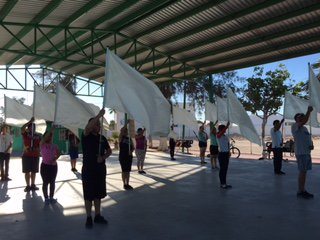 He continued, "We moved Puerto Peñasco, Mexico in 2014. Martin got involved with guard through me. He said 'we should really try to start a color guard in Mexico.' We went to an organization called DIF that does a lot of things for kids. I did a demonstration for them with flag and rifle. They thought this was great."
After little luck trying to start a guard in several middle schools, they found success with older students. "We did a presentation at a local high school. The first year we ended up with 10 kids and did a routine for their graduation. There were almost 2,000 people in the convention center where we did the routine. The reception from the crowd was great!"
His fledgling program got a boost the following fall when the Principal decided that she wanted every student involved in an extracurricular activity. The guard amazingly grew to 28, with 8 of the 10 from the prior season returning. The kids were split into A and B groups based on ability to make teaching more manageable.
Soon, the group ran into financial issues. "The funds came out of my pocket. The kids had to pay $7 for poles. The DIF organization said they couldn't fund us. We kept doing it through the parade." They did receive a donation of t-shirts from Marching Apparel to have something to wear for the parade, whom Tony would like to thank.
Tony continued, "We marched and the reception was great. After that we said with no funding we can't continue to do this. The kids were upset and wanted to continue. Martin and I don't make enough. I'm retired. If you're a retired person, you can't work in Mexico. I make flags and judge in the States. That's very little money to survive off of."
There are many challenges to overcome in Mexico, but also many possibilities. The biggest hurdle is lack of resources. "There's lots of poverty there. It was like pulling teeth to get them to pay 100 pesos (about $7) to buy a flagpole and flag. That was a lot of money for some of those kids to come up with."
One aspect of guard that is true anywhere is the strong sense of community. Tony explained, "The kids became a family. A lot of them didn't know each other even though they went to the same school. We would do games or I would bring hot dogs at break. They appreciated that."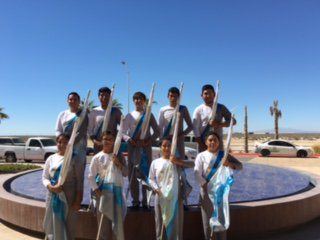 One girl in particular touched his heart. "I put a girl in the A group that I thought was ready. I was teaching a move and she couldn't get it and started crying. She said 'I can't do this. It's too hard.' I moved her to the B group but after a week Martin said she's too good for this group and moved her back up.
After telling them we may have to drop group due to lack of funding, she said 'what this has done for me is boost my confidence and make me realize that I can succeed in something I never thought I could do.' It brought tears to my eyes. She said this in front of group and helped them to become even more of a family."
While the goal of developing his guard to the point where they could compete at a WGI Regional is on hold, Christofano still has visions of growing the activity in Mexico. "If we get it going, we could go to these towns and march in parades and exhibitions. It would strike interest in other schools. What could happen is I could start a circuit in Mexico. Who's to say there couldn't be a WGI Mexico?"
It is obvious the activity has made a huge mark on Tony's life. "Color guard has always been my passion. There are so many people here I've been friends with and continue to be friends with. I'm going to die doing color guard, whether volunteering or judging a show, I know when I'm gone people are going to remember me for what I've done."
---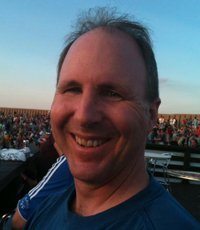 About the Author: Michael Reed provides online and print media content for WGI, Bands of America, and Drum Corps International. 2016 marks his fifteenth year of writing for WGI. He is an active music arranger, composer, and all-around avid pageantry fan. Michael was a member of the Cavaliers Drum and Bugle Corps and holds a bachelor's degree in music composition and music education from Ball State University. He currently works in the health care field and resides in Fishers, Indiana.