By Irving Lopez
Danielle Schweiger will never forget the moment she saw her little sister Sami performing with the Carmel High School World Guard. As an alumni of Carmel High School she was so proud and compelled by her little sister's performance that it made her want to start spinning again. Danielle is now in her second year with the Zydeco Color Guard still sharing the same passion with her younger sister Sami.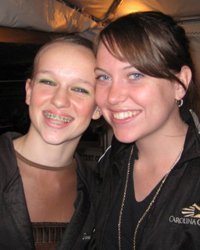 "The first time she saw me perform with the world guard, she came down to the floor after to hug me while she was crying with tears of joy. It was such a good feeling to know that I was able to make her that happy," said Sami.
Sami is currently in her senior year at Carmel High School. She has been involved with the Carmel school organization for six years, beginning with the middle school guard.
"My sister Danielle was a huge reason why I joined color guard," said Sami. "She was always such an inspiration to me when she was in the Carmel High School guard. I would always attend all of her shows just to watch her, and I loved every moment of it."
Sami's older sister Danielle also teaches the Carmel High School "A" guard. When she has spare time she rehearses with Sami in the band room or on their front driveway.
They use their rehearsals together to help each other out and to learn new tricks they learned at their own team rehearsals. At times it can be strenuous trying to find rehearsal time together because their schedules do not always match.
"My practice schedule is much different from Danielle's because she is in an independent world guard. I usually practice three nights during the week and every other morning before school," said Sami. "On show weekends, I have practice before the show. Danielle usually leaves for Zydeco early Saturday morning and spends the weekend with them practicing and performing."
Danielle said that she owes a lot of her color guard success to her parents. They have always been involved and have supported everything Danielle and Sami have done in color guard.
Sami has come a long way in color guard and Danielle is the first one to say that she is her number one fan.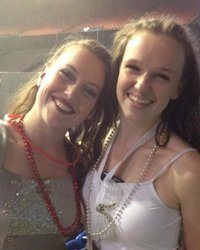 "I am so incredibly proud of my sister, I have loved getting to see her perform ever since she started in the JV guard back in middle school. Now, she's all grown up and probably better than I am, but I'm proud," said Danielle. "It never gets old, hearing people tell me about how great Sami is. I always answer with 'I know!' Seeing her on the floor in the winter of 2011, I couldn't believe my eyes! She was just so beautiful, and after that winter I knew that I wanted to march again."
Danielle and Sami both agree that color guard has brought them closer together and has influenced the person they are today. Teamwork and hard work has developed their character and has shown them how far they are able to push themselves to reach a certain goal. They are both constantly motivating each other to be the best color guard member they can be.
"My older sister is the person who inspires me to keep going. I have learned so much from her and I strive to be as good as she is every single day," said Sami. "She's taught me that even though times can be tough, you'll always get through them and that you'll always have your color guard family there to support you."