By: Kellie Finch
"Be it resolved. What do these words mean?"
Sydnee Tisdale inquired, reading pages in a book aloud as a piano played softly in the background. She turned, and a single piece of paper fell to the floor, leaving the phrase's true meaning unresolved, at least for the time being.
South Jones High School drew the audience into this question throughout their 2022 production entitled "Resolution." Books and lines of script covered various panels at the back of the set, accompanied by desks at the front.
The ensemble, led by Director Brian Joyce, explored several themes and emotions, from a joyful first movement to a more heartfelt ballad. The show's star, however, was Tisdale, as she opened the ballad singing and creating an incredible moment for the group.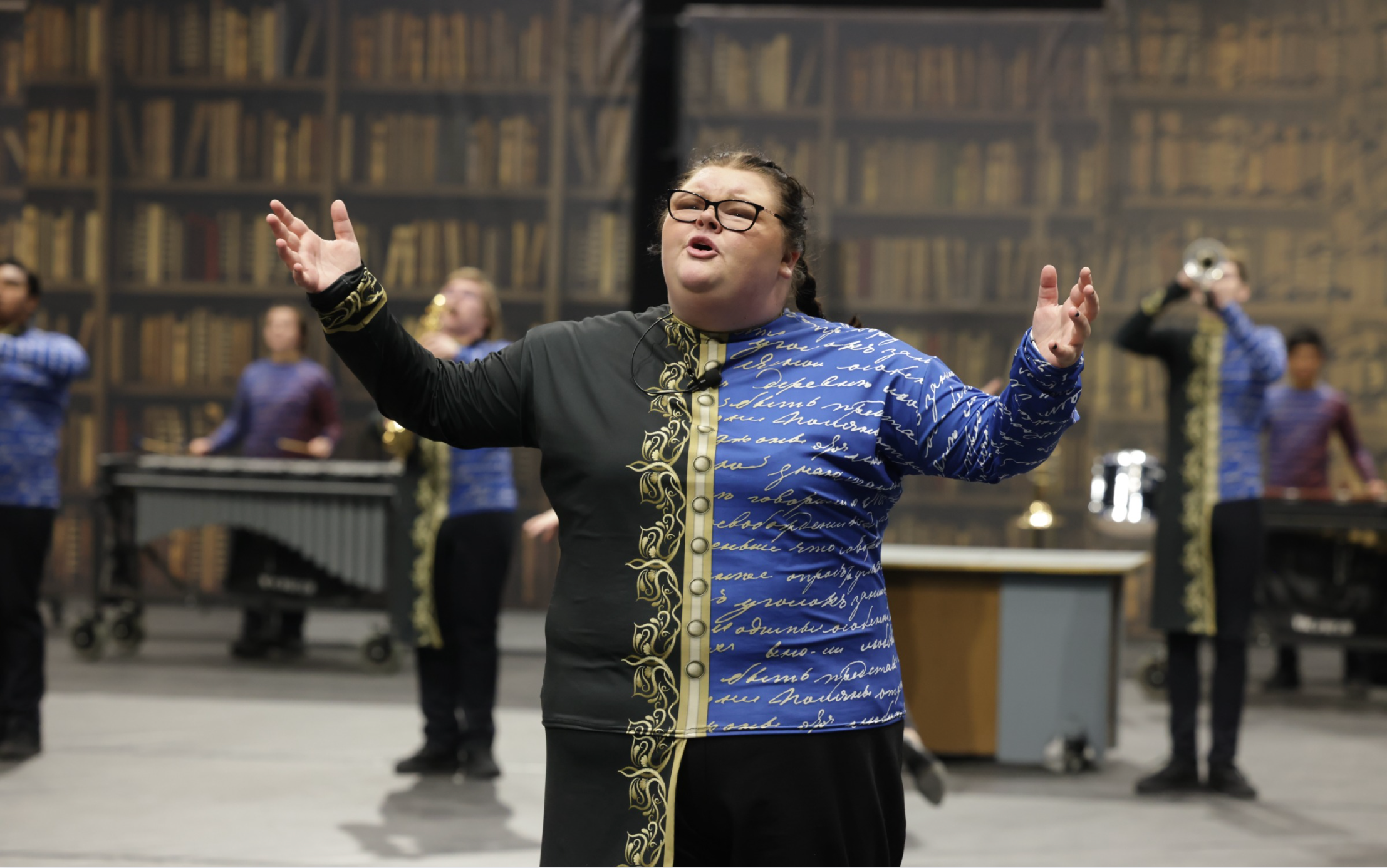 Although including a vocalist in a show's design is out of the ordinary for most groups, Joyce knew that as soon as he heard Tisdale sing, he wanted to incorporate her talent somehow.
"Man, we have this girl," Joyce said to the ensemble's show designer. "We need to plug her in, as far as letting her sing."
"I don't know about that," the designer said skeptically.
"Just trust me," Joyce said.
Joyce sent a recording of Tisdale singing in the school play to the designer, and he was convinced. After getting the show designer on board, Joyce said the ensemble's team wrote an original piece for Tisdale to sing that worked with the concept they had already drafted.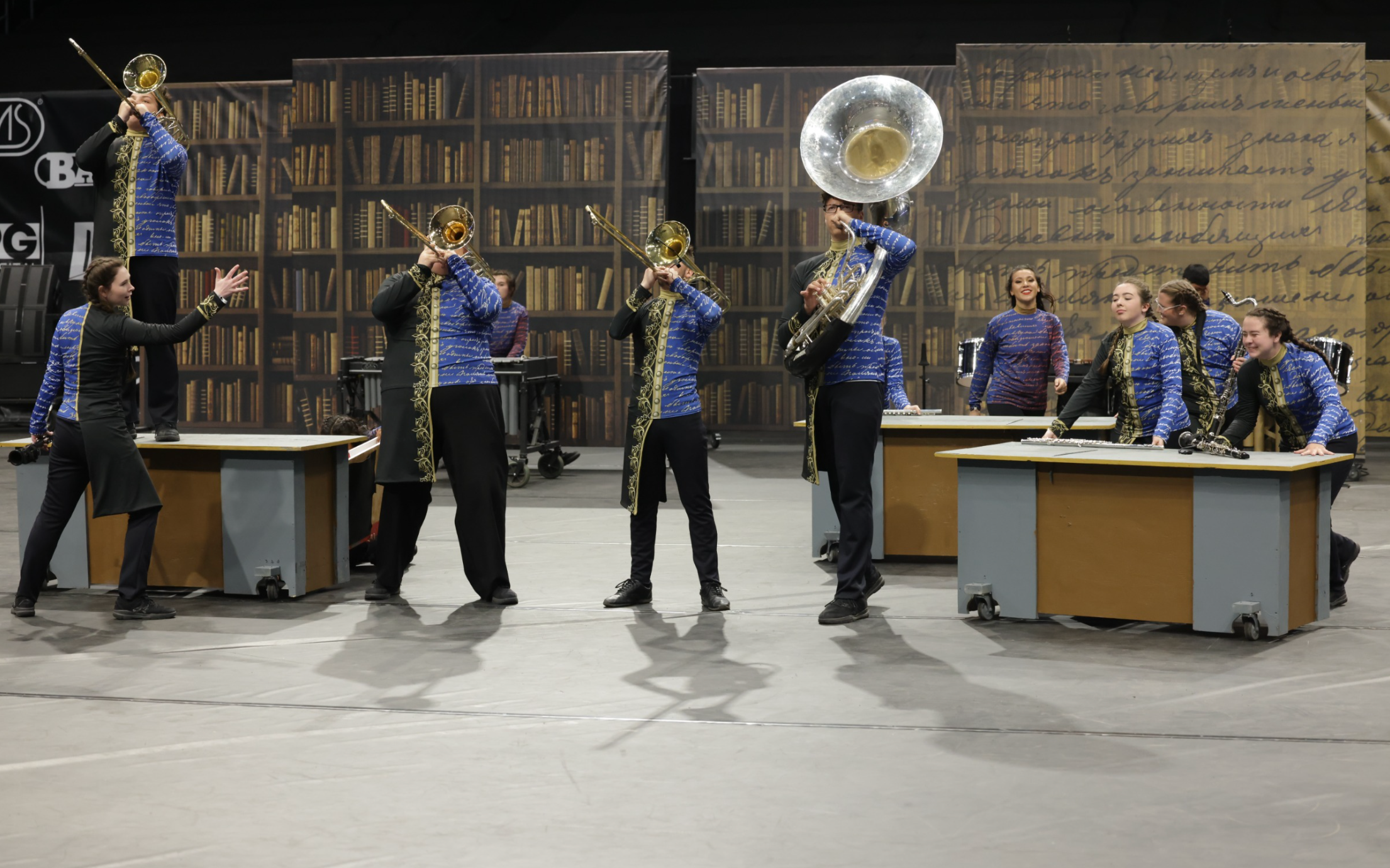 Joyce said the idea for "Resolution" was to wrap up everything the group had worked on over the past few years and to tie all their previous ideas together. After a few years of COVID-19, there was much rebuilding to do, but Joyce knew his students had it in them to pull off a good season.
"The goals of the year were just to continually increase our skill sets based on the things we would need going forward," Joyce said.
The rebuilding process wasn't easy, but Joyce and his team prioritized ensuring the students had their creative outlet back and a place where they could be themselves.
"[I wanted to] make sure the kids have a place they feel comfortable, they feel safe, they feel like they can do something that they enjoy," Joyce said. "If we can trick them into learning something along in this process and try to have a good time, then that's a win too."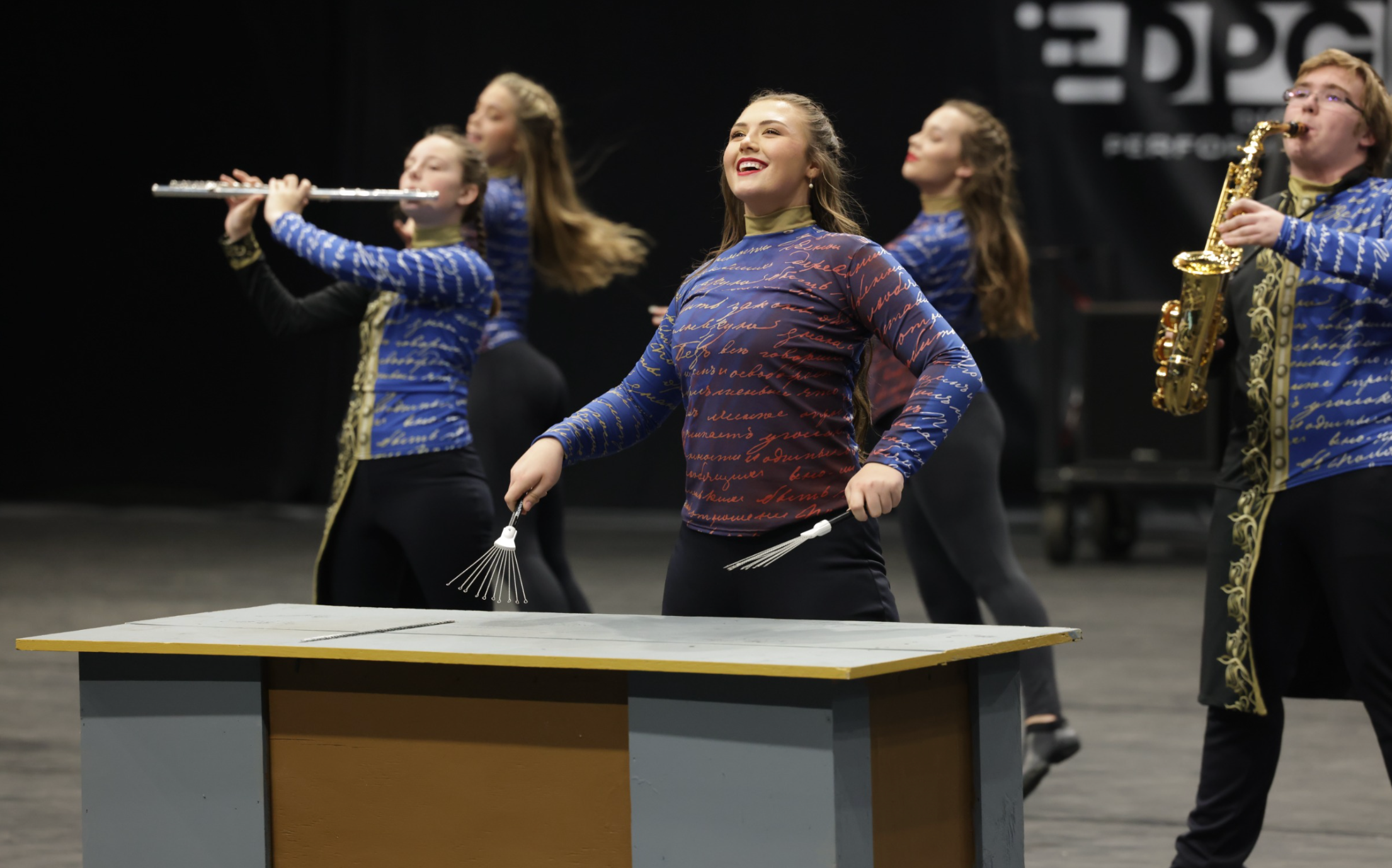 Watching the strength of everyone during the group's performances was one of Joyce's highlights from the season. The self-confidence each person exuded during the show was a sight to see.
"I think our group grew the most from the individual setting," Joyce said. "For me, when I get a chance to go back and watch the video, watching how strong each individual is from the visual perspective…for me, it was the most enjoyable to watch."
The energy of the performers throughout the show added to the performance's excitement, particularly during the ballad when Tisdale began to sing.
"I just love to watch them under the lights when it turns on, and they all of a sudden become totally different human beings than they are every other day," Joyce said.
Another driving force for the ensemble was the certainty of Dayton, something that had become more than unpredictable throughout the peak of COVID-19.
"I was just looking forward to getting the kids back out again and taking a group of kids that had never been to World Championships up to Dayton," Joyce said.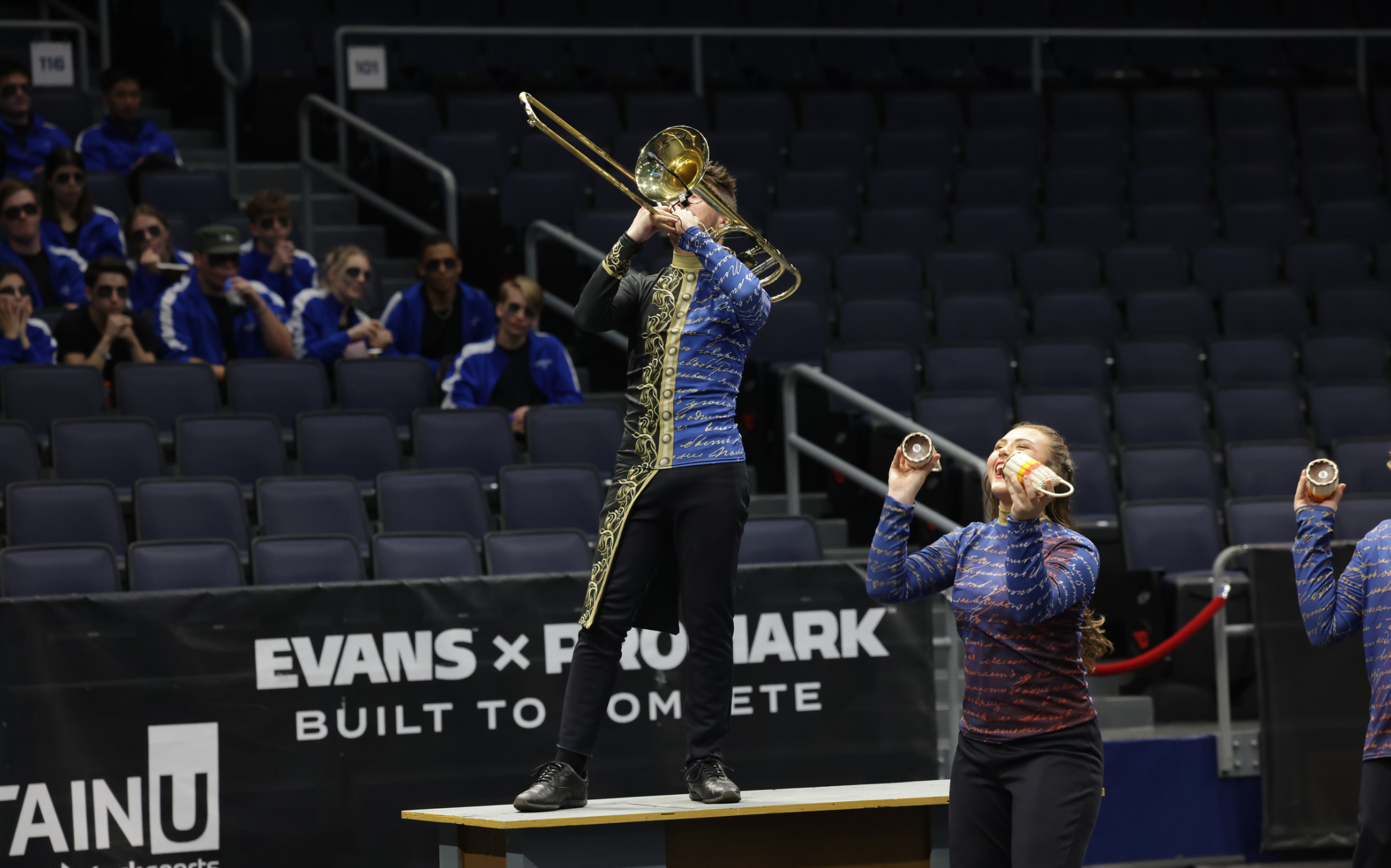 For the students, the 2022 season brought forth a lot of incredible moments that will stick with them for a long time.
For Sydnee Tisdale, the featured vocalist and senior trombone player, one memory is extra special and something she continues to hold with her.
"Something that really stood out to me was the first time we performed for an audience," Tisdale said. "I sang, and everybody was just in shock. It was amazing to know that I had that much of an impact on people. That was probably one of the best feelings I've ever had."
Sophie Wansley, a senior flute player, said that for her, individual growth was something she was looking forward to seeing as the season progressed.
"My section has about four people in it," Wansley said. "To watch them grow as people and come out of their comfort zone…it really made the whole band grow."
It wasn't only watching her other section members grow that made the season special, however. Wansley said she also enjoyed her own performance and characterization opportunities that the winter season allowed her to have.
"[I enjoyed] the individualism," Wansley said. "Being able to be judged just for yourself instead of a big group of people."
For Tisdale, a perk from winds that marching band doesn't provide is a sense of intimacy. Being much closer to one another allows you to connect deeper.
And maybe that connection is really the resolution South Jones was striving for. Resolving the disconnect over multiple years of COVID, healing the bonds broken with fellow performers, and coming together one last time for an incredible performance in Dayton.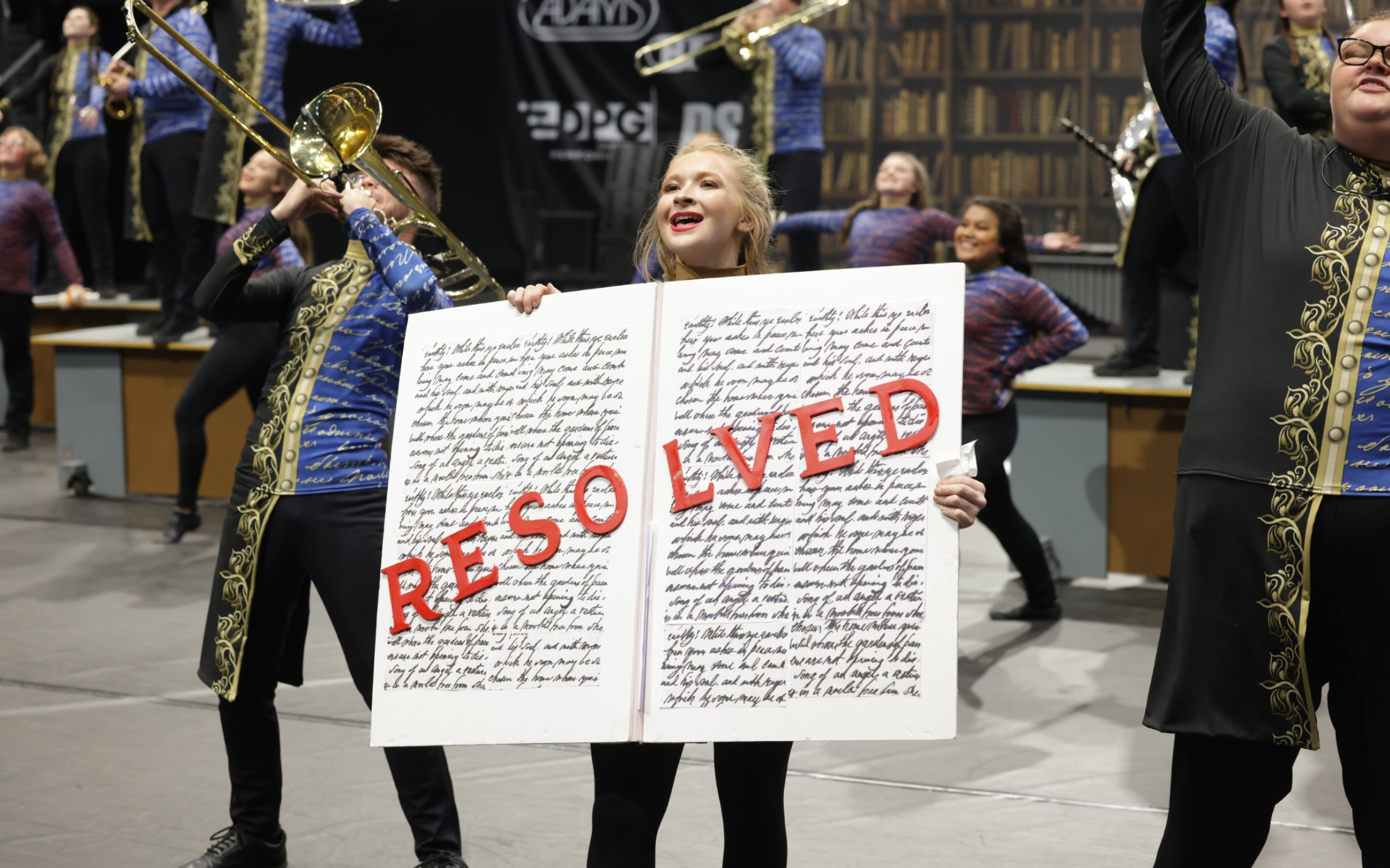 About the Author:
Kellie Finch is an undergraduate student at the University of North Carolina at Chapel Hill pursuing her BA in Media and Journalism through the Hussman School of Journalism and Media. At UNC, she is a member of the Marching Tar Heels in the tenor saxophone section. She participated in WGI winds during all four years of high school playing the alto saxophone, where she discovered her love for music and the activity through her experiences and the people she met.