By Michael Reed
The Netherlands may be a small country, but their guards have made a mark on WGI during the past decade. The Pride of the Netherlands became the first Dutch finalist in 2008, and has made Independent Open Finals three times since, including a stellar 4th place finish in 2016. Beatrix followed in 2009, and in 2011 on their return trip moved up to Independent World and became the first and only Netherlands Finalist in that class.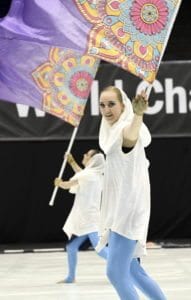 Sensation Performance Ensemble from Amersfoort first performed at World Championships in 2015. After taking the Color Guard Netherlands Championship this past March, the ensemble returned to Dayton this past spring, finishing in 6th place in the Independent Open Finals. A Dutch guard has been a Finalist in the class for the past four years.
The group has actually been around well before WGI was ever conceived. They celebrated their 45th anniversary this past September. Originally founded as a drill team in 1971, the organization added a color guard in 1982. They no longer have the drill team but the guard is as strong as ever.
Nanda Alewijinse has been a staff member for 11 seasons. She found a few moments during a busy Championships weekend to talk about the Color Guard Netherlands circuit, and about her guard in particular. "We compete from the first weekend of January until last weekend of March when we have our Finals. There are about 50 or 60 groups, but most of them are A class or Juniors or Cadets, even little kids. In Open Class we only have three groups."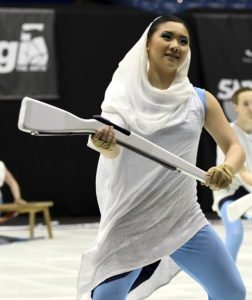 Many organizations have found it helpful to create feeder guards. Multiple units under the same umbrella allow for consistent training as the performers mature. Sensation Performance Ensemble has three groups. The Open guard has earned international acclaim, but they also have A Class and Cadet Class guards.
Taking an international trip is an expensive undertaking. Alewijinse explained how the guard raised funds. "The members pay part of the fees themselves, and last summer they worked at triathlons or marathons being hosts during the race. We swam for an hour and asked people to donate money for that. In The Netherlands, we have Christmas gifts from companies, and help pack them and we get money for that. We do a lot of extras to get money to come here."
Guard Captain Tosca Te Braak is a ten year veteran of the group. She found out about the guard "from my niece and my sister. They both marched Sensation when I was very young." She was impressed about the WGI Championship experience, saying "It's amazing! I don't have words to explain how amazing it is."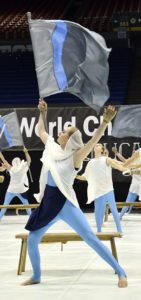 First year member Kathrin Gerstenberg lives in Germany and has a long commute by train and car. "I travel every weekend to Sensation. If I'm lucky it's only six hours. If I'm not lucky it's nine hours." Her marching band had a guard, but there is not an active indoor circuit in her home country. "My instructor was with Sensation four years ago, and also another German member. I watched them at the CGN performance and I found them expressively amazing, so I really wanted to join Sensation."
With a number of local performance opportunities and a WGI Regional nearby, why does the guard come to Dayton every few years? For Nanda, "It's the heaven of winter guard, isn't it? Here the competition is so much bigger than back home. The level is much higher. For the kids it's a great experience to see all the groups."
After pouring 11 seasons of her life into Sensation Performance Ensemble, she reflected on the most rewarding aspect of being involved with this talented troupe of young adults. "I think every year the reward is seeing the kids come off the floor from the Finals show and cry because it was the best show they had.
You see them come from all over the country and from other countries being all individuals, and after six months they are a family. For me, that's the most beautiful thing. Not winning. Not losing. Being a family and growing as a group, seeing the kids grow as persons and seeing them grow as performers." Sensation Performance Ensemble, the WGI family welcomes your family any time you decide to return. Bravo for a wonderful season!
---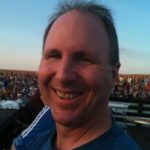 About the Author: Michael Reed provides online and print media content for WGI, Bands of America, and Drum Corps International. 2017 marks his sixteenth year of writing for WGI. He is an active music arranger, composer, and all-around avid pageantry fan. Michael was a member of the Cavaliers Drum and Bugle Corps and holds a bachelor's degree in music composition and music education from Ball State University. He currently works in the health care field and resides in Fishers, Indiana.