By Emeline Beltran
In the southern tip of Texas, known as The Rio Grande Valley or The Valley, community sporting events are not complete without the audience chanting "Si se puede!," which translates to "Yes, we can!" When Homer Hanna High School's indoor percussion ensemble from Brownsville, Texas competed at WGI Percussion Championships back in 2015, Director Samuel Rodriguez believed the performers did just that – they competed and won.
Brownsville is a town that borders Mexico and the United States, so it is no surprise that several musicians from the ensemble moved to Brownsville from Mexico. One of these members is Alan Rodriguez, a senior on Homer Hanna's snare line. Originally from Mexico, his family moved to Texas when he was four years old, and has resided there for the last thirteen years. Alan's mom had a vision for him and his two younger siblings to have a better education and restart their lives after their biological father left them. Texas has provided them with just that. "We are now living the American Dream," Alan gladly says.
Becoming literate in English was one of the biggest challenges Alan remembers upon moving to the United States. "Spanish was my first language. Reading and writing English was something totally new to me," he explains. Also, extended family members were left behind, so the connection got lost between them during the move. The move to the United States also provided them with limited benefits that restrained the family from moving elsewhere, they had to stay within the limits of their city.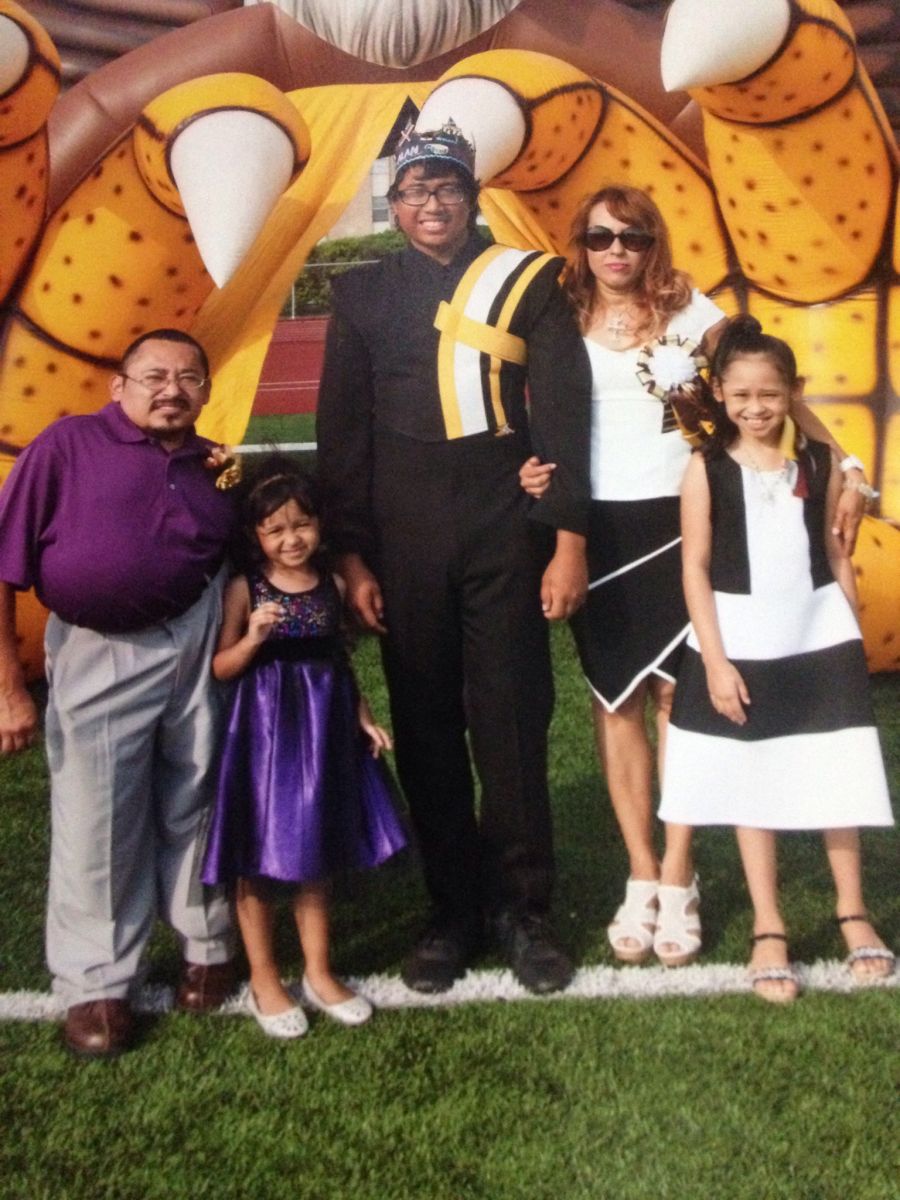 Alan's stepfather teaches at a middle school in Brownsville where Alan was encouraged to take up music– specifically, join the school's marching band. His stepfather was drawn to the percussion section, and Alan agreed. Starting in sixth grade, Alan started drumming under the direction of Mr. Jimmy Cantu. "He always had me practicing," Alan remembers. "Even though I wasn't that good, he was always on me about practicing." The discipline that Mr. Cantu give Alan was to train him to excel in further opportunities that Alan was looking forward to as a percussionist. "As time went by, I saw all the cool things that were being done at the high school, and wanted to experience that as well."
Alan's story is one of several among the ensemble, where others have faced the struggles of moving from another country and adjusting to the American culture. Along with Mr. Rodriguez, Hoer Hanna's staff includes Andrew Hoskins, who handles the visual layers of the show, and Jeremy Hunt, who takes care of all the music. They wanted Homer Hanna's show "For A Better Life" to connect the audience with the issue of immigration. "[Jeremy and Andrew] didn't want to say, 'here's what you need to think about the issue,'" Mr. Rodriguez describes. They wanted to let each audience member interpret the idea as they felt it related to them. The staff knew they wanted their show to relate with the kids, and when some of the students thought immigration would be a great show concept, the show grew from there.
A first place victory at WGI Houston 2015 qualified Homer Hanna to compete at Nationals, and the ensemble could not wait. As excited as they were, there were challenges that face a number of ensembles, mainly funding. With players who are so passionate about their goals, the entire ensemble worked together, staff and students, to reach their goals. "These kids worked extremely hard at taking care of their fees. All of these kids come from families that work hard every day. Their parents are true representations of what this community is about: hard work and dedication no matter what the cost," says Mr. Rodriguez. From the numerous supervisors in the music department to the superintendent of the Brownsville Independent School District, administrative staff at all levels in the district lent a helping hand.
Alan can think back to when he was only watching YouTube videos of Percussion Scholastic and Independent World videos. It felt so unreal to him that he was going to be on the other side.
Being involved with percussion for nearly 30 years, Mr. Rodriguez started his drumming career in sixth grade, then moved on to pursue a Bachelor's in Music Education at Texas A&M University of Kingsville. He has a pageantry history with the Velvet Knights and Blue Devils, then went on to pursue music education. An active instructor for eighteen years, Homer Hanna has been a part of him for sixteen of those years. "Things were different eighteen years ago, and a lot of kids didn't have Internet or were even aware that DCI and WGI existed. My goal was to change the perception of their possibilities within the musical arts. Homer Hanna High School is in Brownsville, Texas; Brownsville is ranked as the poorest city in the nation according to census data and reports. For that reason alone, I wanted to influence change in this community by showing that anything was possible if people were willing to work hard for it regardless of financial status," explained Mr. Rodriguez. It is evident that his purpose for music education has done just that for his students. Alan knows that he owes it to Mr. Rodriguez for a both successful and impactful first run at Nationals. "His dedication to our success and the program is unreal," says Alan. "He cares about us as if we were his own family. He always says there are no limits to what you can do if you work hard for it."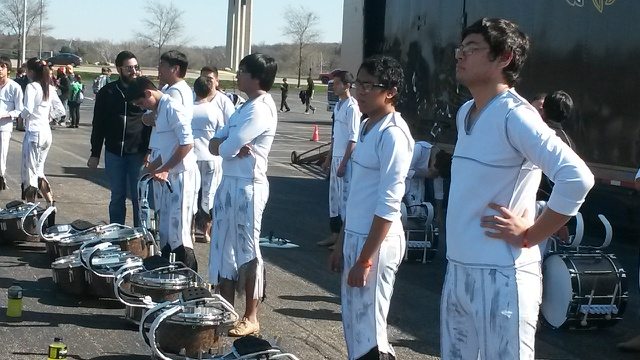 Though there are many logistics that all ensembles have to plan ahead for when competing at Nationals, especially if it's an ensemble's first time competing, the rewarding experience of that one-week in Dayton is what it all leads up to. Alan remembers a year ago after Nationals, the pride both his parents and community had for the ensemble, individually and as an ensemble. "I actually told the world our story that week," says Alan. "Here's a kid from Mexico who wasn't supposed to have the opportunities that others had, and I did it! I am living proof of the American Dream. Sometimes, I think that no one really expects anyone from our city to do much on a grand scale. So, when it came to making finals, it was a big deal to everyone down here." From making his parents proud, to the audience's emotional responses during their Indoor Drum Line Showcase, and being featured on the community's newspaper, Alan, along with Homer Hanna's drumline has exceeded their potential as performers, regardless of past experiences, and wish to grow more from last year's experience.
Mr. Rodriguez's perspective is no different, stating, "It is the highlight moment of my 18 year career. These kids are forever changed and their outlook on life has completely changed. They want to go to college and attend universities that they never would have dreamed of attending before. They want to experience more things out in the world. They now have a worldly view of things."
Alan is currently attending The University of Texas A&M Kingsville, pursuing a bachelor's degree in Computer Technology. He set his goals as high as his motivation, with plans to join his university's marching band to expand his involvement in percussion. "It's my passion and motivation that helps to remind me that I can go through any obstacle that comes my way." Mr. Rodriguez goes into his seventeenth year with Homer Hanna next season, with plans to return to National Championships for the WGI 2017 season. "I just hope the kids will come back with the same intensity that they had in 2015," Mr. Rodriguez concludes. "I want to make sure that they leave it all out on the floor and represent our community with the highest standards." Homer Hanna's drumline has successfully epitomized The Valley's slogan, "Si se puede!"
---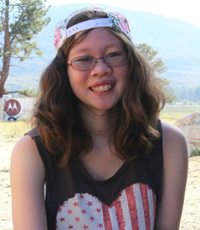 About The Author: Emeline Beltran studies Communications at Pasadena City College, where she serves as the assistant news editor for the school newspaper. She plans to transfer to a four-year university in Fall 2017 with emphases on journalism and/or media design. Her involvement with the Sport of the Arts began her sophomore year of high school when she joined Arcadia High School's percussion program as a vibraphonist. In 2015, she competed at WGI World Championships in the Percussion Scholastic Open level, where the ensemble ranked fourth place. Emeline was awarded the WGI Scholarship in 2015. Along with mass communications, Emeline is passionate about nonprofit management and philanthropy– specifically, organizations that focus on childhood cancer awareness. She hopes to pursue a career which combines both passions.