From a River City Rhythm Winter Guard Press Release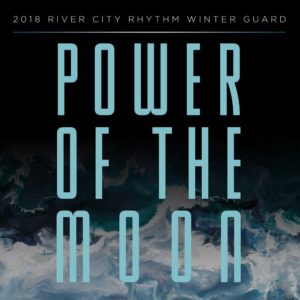 River City Rhythm Winter Guard is proud to present their 2018 program, "Power of the Moon."
Life comes in waves; just as forces in our lives move us, so does the moon pull the waves on earth. Musical selection includes "Birth – acoustic version" by Dardust.
RCR Winter Guard will represent the North Star Circuit as an Independent A unit in its inaugural season. RCR will be making appearances at NSC shows throughout Minnesota, and they will be competing in the WGI Chicago Regional. They will conclude the season at the WGI World Championships in Dayton, Ohio in April.
Directional staff includes Lauren Hipsag and Beau Hansen.
Design staff includes Jonathan Glatfelter and Natalie Sterner.
Instructional staff includes Rebekah Salas, Lisa Rodenkirchen, Seth Pearson, and Kirsten Bergstrom.