By Emily Pleasant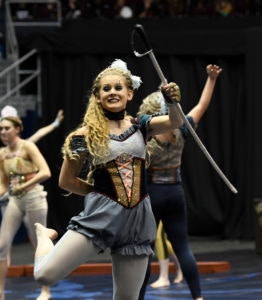 In "Forgotten Circus," Avon HS (1st – 97.600) had us feeling excited, sad, and loved all at the same time. This dynamic show took us on a journey with the movements changing from light to dark. A floor laid out like the inside of a circus tent and costumes of various clowns, showmen, and stagehands, the execution of this performance had you right in the middle of a real circus that won't be forgotten.
Performing half of the show with their hands tied, Trumbull HS (2nd – 95.950) brought a suspenseful and beyond talented performance. Performing to "Once Upon A Time" by Sara Bareilles, the tense beginning of the show had us feeling free when they liberated themselves of their bonds. They start with their outfits in all brown, but strip into a beautiful gradient of red, orange and gold. It reminded us to never let anything hold us back, and that you are free to be you.
Carmel HS (3rd – 95.850) stole our hearts with high energy, fun and quirky performance. With a tarp of bright green to represent nature and very colorful outfits like butterflies, "Emerging" was all about waking up and rebirth. Composed by Frederic Rzewski, the music even has the artist "waking up" with many yawns and quirky sounds. But this performance definitely did not have us yawning!
With a music selection from Coldplay, Flanagan HS (4th – 93.750) threw us into a world of nostalgia. The purple of their uniform and floor brought a calming sensation. Their U shaped props added a creative aspect to the show and helped tie it all together with their many different uses. Their unique show "U" us finding ourselves in ways we never thought possible.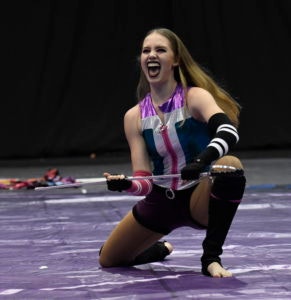 West Broward HS (5th – 92.350) us itching to hit the urban jungle of the city in their show "Downtown." Their hip music selection from renowned artist Macklemore brought some serious high energy to their basketball court tarp.
Center Grove's (6th – 91.650) "Carousel of Time" was a beautiful show that included golden horse carousels and a beautiful purple floor. The bright green outfits made the performers "pop" along with their giant smiles. The music titled, The Circle Game by Joni Mitchell, was a joyful selection that will make you ask for more time.
Tarpon Springs HS (7th – 89.900) zoomed onto the floor as a biker gang from the west coast. "Free" featured music from Forever Young. This exciting show included actual motorcycle riding around throughout the show, along with a large motorcycle in the front of the floor. A liberating performance, Tarpon Springs showed us that we are all Born To Be Wild.
Shenendehowa HS (8th – 89.800) had a performance filled with intensity and mass suspense. Their show, "Stress Fractures," was shown on the faces and hair of the performers. Featuring music from X Ambassadors and Roland Orzabal ("Mad World") this show starts with a depression that builds up to fierce stress. Their spinning table prop in the middle of the floor adds to the stress of the performance and the sharp, intense flag feature on top of it had us on the edge of our seats!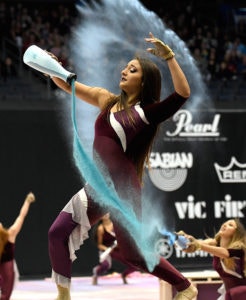 Receiving a standing ovation, the performers of Stoneman Douglas HS (9th – 88.250) captured our hearts. As they threw colorful sand on the floor in their beautiful maroon uniform, they took us on a journey "Through the Sands Of Time." Their performance reminded us that not everyday is guaranteed. This performance was powerful, full of beauty and showed us that they are #StonemanStrong.
Ayala HS (10th – 86.150) brought a passionate performance with their show titled "Meraki" which is a Greek word used to describe doing something with soul, love, or creativity. This perfectly described Ayala's performance. The tarp was all white with a burst of black in the upper left corner and accompanied all black outfits. This performance was full of beauty and showed many emotions within a simple composition.
Northview HS (11th – 85.050) showed us the importance of love and friendship with their show titled "Stand." The design of this show was full of fun and joy! Performing on stools with colorful uniforms, Northview did a great job of performing in high spaces and sticking close together. Their music selection of "Stand By Me" reminds us that support systems and loved ones are the most important thing in life.
Becoming a ballet dancer is hard work. It takes dedication, strength and fierce love. Miamisburg HS (12th – 85.000) showed us the dedication it takes to be perfect. This graceful performance included a music feature from "Flashdance" and narration from "Auditioning for the American Ballet Theatre" The tarp was simple and beautiful, portraying the hardwood floor of a ballet studio, as well as the uniforms of various ballet dancers. In the end, "Raising the Barre" reminded us to just go for it.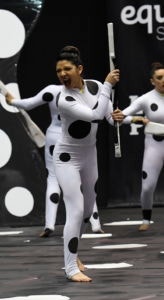 James Bowie HS (13th – 82.350) took us on a psychedelic journey with a music selection of "Time" by Pink Floyd. Everything in the show was black and white with polka dots – from the floor to the props, even the uniforms and equipment. After stripping into a burst of color, "Untitled Works" flowed with creativity and passion.
With a spinning table in the center of their floor, Warren Central HS (14th – 81.000) showed us that making the right move is everything. This intense show featured chess piece props with narration and music selection from "Checkmate," which is also the title of their show. This performance reminds us to always have the next move planned out. Game On!
Norwin HS's (15th – 80.850) show, "A World Less Ordinary," was anything but ordinary. Accompanied with music by composer Warren Cuccurillo, it reminded us that being different doesn't mean you cannot be loved. With a huge, colorful starburst of pink, blue, and purple on the tarp accompanied by beautiful sparkling uniforms, this performance was powerful, passionate and full of energy. It takes you out of this world!
---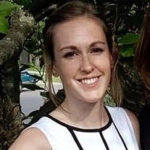 About the Author: Emily Pleasant is studying digital marketing & business management to hopefully one day own her own digital marketing agency. She will graduate from Sinclair Community College in May 2018. Emily graduated from Miamisburg High School in 2009, where she spun with Miamisburg Color Guard for 3 years. She is excited to be back in the world of WGI & excited to share all the experiences this season will bring.