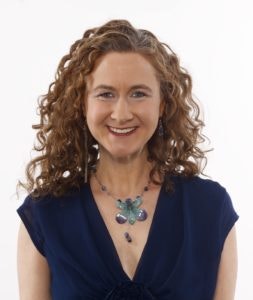 The latest stage production from Heather Henson, daughter of Muppets creator Jim Henson, incorporates a quartet of skilled color guard performers who contribute movement and visual enhancement to a spectacle of puppetry, dance, music and projections. Ajijaak on Turtle Island is now playing in the Ellen Stewart Theatre at La Mama in New York City through Sunday, February 18.
Henson has been fond of the winter guard activity for more than a decade, and even attended the 2017 WGI Color Guard Championships in Dayton. Her past productions have incorporated flags and props inspired by color guard, but this marks the first time she has included dedicated guard performers in the cast.
"I truly admire the skills of the winter guard community," Henson said. "I am blown away by the championship routines. I have watched them online from afar for years, and it was a joy to finally see them live in Dayton."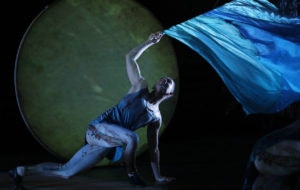 The guard performers seen in Ajijaak on Turtle Island have marched with some of the top groups in WGI and DCI. The guard cast members are Jake Montanaro (The Cadets), Jennifer Sanchez (Black Watch, The Cadets), Euni Shim (Carolina Crown, Phantom Regiment, Jersey Surf) and Dormeshia Ward (Alter Ego).
Guard choreography was created by Louis Hellinger who is the current creative director of AMP Winter Guard and former director of the West Orange H.S. Winter Guard.
"This has been an amazing experience," Hellinger said. "Heather had this incredible vision to bring puppets, performers, singing, dancing, kites, lighting, video production and color guard together on one stage and it was an extremely successful collaboration. The fact that we were able to pull this off with a small amount of rehearsal time is a testament to what we do as color guard people. Show up, work hard, be a good team and make it work.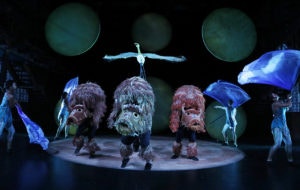 "I love that we were able to bring color guard to the stage," Hellinger added. "Any time we can participate in this kind of project is an opportunity for us to bring our activity to a new audience."
Henson's interest in winter guard was first profiled in a 2008 article on Marching.com after she struck a friendship with Marching.com founder Ken Martinson, who has a background in puppetry and currently serves on the Puppeteers of America board of directors. The article can still be accessed online at http://www.marching.com/spotlight/heather-henson-panther-crane/.
Henson has been pondering a deeper collaboration with color guard for years.
"When we set out to make this show, I knew I wanted to incorporate color guard skills, but I didn't know how to quickly implement these specialized skills into our actor cast," Henson said. "Thankfully, Ken was interested in helping us make connections with the color guard community and he ultimately introduced us to Louis who then brought in these four dynamic performers. The beautifully coordinated flags fill the space so well. The coordinated object manipulation movement is mesmerizing. The dancers bring a spectacular dynamic into the show with their fluid and top notch dance skills. I am so delighted with this collaboration."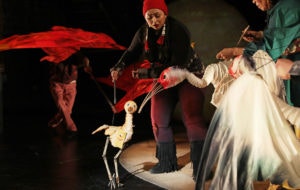 Henson is known for theatrical spectacles with environmental themes. Ajijaak on Turtle Island follows the journey of a young whooping crane who is separated from her family and must undertake her first migration from Canada to coastal Texas alone. During a journey disrupted by environmental, industrial and mythical chaos, Ajijaak follows her intuition to fly onward and learns from neo-indigenous communities she encounters along the way.
Ajijaak on Turtle Island is an IBEX Puppetry production directed by Ty Defoe and Heather Henson. Puppet design and fabrication is by Jim Henson's Creature Shop. The show also features one giant puppet by Nicholas Mahon, whose work was showcased this month during the Olympics Opening Ceremony in Pyeongchang, South Korea.
For tickets and information, visit www.LaMaMa.org
Source material courtesy of IBEX Puppetry and Marching.com. Performance photos by Theo Cote.