By Michael Reed
Props have been a part of the marching arts for years, both outdoors and indoors. What was once an innovative novelty has become commonplace. However, even with the plethora of groups using props, every once in a while a guard or drumline will create something that turns heads.
Some groups are known for elaborate sets. For example, perennial PSW Finalist Dartmouth HS always has eye-catching scenery for their programs. Other times, a group has a prop that is larger than life and fits their show perfectly. Notable instances from recent seasons are Oak Grove HS with giant felt hats in their 2016 "The Mad Hatter" production and Infinity's 20-foot tall oil well in their 2015 "There Will Be Blood" program.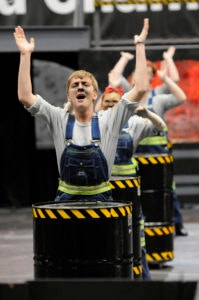 The Franklin Central HS drumline was one such group in 2017. It was impossible to not be impressed with their set before the first beat of "Iron Clad" was played. The production paid tribute to the American worker and was set inside a foundry. The line utilized a tall industrial metallic platform that ran the length of the floor, complete with two large working cranes and a faux iron smelting surface.
When viewing a show with custom costumes, a digital-printed tarp, and large, realistic props, it is easy to get caught up in the spectacle of it all. However, these visual effects take careful planning. While some groups have budgets to hire professional designers, for most ensembles it is the combined talents of faculty and parents that creates the elaborate props on the floor.
Director Chris Hodgson talked about the process his group used when deciding on props for the show. "In October, we initially had design meetings. We had an idea of grit, and that led us to pictures of steelworkers. By November, we started making sketches. Cranes and I-beams were our first two thoughts, and then once we started building, it started to become the massive structure you see today."
Jeff Godzwa is one of the dads who spent a whole lot of evenings constructing the prop. "When I first heard about what Chris wanted for our show, he wanted to know about possibilities and to see how big we could push the limits, and I think we actually pushed them beyond what was imaginable for this season!"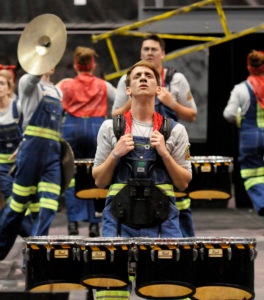 Speaking after Semi-Finals, he talked about the timeframe of building it, which began in a parent's garage. "Probably the initial concept, maybe a month or so to get everything on the floor just in a rough stage before we did any of the finished work so we would probably be looking at about 2 months." Amazingly, on the eve of Finals they were still perfecting it. "The season's not over yet and we have alterations to make today. It seems to be a never-ending process this season."
One of the neatest aspects of indoor percussion is the process of setting up before the show and tearing down afterward. There is a limited amount of time for these steps, otherwise the groups get penalized. Hodgson discussed getting the prop in and out of the arena. "The good thing is that our group is very sizable, so we took that into consideration when we were building it, that we were going to need lots of hands to be able to do something this massive."
He continued, "We have 52 kids and every single person has a specific job. It actually has been a little easier here in Dayton because we have more ceiling than we have had at other shows, so a lot of our stuff is already pre-set, so that's been helpful in getting on and off the floor, but just lots of hands is the key."
The action on the floor is incredible, and seeing the lines warm up in the lot has become a show in its own right. However, walking to the backside of the arena where these impressive sets are unloaded and put together should be on every WGI fan's to-do list. The engineering prowess of these dedicated parents is as impressive as what happens on the floor, and the emotion is every bit as real. WGI salutes all the dads and moms who spend hours drawing, sawing, and painting for the love of their children. Bravo!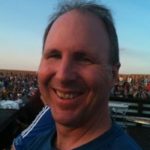 About the Author: Michael Reed provides online and print media content for WGI, Bands of America, and Drum Corps International. 2017 marks his sixteenth year of writing for WGI. He is an active music arranger, composer, and all-around avid pageantry fan. Michael was a member of the Cavaliers Drum and Bugle Corps and holds a bachelor's degree in music composition and music education from Ball State University. He currently works in the health care field and resides in Fishers, Indiana.