By Christine Ngeo Katzman, Halftime Magazine
Front ensembles are no longer relegated to being in the front. Indoor winds ensembles have experimented with pit placement and have found new ways to use or not use the pit. And their decisions are starting to impact indoor drumlines as well.   
Front, back, side or none at all? Indoor winds groups have limitless options when using pit percussion.
"Since there are very few restrictions in WGI Winds, we have seen countless variations of instrumentation including the use and placement of percussion," says Wayne Markworth, director of WGI Winds.
Here are the reasons why or why not to implement various pit positions.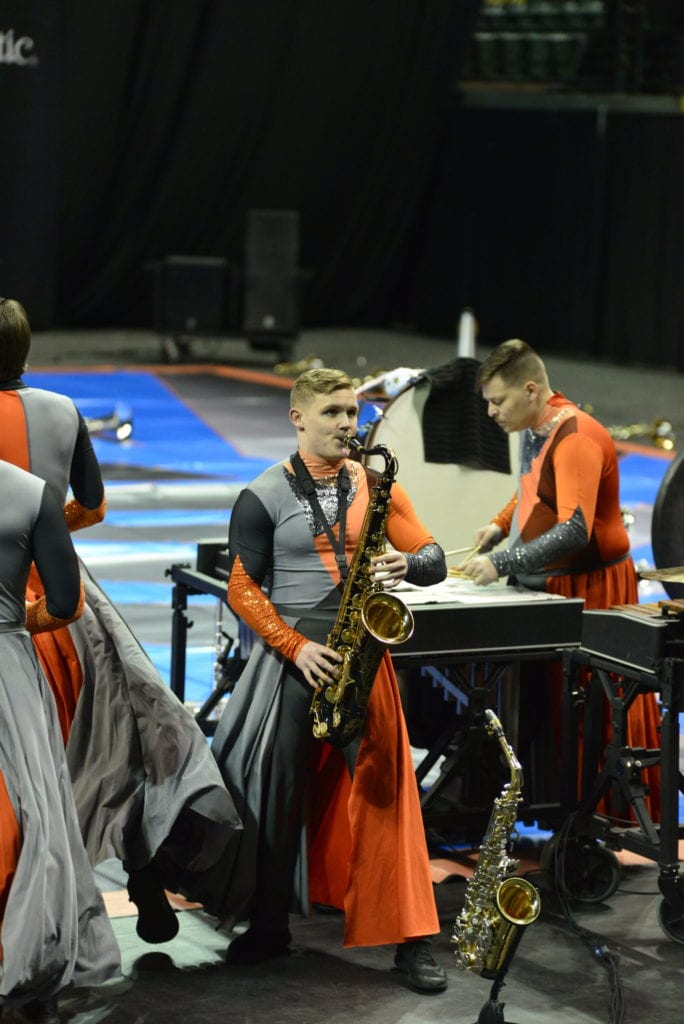 Traditionally, the pit percussion section for marching bands, drum corps, and indoor drumlines has been placed at the front of the marching group. Hence, it is also known as the "front ensemble."
This configuration might make sense, particularly in percussion groups, in order to set the musical mood.
"In the indoor [drumline] activity, it's hard to create melody…and different tones and color," so the front ensemble "takes a more primary role melodically and harmonically," says Christian Cruz-Vargas, a percussion educator and executive director of Florida International University (FIU) Indoor Ensembles in Miami.
While tempting to follow this configuration in indoor winds, other practical matters dictate a change. Since wind groups inherently include melodic wind and brass instruments, the pit instruments take on "a supportive role," says Cruz-Vargas, who is also director of marching percussion at FIU and a member of the WGI Winds Steering Committee.
In addition, a front ensemble limits the visual space of the performers.
"The front ensemble equipment and personnel gets in the way of the [visual program]," Cruz-Vargas says. "When we put a front ensemble in the front, we leave five feet of space that we don't use. Otherwise it gets muddy [between] the front ensemble [and] the other performing members."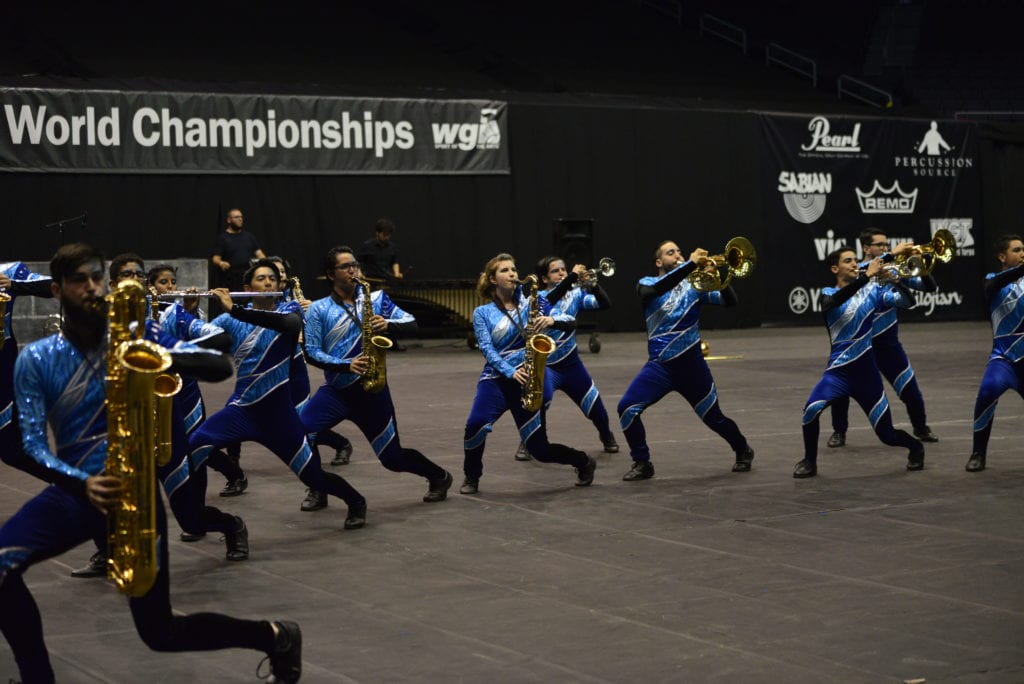 In FIU's 2015 indoor winds show, "Curse of the Ninth" about Ludwig van Beethoven, the group simply didn't have room to spare in the front of the performance space because a big red piano sat in the center of the floor.
"The idea to put [the whole percussion ensemble] in the back came from a [visual] need in the show," Cruz-Vargas says. "At the time, we didn't know that would be the thing."
Indeed, in the four years since the inaugural WGI Winds, the majority of groups have placed their auxiliary percussion sections at the back of the floor. According to Markworth, this placement is ideal for three reasons:
1) The pulse center is coming from behind the winds, which greatly helps ensemble precision.
2) The front of the stage is completely wide open, allowing for a more visual presentation.
3) A good balance of winds to percussion is more easily achievable.
Because of this trend among winds groups, some percussion ensembles have changed their front ensemble setup as well.
"[Drumlines] are experimenting with having more visual space because they see that winds are able to have a full stage with front ensemble in the back," Cruz-Vargas says.
Occasionally, the percussion section may split up. The 2018 winds show by Rhythm X placed two mallet/auxiliary percussion players in the front right and left sides.
In that situation, the two percussionists served as "not only accompaniment but also as soloistic players in the program," Markworth says. "Since they were split in the front, there was still space in the middle to feature winds players and small ensembles. It was also a different look and approach."
In 2016, the FIU Winds group stepped up to the World category while downsizing its pit to just synthesizers, a drumset and rack percussion. Then in 2017 and 2018, the group eliminated the pit altogether.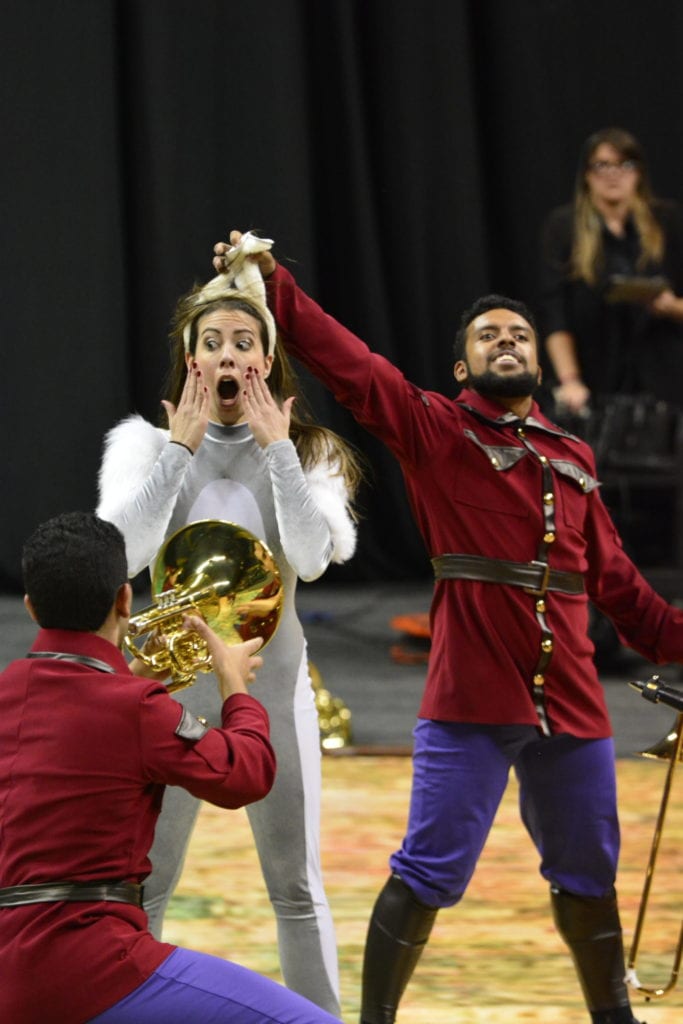 "A lot of groups are using track [recordings]," Cruz-Vargas says. "We were finding that we could create that track live. In 'Hunting Rabbits' [in 2017], we had one person triggering the track. By not having it be one continuous track, we felt we had more control."
FIU had made this decision to eliminate the pit partly due to its difficulties finding musicians for the parts. Cruz-Vargas has found that people who play percussion would rather participate in indoor drumline than indoor winds.
However, relying completely on a track instead of live people can backfire as FIU experienced during its 2018 show. "I learned at prelims that we had a very big electronic malfunction," Cruz-Vargas says. "We were on the floor waiting 10 minutes for the show to get started. That made me realize that, if we had a drumset or rack percussion, we would have been able to complete the show with no penalty and had a stronger showing."
In addition, Cruz-Vargas believes that live auxiliary percussion enhances the overall show and says that he plans to bring back some live percussion into the 2019 winds show.
"I believe that the live percussion helps the show acoustically a little more organically than the synthesized stuff," he says. "As far as impact from bass drums and gongs, [live percussion will] give you a stronger presence."
On the other hand, some winds groups have made a big impact with no percussion at all. In its "Sweeney Todd" show in 2018, Azle High School (TX) kept pulse successfully without any percussionists.
"It's hard to rely solely on winds players for the entirety of the production, but it can absolutely be done," says Brandon Day, director of Azle High School Winds.
Due to the openness of WGI Winds, the evolution of pit percussion will likely continue to evolve.
"WGI Winds is an exciting activity that gives performers the opportunity to perform in a more intimate, indoor setting with almost limitless creative possibilities for music and movement," Markworth says.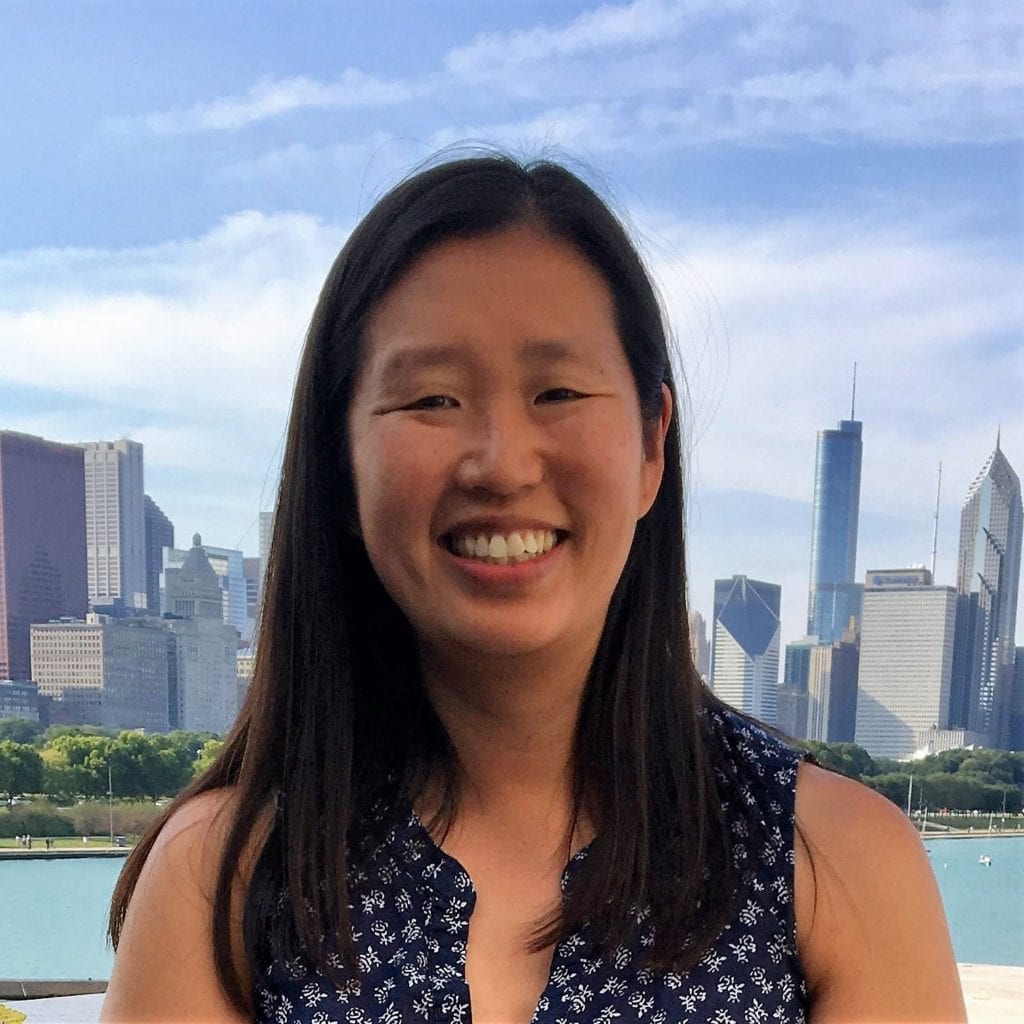 About the Author: Christine Ngeo Katzman is CEO and publisher of Halftime Magazine, a bimonthly publication presenting the sights, sounds, and spirit of the marching arts. She has a bachelor's degree in journalism from Northwestern University in Evanston, Illinois, and a Master of Business Administration degree from the University of Southern California in Los Angeles. She began playing the flute at the age of 8 and marched with the Northwestern University Marching Band in college.