From a Pioneer High School Winter Guard Press Release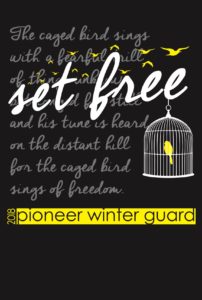 "The caged bird sings
With a fearful trill
of things unknown
but longed for still
and his tune is heard
on the distant hill
for the caged bird
sings of freedom."
-Maya Angelou
Pioneer High School Winter Guard (Mission, Texas) is proud to present their 2018 show: Set Free.
Pioneer High School is under the direction of Sammy Aguilar.
2018 Staff includes: Jasmine Garza-Tech, Alyssa Luna-Tech, Ashley Ledezma-Choreographer, Kyle Albright-Choreographer, Charles Williams-Choreographer. Drill/Staging-Charles Williams. Ismael Ledezma & Charles Williams-Soundtrack Design.
Costuming by Joseph Meininger- A Wish Come True
Pioneer Winter Guard consists of 12 members and will be competing locally in the Texas Educational Colorguard Association Circuit in Scholastic National A Class and will be performing in the Scholastic A class at two WGI Regional Events this 2018 season. They will make their first appearance at the Houston Regional on February 10 and will also attend the Austin Regional on March 3-4.