By Irving Lopez
Everyone always remembers watching their first world-class show and being completely blown away with the performance. With such sky-high tosses or impeccable drumming technique, you would have never known anyone could be that talented. These world-class groups are the ones that have inspired us to reach for the stars and become better members for the activity. WGI has seen some great winter guards and drum ensembles come and go, and within each generation a new set of members are always ready to carry on the WGI flag for many years to come.
Talking about how they trained to march a world class group, WGI caught up with two four year vets, Samuel Watson from Pride of Cincinnati and Luke Sesker from Gateway Indoor.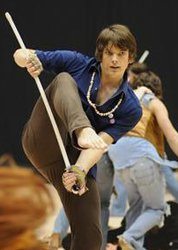 Samuel shares that when he was "In high school, Pride Of Cincinnati was our local circuit's 'dream team.' I had a lot of encouragement from friends, family, and instructors to march there."
Samuel admits that when he first tried out for Pride of Cincinnati he was "terrified." He didn't make the guard the first time around, but it only motivated him to keep trying. Now, as a four-year vet he helps inspire the team by being a prime example of a dedicated and hardworking member.
Samuel says, "making the guard took a lot of patience and hard work. It took a lot of determination to refine my technical skills and performance qualities up to Pride's expectations. Drum corps experience definitely helped."
Samuel believes that the largest difference from marching a world-class group from a lower scholastic ensemble is "expectation." Every member is expected to fulfill their duties on and off the floor and be proficient at everything that is asked of them from their staff.
"I'm a firm believer that performers should get as much as possible out of their high school careers," said Samuel. "If you are thinking of auditioning anywhere do it as soon as possible. By auditioning somewhere different you are opening yourself up to that group's ideas, values, and personality. A lot of groups treat their auditions like clinics, take advantage of that, and learn something new."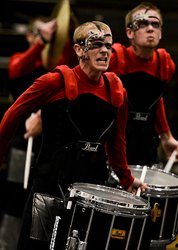 Luke Sesker from Gateway Indoor Percussion shares that his team members are extremely talented this season. The ensemble has grown into a powerhouse of young skilled members. As the snare section leader its Luke's job to be a prime example for other members to follow. Even in a leadership position Luke shares that he loves marching with people who are proficient drummers.
"You get better by having some of the best all around you, and that's helped to keep my head level and its helped me work hard to keep getting better as a player," said Luke. "Consistency is the name of the game; learn how to do it right, and know how to do it the same way every time."
When marching a world-class group, it can be difficult to concentrate on other aspects of your life such as school academics, working a job or even a social life.
"Friday through Sunday are completely dedicated to WGI rehearsal and travel, so I only have Monday through Thursday to complete anything academic, as well as practice," said Luke. "Given that my major is essentially pre-med, it hasn't been easy, but it's been possible. It has absolutely been worth it, and I have no regrets."
For anyone thinking about trying out for a world-class color guard or percussion ensemble Luke says that it takes hours and hours of rehearsal time. He shares that for the last couple of years he has spent three hours a day in front of a mirror improving his drumming technique. Luke believes that when getting better, rookie members should learn from other vets who have been in the activity for a while and ask them for positive criticism and tips.
"In this activity you'll find yourself racing the clock more than anything else. Yes it's frustrating. I've had nights where I've been so chopped out and angry at my own imperfections that I just put my sticks down and walked out of the practice room. But are you willing to keep coming back every day?" said Luke. "If you're willing to put the time in, and step far outside of your comfort zone, I guarantee you'll come out as a better person on the other side. It truly is a life changing experience"