By Irving Lopez
Music is one of the forefront aspects that drive the WGI organization. With hundreds of percussion ensembles attending the 2013 WGI Percussion World Championships, Dayton, Ohio is in for a week full of drum filled music.
Two members that will be attending the WGI Percussion World Championships are Sharon Tingley from Spirit of America Winter Percussion and David Palermo from River City Rhythm.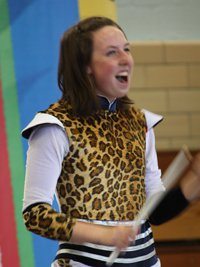 When she first learned to play music, Sharon said that she "played the violin and clarinet, so I had been taught by those teachers how to read music. However, learning to read keyboard music was different. Playing chords and reading bass clef came into the mix, both of which I found challenging."
For someone that has never attended a percussion ensemble, Sharon says that Spirit of America's rehearsals are usually scheduled from 8am-11pm. The day is divided into sections. Since Sharon is in the front ensemble she spends her first block of the day warming up with her fellow pit members. After lunch they start digging into their show to clean certain phrases and combine the sounds of the full ensemble.
"The best part of our rehearsal is ensemble," says Sharon. "This is near the end of the day when the pit joins the battery and drill and music are put together as we rehearse big chunks of our show, normally ending in a full run-through."
In drum line the members have two difficult jobs, and that is to play their music flawlessly and demonstrate pristine marching and dance skills. Although music is one of the most important aspects of indoor percussion, some members in percussion ensembles enjoy the marching side of the activity.
For Sharon, she likes "a combination of both. Being in the pit, we obviously don't have as much visual material as the drum line, but I love the power and energy of everyone running around the floor while playing."
Marching technique is important, but for some, the music is their favorite part of indoor drum line. Music in general has impacted many young lives of the drum line activity.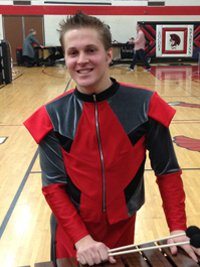 For David, he says "Music has raised the expectations in my life not only within the music world, but also with everything else that I do in my day-to-day life."
As the WGI winter percussion groups keep raising the bar year after year most members attribute their success to their teachers. Without their first instructor who put sticks in their hands and taught them their first basic warm up to a metronome, they would never have been where they are today.
"I am most grateful for Bojan Hoover, who has been my instructor for over 10 seasons of marching band and winter drum line." Says David " I can attribute most of my success to him."
Once out of drum line, many members devote their lives to music, either in other performance ensembles or even teaching other groups within the activity.
For David, he believes he "will continue to teach percussion, so to do that, I will need to study music to stay current with this rapidly changing activity. After I age out, I will continue performing with Minnesota Brass Inc."