By Irving Lopez
A captain is someone who leads by example and is not afraid to speak up when necessary. They are the ones who think about their team before they think of themselves. While leading their team they must also take care of all the extra responsibilities that is expected of by their instructors. When reaching for a goal, the captain is the one who pushes their team to success with words of wisdom and encouragement.
Sharing their story with us, WGI caught up with captains Kaylee King from Summerville High School and Ellen Crain from Michigan State University's State of Art Winter guard.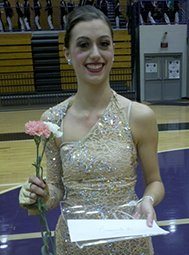 "As a captain, I help to make sure that everyone is doing their job efficiently, and as they were assigned to do so," said Kaylee. "I ensure that the team maintains their focus during practices and competition days."
Leadership skills at times can come naturally for a few captains, but others have to build and learn from their previous leaders. Even on the toughest days of rehearsal captains are the ones who must encourage their team to keep pushing.
When rehearsing with Summerville High School, Kaylee said, "my team is full of such talent, I constantly try to push myself to be a better leader and performer for the goodness of the team. Our coaches never let us settle for anything less than our best"
Leaders are not always perfect, but a good leader always keeps the goals of the entire team as their number one priority. As a captain, Kaylee believes that a leader must be reliable, determined and trustworthy. At rehearsal it is her responsibility to make sure the entire team understands their drill and choreography during "design" days.
With a captain position, there is always a challenge to overcome. In Ellen's opinion, one of the most difficult aspects about being captain is "foreseeing the needs of the group and the director, and knowing how to handle unexpected situations. As a captain, I need to have a good understanding of the instructors and the members in order to make good decisions."
Color guard members that are placed upon a leadership position often deal with the thin line between friends and captain. Leaders that are not afraid to speak out to their team are the captains that understand that they have an obligation to lead their team towards success.
Ellen also believes that a captain should "be very organized in order to manage everything that needs to get done. I also recommend captains to empower other non-leader veteran members to make good examples of themselves so newer members can learn positive behaviors by example."
A leader should enjoy interacting with their fellow team members. Not only are they the ones who push their team to reach their goals they are the ones remind their team why they do color guard. They set the standard for the guard and work towards the goal.
"My main goal for the team is for us to be able to say that we did our best, and to be proud of what we have accomplished at the end of the year regardless of score or placing," said Ellen. "For myself, I hope to be someone who others can look up to and to have inspired other members to find their passion in the sport."