By Irving Lopez
When marching a scholastic world color guard, high school members are required to balance their academic and extracurricular schedules. Committing to 6-hour class lectures and a 4-6 hour rehearsal everyday can become a bit stressful and tedious for some students. Fortunately, there are those few strong spinning souls who take on this challenge and are sometimes rewarded in the end by becoming WGI Scholastic World Finalists.
Sharing their academic and color guard experience with us, WGI caught up with two scholastic world class seniors, Candice Lee from James Logan High School and Anna Miyajima from Arcadia High School.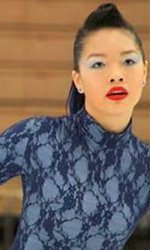 Candice has been in the color guard activity for a little over nine years since the third grade and says that she has loved it ever since. Being in color guard for so long has led her parents to accept that guard has become an immanent part of her life.
"Over the years my family has gotten used to my practice schedule and they have grown to accept that color guard is part of who I am. I'm glad to have them supporting me," said Candice.
When it comes to her academic life she says that her parents strongly urge her to do her best in school. Candice believes that guard has helped her become a better organizer and multi-tasker. Her entire week is filled with nothing but color guard rehearsals, and schoolwork, hardly with any available free time.
"In addition to guard class every day, we rehearse for about 4 hours on Mondays, Wednesdays and Fridays," said Candice. "Saturdays can vary anywhere from 5-hour blocks to 'all days' to 3 hours on show days."
With all her free time eaten up by schoolwork and guard practice, she doesn't regret a single moment she ever joined guard. Being in color guard for so long Candice says that managing rehearsal with school is nothing new to her.
"Everyone gets stressed out about balancing schoolwork and practice but that's how you learn time management the hard way," said Candice. "Sometimes I have to stay up late to finish the essay that's due the next day."
Being in high school can cause a lot of problems when leaving town for a WGI regional or even the World Championships. Sometimes, the assigned WGI week does not line up with the same week as their high school spring break schedules. For whatever its worth, Anna says that she always finds a way.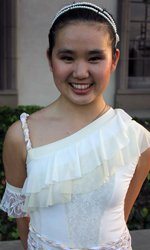 "Last year was the first time I had to miss any school for WGI, my teachers were okay about it and let me make up my tests. It's was just hard because my AP tests were pretty soon after that," said Anna. "I ended up trying to finish some work during Spring Break (the week before WGI Championships) and in Dayton, but it was definitely tough."
To some outsiders, color guard is seen as nothing but 'flag twirling in a gym,' but to the dedicated guard members it has shown them life lessons that they can carry on into their future.
"I think that being in guard and having a strict time schedule has made me more conscious about making every moment count. I listen in class and ask questions until I understand because I know I don't have time to cram right before a test," said Anna. "I try to concentrate when I do homework so I'll have time for rehearsals or free time. The obstacles I have overcome in guard remind me that I can get through anything."
For Anna, she says that guard has helped her decide on what she wants to study in college. With all the connections she has made in guard she believes that a career in human resources is what best suits her.
"Working hard toward a goal of presenting a show with a world class team has taught me the joys of never giving up, having confidence in myself, and trusting my teammates," said Anna. "No matter where I go, I'll always thank color guard for that."